The advisory body on natural World Heritage, the International Union for Conservation of Nature (IUCN), has recommended World Heritage status for three sites nominated for their outstanding natural value.
The IUCN also recommends danger-listing for the Cerrado Protected Areas in Brazil, and action to tackle major threats in listed sites, including Doñana National Park and the Sundarbans. This advice is included in a first set of reports for the World Heritage Committee released on Friday, May 19 2017, with a second dispatch due on Friday, June 2.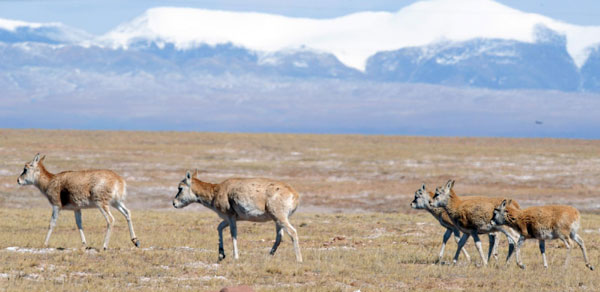 Three biodiversity sites recommended for inscription
In the evaluations released, IUCN recommended two proposals to inscribe natural areas on the World Heritage List, as well as one extension of an existing site. This advice will be presented in July to UNESCO's World Heritage Committee, which will take final decisions on what sites to list at its annual meeting in Kraków.
The nominations recommended for approval by IUCN include critical habitats for iconic and threatened species.
Covering a huge area of 3.7 million hectares in the world's largest, highest and youngest plateau, China's Qinghai Hoh Xil hosts many endemic species – animals and plants found nowhere else on Earth. It supports the life cycle of the Tibetan antelopes, which give birth in the site after a long migration.
Argentina's Los Alerces National Park protects the some of the last portions of undisturbed Patagonian Forest, within a wider ecoregion identified as a global priority for nature conservation. It hosts the second longest living tree species on Earth – the Endangered alerce or Patagonian cypress. The site's oldest recorded tree is a 2,600-year-old, 60-metre-high alerce.
A complex of four protected areas in Benin and Burkina Faso are proposed as a 1.5-million-hectare extension to Niger's W National Park, listed as a World Heritage site since 1996. The area is a refuge for fauna that has either disappeared or is highly threatened elsewhere in West Africa, such as cheetahs and lions. If approved, the extended site will be listed as W-Arly-Pendjari Complex.
IUCN has evaluated a total of 10 nomination files and three proposals for minor boundary modifications, in preparation for the 2017 World Heritage Committee meeting due to take place in Kraków, Poland from 2 to 12 July. Out of these, eight recommendations have been issued today, one was withdrawn by the state party, and the remainder will be released on 2 June.
At risk: sites hosting rare species
The World Heritage Committee reports also include IUCN's advice on necessary measures to tackle threats affecting the world's iconic natural areas. A total of 55 natural World Heritage sites have been monitored by IUCN this year, in collaboration with UNESCO's World Heritage Centre.
Brazil's Cerrado Protected Areas: Chapada dos Veadeiros and Emas National Parks are recommended for inscription on the List of World Heritage in Danger due to insufficient legal framework and protection. Located in one of the world's oldest and most diverse tropical ecosystems, the site is home to rare species, including the yellow-faced parrot, and the giant anteater and giant armadillo.
Thirty-four monitoring reports containing IUCN's advice are now available online, with a further 22 due to be released on June 2. Natural World Heritage sites facing threats include Doñana National Park in Spain, a crucial wetland for migratory bird species which is threatened by unsustainable use of water for agriculture; and the Sundarbans in Bangladesh – home of the world's largest population of tigers, together with India's Sundarban National Park – which is exposed to a number of threats including a coal-fired power plant project, increased shipping, and reduced inflow of freshwater.
Despite having the highest international recognition, natural World Heritage sites continue to face serious threats, including from climate change, industrial activities and armed conflict. At present, 18 natural sites are listed as 'in danger' out of 238 listed for their outstanding natural value.
Established in 1972, the World Heritage Convention protects 1,038 sites of outstanding cultural and natural importance. About one in five World Heritage sites is natural, including 197 classified as natural and 32 classified as "mixed" – both natural and cultural.
As the Convention's advisory body on nature, IUCN is responsible for evaluating the eligibility of new sites for World Heritage listing under natural criteria, as well as monitoring listed natural sites affected by threats. IUCN's advice will be discussed by the World Heritage Committee, which will take the final decisions during its annual meeting, taking place in Krakow, Poland from July 2 to 12, 2017.