The Minister of Water Resources, Alhaji Suleiman Adamu, has expressed optimism that there is hope for Nigeria to achieve the Sustainable Development Goals (SDGs) 6 by 2030.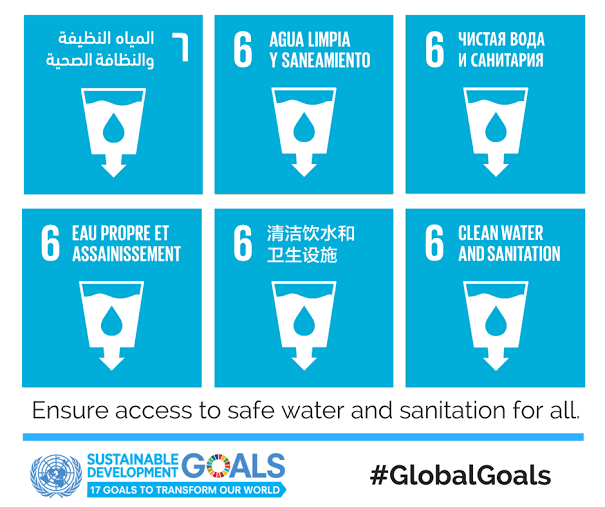 The SDGs are a collection of 17 interlinked global goals designed to be a blueprint to achieve a better and more sustainable future for all.
SDGs 6 is about ensuring availability and sustainability management of water and sanitation for all by 2030.
Adamu, who made the submission in an interview in New York, said it would be difficult to achieve the SDGs 6 if the state governments failed to double their efforts to invest in that sector.
"But there's a lot of work to be done to be honest and the work is the challenge we're operating the federal system.
"Some states are ruled not by the governing party. So, even if it's a party manifesto, some states are not part of it and they have their priorities, different individual governments have individual priorities.
"We have WASH National Outcome Routine Mapping (WASHNORM) Survey to monitor progress on the SDG 6 targets. Some states are doing well while most others are not.
"We have seen improvements from sharing that information and some states really don't seem to care but we'll keep pushing,'' he said.
Adamu said the three tiers of government needed to triple the current investment in the sector to achieve the SDGs targets by 2030.
"This is expected to help in bridging the investment gap in meeting the SDG 6 targets and creating a self-sustaining, climate friendly, and gender centric cycle of economic growth and human development.''
According to him, from the 2022 Report, the Sanitation Economy and Menstrual Hygiene Marketplace in Nigeria is estimated at $6.9 billion in 2021, with the potential to grow to $14.3 billion by 2030.
"These can generate positive, measurable social, economic and environmental impact alongside promising financial returns as Nigeria engages in shaping the market, building exciting partnerships and harnessing the investment opportunities.
"There are a lot of opportunities in the sector but there has to be stimulus from government. We are not saying all these money will be spent by Government.
"We are talking about joint investment between three tiers of government.''
The minister further said that issues of water and sanitation are the prerogative of the State Governments, urging them to invest more in the provision of potable water and basic sanitation to their citizens.
"Look at statistics; if you should go by the Sustainable Development target, less than 10 per cent of our schools and health institutions have adequate water and sanitation and hygiene facility.
"It's terrible and the population keeps rising quickly so we need to triple our investment in the WASH sector,'' he said.
In a related development, Adamu has cautioned state governments on paying "lip service" to Water, Sanitation and Hygiene (WASH) issues and urged them to prioritise the issues on their development plan.
Adamu said that the Federal Government was doing enough but the state and local governments had been paying lip service to WASH issues.
He said he had been canvassing for states to involve more in WASH for the past seven years, noting that the Federal Government has put in place so many incentives to encourage the State Governments.
"In 2016, having realised that we have not achieved the Millennium Development Goals (MDGs), we were supposed to meet 75 per cent but we were at 68 per cent.
"We were at 68 per cent when I came into office and MDGs ere ending them, I asked, why did we fail to meet the targets of MDGs?
"We realised, we were all relying on budgetary allocation, and we looked at the statistics and realised that we had 68 per cent coverage at the national level.
"If you disintegrate the data, 50 per cent of the rural areas were not covered,'' Adamu said.
To address this gap, the minister said the Federal Government came up with the 'Partnership for Expanded Water Supply, Sanitation and Hygiene (PEWASH)' Programme to increase water coverage.
According to him, PEWASH is a national collaborative instrument towards improving access to water and sanitation specifically in rural areas.
Adamu said that PEWASH was designed for two things, primarily to address the issue of access to water, sanitation and hygiene for rural communities, but at the same time to incentivise states to invest more.
"With the PEWASH programme, it is on 50/50 bases, the Federal Government will contribute 50 per cent while the State Governments will contribute 50 per cent for Water Scheme and we're working with 21 states now,'' he said.
In addition, Adamu said that in 2018, the ministry did a diagnostic report that showed that water supply was in the decline, saying that the report shows that only 30 per cent of Nigeria's population in 1992 had pipe borne water.
"The percentage dropped to seven per cent in 2015, so it shows that the sector is in serious crisis.
"And that was when we now launched the new National WASH Action Plan which was launched by President Buhari on November 2018 alongside that launch, he declared a state of emergency on water sanitation and hygiene.
"This is a sector that is in crisis and he requested all states to join the Federal Government so that we move together to change the indices.
"After that, we now established a new budget line to support states, which again to practically use the National Water Resources policy, we put a new budget line so that states can come without urban water supply schemes and investments. "
Again in 2019, the minister said to further actualise the roadmap to end open defecation, the Federal Government launched the national campaign against open defecation,
He said the following day after the launch, President Buhari backed it with an Executive Order number nine, giving it some legal teeth to "establishing the Secretariat and the enabling framework for us to operate.
"We've also tried so far without success, but we're not giving up through the National Water Resources bill to establish a WASH water sanitation hygiene fund that will support states in their efforts to invest more in the area of water, sanitation, hygiene.
"So, all the efforts have been done at the Federal level, all the incentives have been provided. It is now ready for the states to follow suit.
"So, I think we have demonstrated at the federal level a total commitment to meeting our aspirations and that it's the Sustainable Development Goals 6.1 and 6.2.
"But we need partners, we need the states to be operating at the same level and that has been a challenge for us,'' the minister said.
By Cecilia Ologunagba