The Taraba State Government of Nigeria has been enjoined to institutionalise and build on the Participatory Forest Management approach to natural resources conservation initiated by the Nigerian Conservation Foundation (NCF).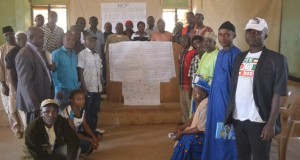 As part of efforts to arrest the degradation of forest as a result of overexploitation of timber products, the NCF had in the past implemented the Participatory Forest Management Project where a Stakeholders' Consultative Forum was formed to see to the community involvement in the management of forests in Taraba State.
Speaking at a recent stakeholders' workshop on 'Forest Conservation' in Baissa, Kurmi LGA of Taraba State organised by the NCF with the support of Royal Society for the Protection of Birds (RSPB), Technical Adviser of the NCF,  Mr. Ibrahim Inahoro, attributed the unsustainable management of forest resources in the state to ineffective forestry institutions in the state.
According to him, though government did set up a Forestry Task Force Committee, much has not been done to curb the rate of forest degradation in the state.
Director of Forestry in the state, Mr. Samuel Tetule, reiterated government's commitment to supporting efforts being made towards the protection of forest and other natural resources in the state.
At the close of the forum, participants agreed to embark on an awareness campaign on the immediate and future benefits of forest conservation targeting the youth; underlined the need for a strong political will and commitment of the state and local government on forest conservation and Management; and ensure improved funding to the forestry sector by all tiers of governments through counterpart agreement.
Similarly, they appealed to government to enact and enforce bye laws on community forestry governance structure and ownership, train and provide financial mechanism for the development of alternative income generation ventures that will reduce dependence on forest while preparing roadmap and mechanism for forest communities and the state to benefit from the UNREDD+ Programme.