Newly appointed Tanzania Agricultural Minister, Prof Adolf Mkenda, has announced the cancellation of research trials involving genetically modified organisms (GMOs) in the country and the decision to put in place extra biosafety scrutiny of imported genetically modified (GM) seed.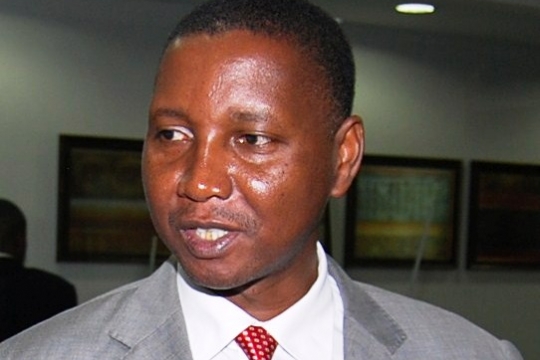 According to the minister, the decision was taken in order to conserve the country's genetic resources and local seed.
This is the second time the Tanzanian government has cancelled GM trials. In 2018, then Permanent Secretary of the Ministry of Agriculture Mathew Mtigumwe released a similar statement, later verified by the then Minister of Agriculture, to immediately halt all field trials. However, a principal agricultural research officer at Mikocheni Research Institute later refuted the statement, claiming there was full support from the government for GMO trials and that the "ban" was a point of miscommunication.

Sabrina Masinjila, African Centre for Biodiversity (ACB) Research and Advocacy Officer, remarked that these back-and-forth statements on cancellation of GM trials seem to signify a deep divide within government and a lack of consensus among officials regarding GM crops.
"If this recent call is indeed true, it is most welcome as it will end the field trials of GM cassava, ostensibly to confer resistance to the cassava mosaic virus, and the Bill and Melinda Gates Foundation (BMGF) funded drought tolerant GM maize field trials, under the auspices of the Water for Efficient Maize for Africa (WEMA), rebranded as TELA, which have been going on for the past 10 and four years, respectively," Masinjila said.

Masinjila added that, to date, "there has been a deeply worrying lack of transparency with regard to the field trial data – yet the constant propaganda from the pro-GM camp on how 'best these were performing' has continued unabated and unchallenged".
In a reaction, Nigerian activist, Nnimmo Bassey, who is director, Health of Mother Earth Foundation (HOMEF), said: "We applaud the Tanzanian government for this bold move. The cancellation of GMO trials is a bold move to preserve the nation's biodiversity, preserve local species, as well as protect the environment and the people.
"We are particularly happy that they haven't fallen into the trap set by promoters of 'safe deployment of GMOs.' Tanzania has shown real leadership in Africa that should be followed."
In a statement, Masinjila submitted: "We continue to reiterate that the WEMA/TELA project and GM technological interventions are failures and false, typically colonial, so-called solutions to systemic issues facing small-scale farmers on the continent. Further, the GM-based technologies being foisted on Africa are typical development interventions that reinforce indebtedness, inequalities and social exclusion for the majority of smallholder farmers, in particular women – the very people it is supposed to benefit.
"The project is purported to provide Tanzanian small-scale farmers with GM varieties that are drought tolerant and insect resistant, including resistance to the Fall Armyworm (FAW). However, in our multiple shocks in Africa series of publications, we argue that the FAW – now endemic to Africa – is a result of ecological imbalance and false solutions, including the use of GM insect resistant maize, which have longer-term detrimental consequences for the health of farming systems and of people.
"The ACB report on FAW concludes that there is the need for 'building farming systems that can recover from pest infestation and shocks quickly through building complexity into them – with a focus on developing health and plant and animal biodiversity, using indigenous farming knowledge and localised seed and farming systems.'
"It is worthwhile to note that unconfirmed sources say there has been entry and distribution of GM cotton seed in the country, and that this has largely contributed to the recent statement by the Minister. If true, then the necessary measures with regards to strict liability, as outlined in the Biosafety Regulations and other related laws, have to be operationalised, taking into account the risks of contamination posed to farmers' local seed from these imported seed but also all GM trials taking place in the country.
"Without the necessary action, there will be huge violations of farmers' rights, which are inextricably linked to human rights, through the failure to protect their seed and populations and ultimately the natural food resources they are in control of.
"The misguided and dangerous WEMA/TELA project appears to be in its final death throes. With the South African authorities rejecting a stacked GM drought tolerant variety in 2019 and Tanzania cancelling the WEMA/TELA trials twice, there is no doubt that African governments are waking up to the biotech industry's false promises, as cautioned constantly by food sovereignty and social movements on the continent, since the project begun more than 20 years ago.
"Indeed, even after many years of funding by BMGF, there has been nothing to show for this project in the implementing countries, which raises pertinent questions about where the money is going and who is benefitting from these typical false solutions.
"As it is, the Gates project is designed to benefit agribusiness and ecological degradation is principally driven by these multinational corporations, which behave like predators vis-à-vis Africa's natural and human resources. Africa's rich natural and human resources are being continuously, systematically, rampantly and rapaciously extracted and destroyed.
"It is necessary to ban GM based interventions and other false solutions and urgently prevent displacement of local food and seed systems, which form the basis for peasant farming livelihoods. Therefore, the focus of reconstruction efforts in this pandemic, and in the light of our multiple and convening crises, should be on re-establishing just local socio-ecological systems, of which farmer seed systems are a central component.
"Addressing pandemics and our multiple crises cannot be de-linked from building economies and food systems grounded in the needs of people, particularly smallholder farmers, and thriving ecosystems. To achieve this, we must utterly reject and prohibit the ecocidal logics of capital, commodification, financialisation and extractivism as driving forces of human and ecological fortunes and destinies.
"The human and ecological liberation of the continent require nothing less. Locating the economic, social and political context of this degradation, and the shocks that contribute to it, is therefore critically important."