An event showcasing initiatives to support measurement, reporting and verification (MRV) and the transparency of action and support was held on Monday, November 13, 2017, during the 23rd Session of the Conference of the Parties (COP23) to the United Nations Framework Convention on Climate Change (UNFCCC) in Bonn, Germany.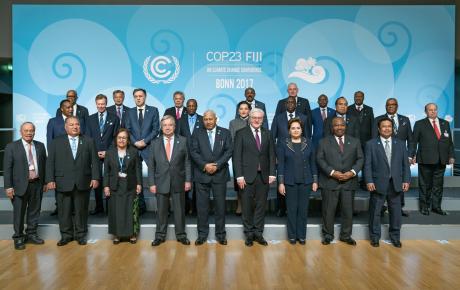 The expert panel – the Global Environment Facility (GEF), the UNDP/UN Environment Global Support Programme (GSP), and the Initiative for Climate Action Transparency (ICAT-UNEP-DTU) – presented support initiatives focused on the enhancement of developing countries' national capacity to effectively participate in the existing MRV arrangements under the Convention, as well as their preparations to implement the modalities, procedures and guidelines of the transparency framework under the Paris Agreement. A representative from the National Council for Climate Change and the Clean Development Mechanism of the Dominican Republic also provided their experience and lessons learned in mobilising and accessing necessary support in a timely manner.
The event was moderated by the UNFCCC secretariat. It was well-attended and generated interest and views from the audience during an interactive Question and Answer session.
Overall, the panel discussion reinforced the idea that effective participation in the current MRV arrangements under the Convention and transparency framework under the Paris Agreement requires long-term efforts for capacity-building support in developing countries and a systemic approach to build robust and sustainable national MRV systems. The panelists highlighted the need to ensure that the information prepared and submitted in national reports is relevant to national development process by informing relevant policies, plans and thus gaining political buy-in at national level. The degree to which support opportunities are effectively utilised can be enhanced by a high degree of political commitment from policy-makers and government officials.
The representatives of support providers outlined their initiatives available to developing countries to strengthen or establish national MRV systems. The financial, technical and capacity-building support has been provided in areas of, inter alia, developing legal frameworks and instruments; enhancing or consolidating existing institutional arrangements; improving data collection and management; and producing high quality national communications and biennial update reports (also known as BURs).
The Dominican Republic shared their experience and lessons learned in conducting a technical, institutional and legal analysis to examine the current situation and identify the gaps in regards to the main elements that make up a national MRV/Transparency System that is compatible with national data management practices as well as with reporting requirements to the UNFCCC. Their aim is to produce a mapping of existing relevant institutions that will play a role in the institutional arrangement to implement the MRV system; and to create a road map detailing the activities that need to be implemented for obtaining reliable and regular information on GHG emissions and reductions.
The interactive discussion with the audience led to an emphasis on the need for developing countries to encapsulate the knowledge and experience gained from the MRV process, as well as showcase their efforts and progress made.