No fewer than 30 persons representing the Ekuri community in Cross River State, along with several others resident in Abuja, will on Monday, 27 June 2016 present a signed petition to President Muhammadu Buhari protesting the construction of a highway in the state.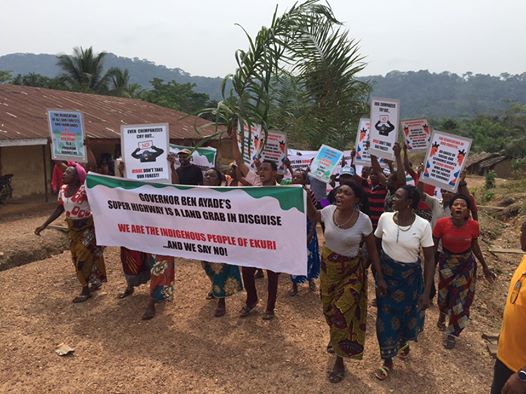 On January 22, 2016, the Cross River State Government, preparatory to the execution of the proposed Superhighway project, revoked a swathe of 5,200 square kilometers of 185 community lands including forests, farmlands, settlements and part of the Cross River National Park.
Residents of affected communities fear they will be landless, shortchanged of their livelihoods, culture and spirituality and the rich biodiversity, watersheds, wildlife, and lose medicinal plants.
Three local organisations – Ekuri Initiative, Non-Governmental Coalition for the Environment (NGOCE) and the Wise Administration of Terrestrial Environment and Resources (WATER) – have taken up a campaign against the revocation as well as the realisation of the Superhighway. The Ekuri community, with a total forestland of 33,600 hectares (ha), had petitioned Governor Ben Ayade.
The campaigners are now apparently taking the struggle to a different level with the plan to submit the 250,000-signature petition to Aso Rock next week.
About 10,000 protest signatures appear to have already been collected from communities, even as the coalition has agreed to step up the signatures to 50,000 to add up to the over 200,000 signatures from the international petition.
Coalition members are currently sensitising the communities and collecting signatures. On Friday, 24th June all signatures collected will be packaged at the NGOCE office in Calabar.
Rainforest Rescue, an international non-profit organisation committed to preserving rainforests, protecting their inhabitants, and furthering social reforms, has joined in the campaign and helping to facilitate the collection of some 50,000 local signatures. Others involved in the campaign include Leventis Foundation, Chief Robert Dunn, and Rights and Resource Initiative (RRI).
Commenting on recent developments and justifying the need for the petition, Martins Egot, the Ekuri Initiative chairman, said: "The government of Cross River State arranged a team of consultants to hurriedly put together an EIA (Environmental Impact Assessment) report for the superhighway project to respond to the demand by the Federal Ministry of Environment.  The EIA was open to public comments through writing and in a forum held in Calabar. The outcome of the forum sent clear signals to the government of Cross River State that they have a bad case.
"To cover their weakness, the government is resorting to propaganda, using political office holders to organise protest with hired crowd in the capital city of Calabar, and sending lobby teams to Abuja to impress on the Federal Government to approve the bad EIA. This makes the mobilisation of community people affected by the revocation order and the construction of the superhighway in Cross River State, Nigeria a matter for urgent action."