As parts of efforts to build a mass movement for strong, democratically-controlled water systems across Africa and the world, the Environmental Rights Action/Friends of the Earth Nigeria (ERA/FoEN) will on 11 and 12 August 2015 host a Lagos Water Summit themed "Our Water, Our Right."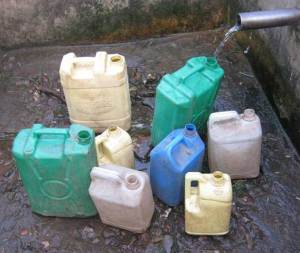 The summit, co-hosted by Corporate Accountability International, Public Services International (PSI), Amalgamated Union of Public Corporations, Civil Service Technical and Recreational Service Employees (AUPCTRE), Transnational Institute, and the Asian Peoples' Movement on Debt and Development (APMDD) and Freedom from Debt Coalition, will build on collective actions in demanding the right to water.
Leading campaigners from Nigeria, other countries across Africa, and countries around the world will share lessons learned and strategies to move the world toward universal access and democratic control of water.
The summit will draw from activists' struggles against corporate control of water in countries like the Philippines, Indonesia and Ghana. Participants will have opportunities to teach and learn from one another, building their expertise crafting in effective campaign tactics, amplifying the movement's voice in the public sphere and media, and creating real solutions to address water needs such as public-public partnerships. Through these sessions, participants will hone the tools they need to stop water privatisation, cut through the misleading marketing of "public-private partnerships" (PPPs) and confront international institutions like the World Bank, that drive this trend towards PPPs.
The summit also informs next steps for the growing network of organisations protecting the human right to water across the African continent and globally and will escalate the campaign to stop water privatisation in Lagos.
ERA/FoEN is working with the labour community, international partners, and the people of Lagos to build democratic water governance and support in rejecting corporate control of water in Lagos. The accelerating campaign in Lagos is part of a growing movement for strong, democratically controlled water systems across Africa and the world, demanding that water be managed as a public good and fundamental human right.
The global water justice movement which ERA/FoEN is part of, is building momentum worldwide, from the unfolding remunicipalisation in Indonesia to water profiteer Veolia losing contracts and investors like the World Bank's private arm.