The StopEACOP campaign says it is deeply concerned about the ongoing detention of the climate activist Barigye Bob.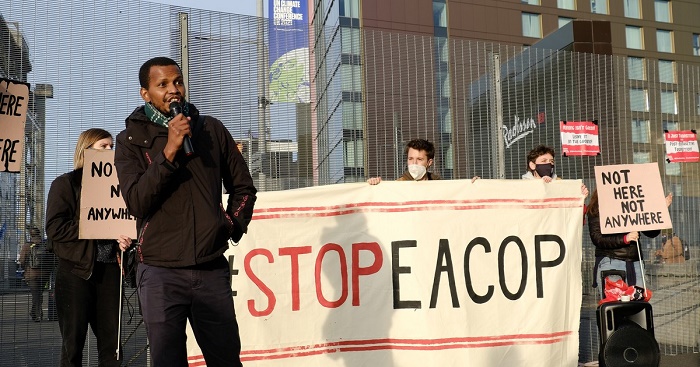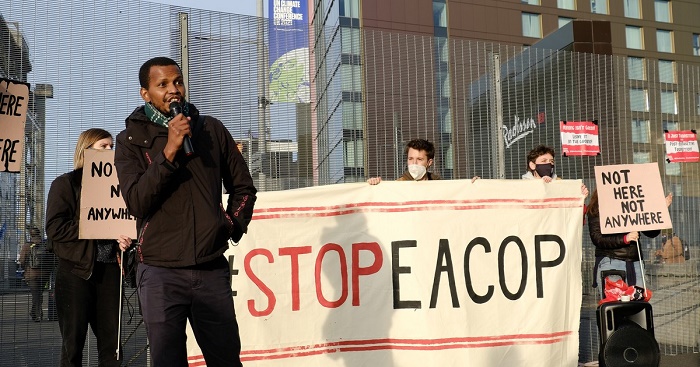 Bob, a respected and well-known advocate for social justice and human rights working with the African Initiative on Food Security and Environment (AIFE), was arrested on January 24, 2023, and detained at Wandegeya Police Station for organising a debate on environmental, human rights and economic impact of the controversial East African Oil Crude Pipeline (EACOP).
The group claimed that, despite having committed no crime, he has been held in custody without charge for the last two days.
This comes at a time when the government of Uganda and the China National Offshore Oil Corporation (CNOOC) launched oil drilling at the Kingfisher project, a move that appears to show complete disregard of the voices of Ugandans who have resisted the project owing to its potential impacts on biodiversity and the climate.
"We strongly condemn the use of arbitrary detention to suppress peaceful dissent and call for the immediate release of Barigye Bob. His continued detention violates his fundamental human rights and is a clear violation of international law. We also call on the international community to raise their voices in support of his release and to hold the Ugandan authorities accountable for their actions," stated the campaign.
Brian Atuheire, Executive Director, AIFE, said: "We refuse to be intimidated and insist that we shall continue to exercise our right to assemble and debate this project with citizens because we must have a say in the development we want. We will not be silenced. We will not be intimidated. We demand the release of Barigye Bob and the protection of the rights of all activists and human rights defenders."
Diana Nabiruma -Senior Communications Officer, AFIEGO: "The Ugandan government must make a decision to respect every Ugandan's freedom to assemble, as guaranteed under Uganda's Constitution. The government should not allow those who support oil and gas exploitation to assemble while denying those against the same right. All Ugandans are equal, and their rights must be upheld."
Landry Ninteretse, Regional Director, 350Africa.org: "The injustice faced by activists in Uganda is a reminder that we can't stop speaking against this controversial pipeline and its negative impacts on the environment and local communities. We stand with Bob and all those facing persecution for speaking truth to power and urge Ugandan authorities to uphold the fundamental rights of its citizens."
Juliette Renaud, Senior campaigner at Friends of the Earth France: "The constant harassment and detention of activists in Uganda is unacceptable, as are the human rights violations and environmental impacts associated with the Tilenga and EACOP project. Ugandan citizens should have the right to freely express their legitimate criticisms and opposition to these oil projects. If Total really cares about the rights of environmental defenders, it should suspend its projects until these rights are fully respected. We stand with Bob and request his immediate release."