National Coordinator, the Nigeria Reduced Emissions from Deforestation and Degradation (REDD ) Programme, Salisu Dahiru, has called on state governments in Nigeria to embrace the initiative so as to mitigate the effects of climate change, protect ecosystems, develop communities and reduce poverty.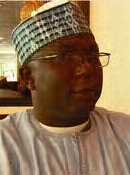 Salisu, who announced that implementation of the Nigerian UN-REDD pilot scheme in Cross River State would commence soon, said without reducing emissions from deforestation and forest degradation, it will not be possible to reach the 2⁰C temperature goal, stressing that carbon emissions from forests contributes about 20 per cent of the total emissions.
In a recent presentation titled: "Approaches to REDD for climate change including co-benefits for Lagos State," he said the REDD Readiness Document provides a strategy for expanding the scope of REDD to other states of the nation including Lagos. He describes the scheme, which is a mechanism for slowing down global warming, as a critical factor in any climate change agreement.
Correcting the impression that Lagos State is not a forest producing state, but carbon producing one, he noted that the two main vegetation types of the state – swamp forest, (including mangroves) and dry lowland rain forest – are suitable for the REDD project.
He listed some of the benefits of the project to include: resilience to climate change, improved community livelihoods, revenues and ecosystem services.
"REDD is a collaborative partnership among the Food and Agriculture Organisation of the United Nations (FAO), United Nations Development Programme (UNDP) and United Nations Environment Programme (UNEP)," he said.
"The main objective of REDD is to support and provide incentives to tropical developing countries for the protection and conservation of their standing natural forests and simultaneously contribute to mitigating climate change and promote sustainable livelihoods for forest dependent communities."
Salisu further urged states to join the REDD initiative and integrate it into the climate change mitigation and adaptation plans. Besides, he challenged the states to institutionalise REDD within climate change agenda, promote private sector investments in the programme and scale up consultations.
On the implementation of the Cross River State project, he explained that what "is left is for the parties involved – the Minister of Environment, Cross River State Governor and the UN agencies – is to put pen to paper, so that they can draw the approved money down."
Sharing a perspective on the Cross River State REDD project, Chairman of the state Forestry Commission and Head, REDD Cross River State, Odigha Odigha, represented by Arikpo Arikpo, a Commissioner in the Commission, said forest is the main asset of Cross River State.
He noted that in 2007 and 2008, logging of forest wood in the state reached a crisis level until the government placed a ban on it. He explained that an environmental summit was held in 2008 and key resolutions made, including the removal of revenue targets from timber exploitation and two year moratorium on logging.
Arikpo said implementation of the resolutions began in 2008, part of which he noted include the shift from timber concession to carbon concession. According to him, for any state to fully engage in REDD, there must be the political will as demonstrated by the state governor, Senator Liyel Imoke.
On what is require to engage in REDD, he said: "An in-depth investigation of vulnerabilities and adaptations strategies for rural communities to climate change.
"Our understanding is that although such in-depth investigation has become central to climate science, policy and practice, our capacity to conduct such vulnerability and adaptation assessments is still very limited. Through an appropriate combination of policy, technology and external funding, a low carbon economy is possible in Cross River State."
By Michael Simire