It was a turning point of sorts in Nigerian history when a group of cross-cutting stakeholders endorsed the final draft of the National Adaptation Plan (NAP), paving the way for it to be adopted as a strategic policy document to guide the nation's adaptation programme.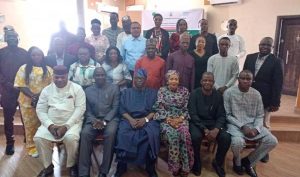 Given their beliefs about the country's socio-economic background as an agrarian society, the group proposed that adaptation projects focus on the agricultural sector.
After giving it a full day of thorough examination, they validated the report on Thursday, May 18, 2023, at a meeting convened in Abuja by the Federal Ministry of Environment's Department of Climate Change (DCC) to discuss communication and stakeholder engagement strategies for the Nigerian NAP process.
Nigeria, like most developing nations, must adapt to the existing human environmental conditions, according to Dr. Iniobong Abiola-Awe, director of the DCC.
The director, who was represented at the event by Jonah Barde, the head of the DCC's vulnerability and adaptation division, hinted that "climate-smart agriculture" is one of the strategies in the action plan that the government is considering implementing to enhance the nation's current farming practices.
"Agriculture is going to be key; it is one of the primary areas in which we will be looking to help our people adapt," DCC's boss said.
Dr. Abiola-Awe went on to say that climate change affects everyone, whether they are farmers, lawyers, journalists, or members of civil society, including the health sector.
As a result, she explained that combating climate change necessitates a united front because if people are not educated on the importance of working together to address this common enemy, Nigeria may be unable to make significant progress.
"Our call has always been that we need to partner and preach this gospel of climate change to people so that we are all on the same page," she reiterated.
The consultant, Prof. Emeka Oruonye, expressed appreciation for being given the opportunity to write the report and expressed confidence that Nigeria as a whole would benefit from it.
His first paper, "Stakeholder Engagement Strategy," revealed that the majority of policy documents on climate change adaptation end up at the federal level, whereas people in the states have no idea what the government's climate change policies are.
He bemoaned the fact that this issue is made worse at the local government level because people in rural areas suffer the most from climate change and are the least likely to receive information, be consulted, or be included in any climate change-related plan.
These people exist in rural areas, according to the professor of environmental science in the Department of Geography at Taraba State University, Jalingo, and no one talks about them, despite the fact that they are crucial stakeholders who must be included in the discussion of climate change.
Using an inclusive approach to ensure that no one is left out, he clarified that this is one of the gaps that the stakeholder engagement strategy seeks to close.
Concerning the communications strategy, he stated that Nigeria has developed numerous climate change policies. However, he believes that it is not only important to develop these policies but also to communicate them.
The consultant pointed out that climate change is one of those issues that people simply dismiss as one of those government stories and that some people do not believe it exists, despite the fact that they are suffering from its effects on a daily basis.
Prof. Oruonye emphasised the importance of knowing how to communicate with people in such a way that they will begin to recognise that climate change is already a problem on their doorstep, that they are suffering from it, and that they must do something about it.
That is why, he explained, it is crucial to develop a communication strategy because the manner in which messages about climate change are presented will determine whether or not people accept them.
He asserts that climate change messages must be selective; some will resonate with youth and cause them to think and consider using the information to influence behavioral change. Others resonate with the women, and only they can understand them because they relate to their daily experiences in terms of their livelihoods, and they will appreciate and understand them.
"So, you have to present the true picture of climate change effects in such a way that they will see reasons to appreciate the challenge and take action," he said.
By Etta Michael Bisong, Abuja