The Federal Government and stakeholders have begun processes to implement the outcomes of UN Climate Change Conference (COP26) held last November in Glasgow, Scotland and initiated preparations for COP27 holding in 2022 in Egypt.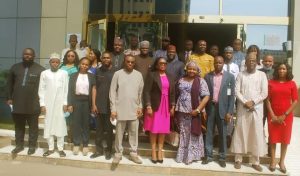 A daylong meeting in Abuja on Tuesday, March 1, 2022, sought to initiate activities for the implementation of Nigeria's Nationally Determined Contributions (NDC) and Energy Transition Plan in line with Mr. President's commitment to meet with the net zero target by 2060.
The meeting of the Technical Working Group of the Interministerial Committee on Climate Change held at the instance of the Department of Climate Change (DCC) of the Federal Ministry of Environment.
Sequel to COP26 and the adoption of the Glasgow Climate Pact, Parties are expected to increase national climate ambition and action as well as set out new rules to reduce greenhouse gas emissions.
In his opening remarks, the Permanent Secretary, Federal Ministry of Environment, Hassan Musa, noted that the energy sector is very strategic to the development of the Nigerian economy.
In the speech read on his behalf by the Director, Department of Climate Change, Dr Iniobong Abiola-Awe, the Permanent Secretary said the energy sector aids in reducing poverty, improving productivity, enhancing the general quality of life as well as climate change mitigation and environmental sustainability.
"The time is right for us as policy makers to reappraise our approach on our energy sector priorities, as we concurrently focus on energy security and climate change issues resulting from the inefficient and incomplete combustion of traditional biomass."
In her welcome remark, Dr Abiola-Awe emphasised the need to build capacity of relevant stakeholders on the NDC Implementation Plan and the Energy Transition Plan and also to have discussions around the implementation of COP26 outcomes.
She disclosed that the meeting precedes the high-level meeting which would take place on Monday, March 7, 2022.
During the Technical Session, papers were presented on the National Roadmap on the Implementation of Post COP26 Outcomes; The Climate Promise: Phase II; 2021 NDC: Update and Implementation Plan; and The Energy Transition Plan: Prospects and Implementation Plan.
The presentations, in line with the meeting objective, covered a wide range of relevant information which equipped participants with needed capacity to deliver on submission of inputs for the NDC Implementation Plan and the Energy Transition Plan.
As a way forward, the meeting agreed on a National Roadmap on the Implementation of Post COP26 Outcomes.