The Federal Government has been urged to regulate and license all borehole drilling companies towards protecting the nation's groundwater resources.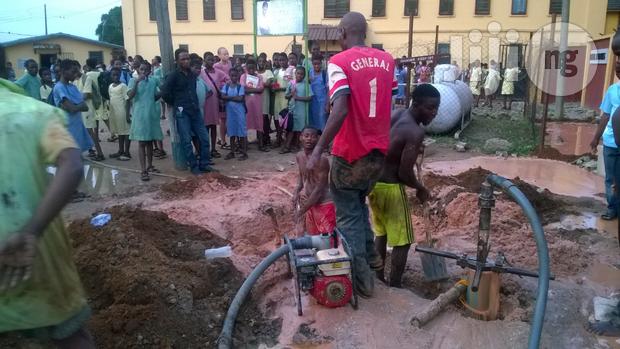 Mr Francis Uzoma, President, Borehole Drillers Association of Nigeria (BODAN), said that the association was worried about the influx of unregistered and unlicensed drillers in the sector.
Uzoma said indiscriminate drilling of boreholes in the country was depleting the water table and could lead to water crisis in the future if not checked.
According to him, the partnership with the Federal Ministry of Water Resources, through the Nigeria Integrated Water Resources Management Commission, necessitates regulation of the sector.
Uzoma said the association had commenced sensitisation of its members on the need to obtain their drilling license and adhere to the National Drilling Code of Practice, saying this would enhance management of water resources of the country.
He noted that indiscriminate drilling of boreholes was fueled by the inability of tiers of government to provide potable water for citizens, adding that more effort was needed to change such scenario.
"As an association, we are calling for enforcement of drilling practices in the country; it is important to penalise those who drill boreholes indiscriminately, so that the `bad eggs' will be removed.
"Borehole drilling is a professional work and it is worrisome that it has become an `all-comers affair'. Now, we see amateurs giving quotations with unrealistic prices and all that.
"Some just drill boreholes without geophysical and feasibility studies, some are drilled close to soakaway pits, without carrying out environmental impact assessments,'' Uzoma said.
The BODAN president said borehole licensing and regulation was important for data gathering and management, noting that it would in turn help in planning as well as prevent loss of jobs for local youths.
Uzoma called on the water ministry and the commission to ensure strict enforcement in expelling quacks from the sector, adding that this would help promote effective groundwater resources development.
The Minister of Water Resources, Mr Suleiman Adamu, had urged borehole drillers to adopt the National Drilling Code of Practice to eliminate indiscriminate drilling of boreholes in Nigeria.
Adamu attributed the collapse of most water infrastructure, a year after construction, to quackery in the profession, expressing the need to conserve the underground water resources to promote efficiency and availability of water for the future.
He said that this measure would go a long way to ensure sustainable delivery of sufficient and potable water for all Nigerians.
"Borehole proliferation is of great concern and we understand that there is a high demand for adequate water.
"Since access to surface water is an issue, we can't stop drilling ground water because surface water is not enough.
"We must however think about conservation. It is also important that we do it sensibly.
"Drilling activities have been hijacked by quacks, it's an all-comers affair, we need to start emphasising that regulation is key.
"All borehole practitioners must get their permits to protect our groundwater sources,'' the minister said.
Adamu said that although state governments had made huge investments in water infrastructure, it was however saddening that access to potable water in these states remained a mirage.
He noted that it was not the duty of the Federal Government to provide potable water for Nigerians, but for the state governments to reticulate such water from the dams already provided by the Federal Government.
Adamu expressed optimism that when the National Water Resources Bill was passed, it would be for the overall benefit of Nigerians, adding that the bill should not be politicised.
Prof. Adekunle Adepelumi, of the Department of Geology, Obafemi Awolowo University, Ile-Ife, said that there was concern over poor funding of the water sector.
Adepelumi therefore called for provision of adequate monitoring equipment to check groundwater abnormalities.
He dismissed the belief by some Nigerians that the recent Abuja tremors were caused by borehole drilling or rock blasting from quarries.
The don said that, contrary to such belief, the tremors were just natural occurrences.
Adepelumi also urged all stakeholders to collaborate towards protecting water sources against water-related illnesses or diseases.
According to UN reports, 783 million people do not have access to clean and safe water around the world.
The report added that 319 million people in Sub-Saharan Africa are without access to improved reliable potable water sources.
By Tosin Kolade