Nigeria should continue to promote its Just Transition and show genuine urgency and a desire to match words with deeds, according to a group of environmental activists, regulators, academics, media, and participants from the corporate sector.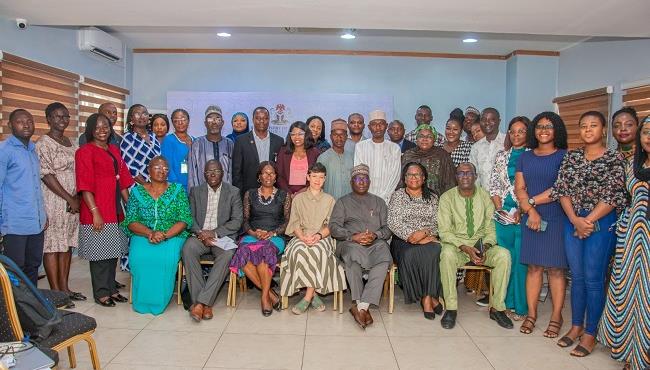 The body made the demand in Abuja on Thursday, March 16, 2023, at a National Stakeholders' Consultative meeting held in Abuja by the Fedral Ministry of Environment's Department of Climate Change (DCC) to review the outcomes of the 27th Session of the Conference of the Parties (COP27) to the United Nations Framework Convention on Climate Change (UNFCCC) that held last year in Sham El-Sheik, Egypt.
The gathering claimed that addressing climate change is critical to the country's economic future and that doing so can only be accomplished through collective action.
"The good news today is that we now have a climate change law that will coordinate and focus our efforts on fighting climate change and give it credibility, according to Charles Ikeah, a Director in the Federal Ministry of Environment.
The Director, represented by Mrs. Bolanle Bolorunduro, who is of the ministry, acknowledged that COP27 had both benefits and drawbacks, pointing out that now that the dust has settled, it is crucial to assess the Sham El-Sheik work programme to ascertain how close these decisions bring us to meeting the 1.5 degree Celsius limit and to look into what these decisions mean for Nigeria.
He, therefore, urged Nigerians to make use of the numerous programmes put forth by the federal government to address new climate change issues, such as the review of the Nigerian Climate Change Policy and Response Strategy to support low-carbon development, enhance adaptation, and foster sustainable natural resource management.
Martine Sobey, who attended the event on behalf of the government of the United Kingdom (UK), said that Nigeria and her nation must work together to find answers to challenging climate change issues because the world is currently experiencing persistent economic difficulties and political instability.
She said that, as part of its commitment, the UK Government supported Nigeria's Climate Change Act by offering technical assistance that helped Nigeria create a framework for integrating environmental and climate change concerns into national policies.
The UK financed a climate finance advisor and an NDC as part of the National Determined Contributions (NDCs) Partnership, according to the speaker, and it also supported the research of Nigeria's NDC.
She added: "Our UK PACT (Partnering for Accelerated Climate Transitions) project supports Nigeria's climate obligations and seeks to deliver ambitious action on energy efficiency, nature-based solutions, and climate diplomacy."
Salisu Dahiru, Director General of the National Council on Climate Change (NCCC), during a panel discussion session at the parley on how Nigeria can achieve its 2060 net-zero target, said that there is need to conduct a national stock-take to review the status of NDC implementation in order to determine "where we are and how do we achieve our set target by 2030."
Speaking about the following steps Nigeria should take to meet its mitigation target the in light of the implementation of its NDCs and alignment with the Energy Transition Plan (ETP), the DG emphasised the necessity of an Inter-ministerial Council on Climate Change (ICCC) stakeholder consultative meeting to compile the results of COP27 based on participation and identify gaps and subsequent steps.
Nigeria, according to Dahiru, must develop a detailed, measurable, attainable, relevant, and time-bound climate action strategy in order to achieve its net-zero ambitions.
An internal assessment of the NDCs, interaction with MDAs, development partners, CSOs, the media, the commercial sector, and sub-nationals are among areas the NCCC director cited as needing attention if Nigeria is to expedite its climate action.
He argued for the development of vertical skills in all climate actions in order to raise public awareness and encourage Nigeria's ecological plan.
Priscilla Achakpa, founder of Women Environmental Programme (WEP), who spoke about how Nigeria can explore gender inclusion in climate change advocacy, suggested that, in order to accomplish this, the government should consider including the National Gender Action Plan on Climate Change in its implementation framework.
"That is one of the elements that must be considered while determining how to carry out this plan," she said.
The WEP boss believes that gender issues need to be given the serious study they warrant and not just be mentioned in passing in order to examine gender inclusion in climate change campaigns.
Achakpa wants the government to take into account and treat another critical aspect of the climate calamity, such as people who are physically challenged.
According to Iniobong Abiola-Awe, Director of the Department of Climate Change, efforts to consistently promote, execute, and enforce Nigeria's commitment to reaching net-zero are greatly influenced by decisions made on a global scale.
As a result, Nigeria is committed to low-carbon cities, renewable energy, and environmentally beneficial initiatives such as green technologies, green buildings, and green finance, she stated.
"Effective engagement and seamless collaboration are what we require to deepen our relationship in order to deliver on our national mandate," the DCC chieftain explained.