Public health and environmental stakeholders have honoured a national consultant in public health and environment, Dr. Edeh Edwin-Isotu, on his 40th birthday.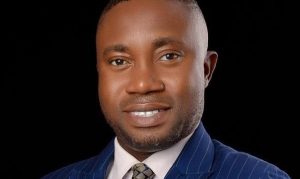 At the birthday celebration in Abuja on Friday, September 15, 2023, they described him as a patriot par excellence, and acknowledged his unwavering service to humanity.
The event, titled "40 Shades of Gratitude – 20 Successful Years in Public Health & Environment Leadership," exemplified Dr Edeh as a bridge builder who facilitated communication between the ministries of health, environment and water resources.
Keynote speaker, Dr. Richard Munang, Deputy Regional Director of the United Nations Environment Programme (UNEP) Africa, and the Regional Climate Change Coordinator of UNEP, said: "Our continent faces a myriad of challenges, from environmental to health crises, and yet, in Dr. Edwin, we see a beacon of hope. For 20 illustrious years, he has shown us that sustainable solutions can be woven from unity, vision, and unyielding commitment.
"Our gratitude towards Africa's abundant resources – human and material – echoes Dr. Edwin's own gratitude. He teaches us to cherish and harness these riches, crafting a future where Africa isn't just surviving, but thriving."
Former Country Representative, World Health Organisation (WHO) Nigeria, and advisor to Africa's COVID-19 Pandemic Response as well as supporting the Regional Health Emergency Programme flagship, Dr Wondimagegnehu Alemu, in his keynote felicitation remarks, described Dr. Edwin-Isotu as an emerging public health leader who is committed to impacting and promoting excelence health and addressing determinants of health.
Registrar of the Environmental Council of Nigeria (EHCON), Dr Yakubu Mohammed, who was the chairman of the event, praised his remarkable journey from a humble beginning to becoming a vital figure in the health sector.
He said Dr Edeh's dream was to fortify public health as a cornerstone of preventive healthcare in West Africa and the entire African continent.
Dr. Mohammed expressed pride in associating with someone dedicated to advancing the sector within the World Health Organisation.
The Permanent Secretary of the Federal Ministry of Water Resources, Mrs Esther Didi Walso-Jack, described the celebrant as a trail-blazer whose exceptional insights and commitment to working with stakeholders across MDA is commendable in driving the water, sanitation and health (WASH) agenda in Nigeria.
Speaking at the event, the pioneer and current Director-General of National Senior Citizens Centre (NSCC), Dr. Emem Omokaro, attested that the celebrant is loaded with game-changing ideas and strategies. "I admire his ability and interest to work with older generation even at youth," she added.
Ede's contributions include work on  environmental surveillance system in the FCT,  development of sustainable healthcare guidelines, and providing platforms for collaboration among various ministries.
The celebrant, who is championing the "One Health Approach" of the WHO in Nigeria, expressed gratitude to God for his new age and 20 years of public service. He credited his career journey to consistency and result orientation, and encouraged Nigerians, especially young people, to work towards building their dream Nigeria, emphasising their roles as national ambassadors.
Dr. Isotu Edeh is an award-winning United Nations' Global Environmental Health Expert, Executive Career Mentor, keynote speaker and transformational leader with two decades of technical and strategic levels experience in environmental and public health issues spanning across industry, governance, academics and humanitarian spheres. He is a two-time winner of Nigeria Sustainability Health Consultant of the Year 2021/22.
He is author of the 426-page book: "Environmental Health: Understanding Current Issues and Solutions of the 21st Century" published in 2016, which is serving as a standard text in seven African universities. He has authored three other best-selling books, published 32 research articles, made 255 high-level presentation appearances, and delivered 61,320 hours of active academic teaching on 13 environment and health courses across five schools/faculties including Environmental Health, Health Information, Medical Laboratory, Community Health, Nursing/Public Health Nursing in Rivers State.
He is teacher, mentor, strategic planner, project manager, administrator, management consultant, and currently leads the Public Health and Environment (PHE) Programme of the WHO in Nigeria, as a National Consultant. With guidance and support from team of supervisors, colleagues and mentors, Dr. Edwin completed and upgraded the WHO works on developing a country strategy on public health in Artisanal and Small-Scale Gold Mining (ASGM) gold mining risk into establishing a functional Public Health and Environment (PHE) Programme in WHO, Nigeria, model in African region.
He has pioneered and championed impactful climate health and environment work in Nigeria with the involvement of 14 MDAs in 36+1 states covering climate change, air pollution, water sanitation and hygiene (WASH), Non-Ionizing Radiation, chemical risk management and occupational hazards as it relates to human health, and to support the One-Health Agenda.
In 2021, Edwin-Isotu also coordinated the Signing of Nigeria's first Health Ministerial Commitment to building a sustainable and Climate-Resilient Health System in Nigeria in line with the Paris Agreement, the United Nations COP26 Health Programme, and Nigeria's Energy Transition Plan 2022.
He coordinated the 3rd and 4th Cycles of implementation of the United Nations Global Analysis and Assessment on Sanitation and Drinking Water (GLASS) Initiative in 36 states of Nigeria in 2018-2022. He has championed Sanitation Sanitation Safety (SSP), Hand Hygiene Initiative, Electronic Waste and Child Health intervention in Lagos, Port Harcourt, Kano, Bauchi, Nassarawa, Abia, Sokoto, Akwa Ibom states.
Within the health system and in response to health emergencies, Dr. Edwin-Isotu has promoted health in over 52 policies, and advanced sustainable health system strengthening support to 18 institutions across sectors, facilitated the creation of three coordination platforms, addressing five key determinants of health addressed across seven top priority diseases, supported preparedness and response to two pandemics including COVID-19 and HIV/AIDs and multiple outbreaks and emergencies cholera, yellow fever, lassa fever and chemical incidents, etc in line with International Health Regulation (IHR).