Stakeholders from the environment, finance, budget and planning, statistics and the academic sectors gathered in Abuja on Wednesday, December 2, 2020 to chart a roadmap on how Nigeria could incorporate its Natural Capital and Ecosystem Services into national accounting and development plans.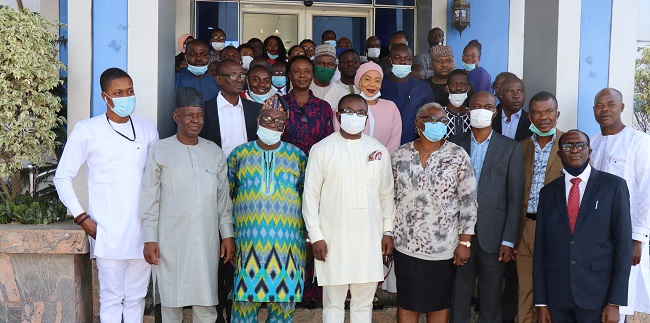 The event, which was a two-day capacity workshop for staff of the relevant ministry and department, was under the auspices of the Resource and Environmental Resource Research Centre (REPRC), Environment for Development (EfD) Nigeria, University of Nigeria, Nsukka, in collaboration with African Regional Platform on Natural Capital.
In her address, the Minister of State for Environment, Chief Sharon Ikeazor, said that although Nigeria was rich in natural capital, the country had neglected the inclusion of natural capital into system of national accounting.
The Minister lamented that the country's natural capital "are neither captured in the financial calculation of Nigeria's wealth nor are they explicitly considered as assets in national planning". That, according to her, could delay the achievement of sustainable development in the country.
Ikeazor, who was represented by her Special Adviser, Dr Pricilla Achakpa, said that sustainable management of natural resources in Nigeria would require a policy that should direct the adoption of a governance approach that accounts for the impact of economic development on natural resources and environmental sustainability.
She said that although the Federal Ministry of Environment had made some effort in providing some data required for natural capital accounting through the implementation of some aspects of the National Biodiversity Strategy and Action Plan, a lot remained to be done to incorporate and mainstream natural capital and ecosystem services accounting into the system of national accounts and development plans.
Vice-Chancellor of the University of Nigeria, Prof Charles Igwe, in his address, said that despite Nigeria being the largest economy in Africa, the country was yet to incorporate natural resource accounting in her System of National Accounts (SNA), a development he said could hamper meaningful development in the country.
Igwe, who spoke through the Dr Nnaemeka Chukwuone, commended the Resource and Environmental Policy Research Centre and its partners for promoting the need for a government policy that would evaluate the impact of economic development on natural resources and environmental sustainability.
Sofia Elizbeth from the World Bank, who spoke through Zoom, expressed the support of the bank in the effort to provide direction for incorporating and mainstreaming Nigeria's natural capital into the country's system of national accounting and development plan.
She said that some African countries had already adopted the accounting system and that she was looking forward to receiving Nigeria into the league.
The Head, Climate Change & Energy, West Africa, British High Commission, Abuja, Sean Melbourne, said that mainstreaming natural capital into System of National Accounting would enable Nigeria to fully understand the values of its natural resources which are currently hidden.
Melbourne urged Nigeria to join other countries like the United Kingdom, South Africa, Botswana, Uganda who had incorporated natural capitals into their accounting systems.
He said that the United Kingdom would be pleased to share its experience of natural capital accounts, and help develop innovative approaches and consistent data methodologies with Nigeria.
Professor Emmanuel Oladipo, the Chairman, REPRC Policy Advisory Panel, said that the mismanagement of natural resources was the reasons humans were exposed to contacts with diseases-caring animals which had caused many disease outbreaks including Ebola and Lassa fever.
He said it was high time the government should take the issue of natural capital accounting very seriously as that was the bedrock of sustainable development in the country.
Director of REPRC-EfD Nigeria, Dr Nnaemeka Chukwuone, said that Nigeria could not afford to keep ignoring the inclusion of natural capital in its system of national accounting because of its benefits of keeping the environment safe and a source of revenue to the government.
Chuukwuone said that the objective of the training was to build capacity of staff from relevant ministries in natural accounting and the development of a roadmap to facilitate the incorporation and mainstreaming of natural capital and ecosystem services accounting into Nigeria's system of national accounts and national planning.
He said his Centre would continue to use its researches to push for policy options that would help protect Nigeria's environment. Chairman of GLOBE Nigeria, Sam Onuigbo, said that the incorporation of natural capital in national accounting would be one of the major ways of diversifying Nigeria's economy and making it less dependent on oil.