A bill for an act to establish the National Biosafety Management Agency appeared to scale a major hurdle last week in Abuja, where it was tabled for public hearing by the Senate Joint Committee on Agriculture & Rural Development, and Science & Technology.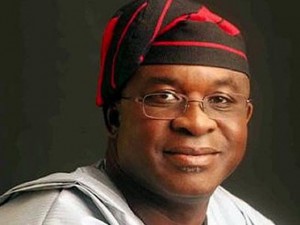 At the daylong event, a considerable number of speakers from government, research institutions, international agencies and the academia gave the controversial bill the all-clear, pointing out that, when eventually in place, it will do the nation a lot of good.
Biotechnology applies biological agents on human, animal, plant and soil materials for health or agricultural reasons towards achieving positive results. However, the application of biotechnology can also have negative effects leading to contaminations, infections, complications, diseases and death.
But majority of the participants at the public hearing would rather focus on the technology's numerous advantages, as they identified and supported the process of enactment into law of the National Biosafety Management Agency Bill, 2014.
For instance, Prof Lucy Ogbadu, Director-General/CEO of the National Biotechnology Development Agency (NABDA), submitted that, besides increase in food supply with less farmland requirement, biotechnology would bring about wealth creation and industrial growth, ensure the discovery and delivery of new medicines and vaccines diagnosis in diseases, as well as finding relevance in the clean-up of oil spills, prevention of deforestation and provision of eco-friendly materials.
According to Prof Ogbadu, who is also Chair, Nigeria chapter of the Open Forum on Agricultural Biotechnology (OFAB), the bill seeks to minimise risks to human health, regulate the importation of genetically-modified (GM) products, guard against any socio-economic consequences, offer protection against any adverse effect of genetically-modified organisms (GMOs) on the environment, and reaffirm Nigeria's commitment to the principles of international agreements and treaties on biosafety.
"The absence of a Biosafety Law has greatly hampered research and development in modern biotechnology in Nigeria; a biosafety law will therefore enable our research institutes to carry out their statutory functions," she stated, adding that South Africa (1989), Egypt (1995), Kenya (2009) and Burkina Faso (2008) are among African countries that already have such a law in place.
Ademola Olorunfemi, President of the Nigerian Institute of Engineers (NSE), underlined the need for the application of biotechnology in agriculture in the light of the diminishing interest in preoccupation in agriculture/food production activities in one hand and, on the other, increasing demand for food to cater for increasing population while land mass is fixed.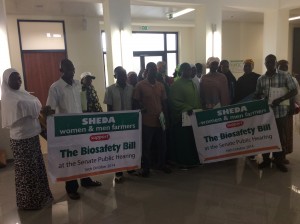 "This scenario brings a serious complication to the equation of food and agricultural production and makes it difficult to meet global food demand. It is however necessary to scale up global agricultural and food production, despite inherent odds, via the application of science, technology and engineering. The application of bio-technology and bio-engineering are especially crucial in the production, processing and distribution of agricultural and food materials," he disclosed.
While calling for legislation, labelling, monitoring, regulation and control framework for GM crop utilisation and administration, Olorunfemi described the Cartagena Protocol on Biosafety as a relevant internationally accepted legal framework on biosafety associated with the movement of GM crops across national boundaries.
Prof Garba Sharubutu, President of the Veterinary Council of Nigeria (VCN), describes the bill as "important", saying that it aims to protect human and environmental health.
"It is the view of the Council that if the bill is signed into law, issues that border on research and development can be standardised," he declared, raising concerns on parts of the bill such as Part I Section 2b, Part II Section 3a and Part III (Structure of the Agency).
Prof Malachy Akoroda, Executive Director, Cocoa Research Institute of Nigeria (CRIN), noted that the establishment of a National Biosafety Management Agency would act as a clearing house similar to what NAFDAC is doing for food and medicines.
According to him, a general question regarding the coordinated and/or central disposal of hazardous chemicals is missing from the draft bill, he added.
"There are hazardous chemicals arising from works in the molecular laboratory that would need to be centrally disposed as obtainable in the developed country. There is need to properly incorporate these concerns in the bill for this act to cater for this aspect."
Dr M.B. Yerima, President of the Biotechnology Society of Nigeria (BSN), expressed support for the bill but would rather prefer the proposed agency to be referred to as National Biosafety Regulatory Agency (NABRA).
"This is particularly so, because biosafety issues border on regulatory approaches. It is the risks that are associated with modern biotechnology applications that are better managed. In this case the idea of the bill is to safeguard the occurrence of the potential risk through the proper regulations," he stressed.
Dr Yerima likewise underscored the need to have specialised and independent laboratories with the agency for food testing, toxicological testing of pollutants, culture collection and preservation to, according to him, ensure reliability and minimise "cooking of data".
Prof Shehu Garki Ado, Institutional Biosafety Officer at the Institute for Agricultural Research (IAR), Ahmadu Bello University in Samaru-Zaria, insists that Nigeria must take steps towards implementing appropriate biosafety and food quality standards by enacting a bill to that effect.
His words: "The bill will enhance the technical skills of laboratory personnel to ensure judicious use of GM food in the country. Such capacity building activities are part of the efforts to help develop mechanisms for confidence of smallholder farmers and marketers, and make them produce resilient crops for sustainable agriculture in the long run.
"The ultimate goal is to ensure Inclusive Market-Oriented Development (IMOD) by leveraging on the potential of the agribusiness and food processing sectors in the country."
Prof Mohammad Ishiyaku, Programme Leader, Biotechnology Research, IAR, disclosed that instead of the expensive and harmful chemical insecticides, the institute utilised biotechnology tools to develop varieties of cowpea that are highly resistant to Maruca (a pod boring insect), leading to two-four fold higher yield than the non-resistant types. He added that the beans are under experimentation.
He said: "You can never ascertain the safety or otherwise of the products of modern biotechnology such as our insect-resistant beans without a legislation like this. To do inaction in this regard is to shut off our country from immense potential benefits there are in this technology.
"I urge you to disregard those snobbish elites among us who never tasted hunger or poverty in their lives and have no idea what it means to increase a poor farmer's annual harvest even by one ton. We must provide the room for all technological options for the transformation of our great country which is to pass this bill into law."
Dr Chris Ugwu, Executive Director, Society for the Improvement of Rural People (SIRP), however contends that absence of provision for public consultation is a key flaw of the bill.
He declared: "Part VIII, Section 6 of the bill has provisions for public display of applications from individuals or corporations intending to import or introduce GMOs into the country. However, Section 6(2) of the bill indicates that the announcement of the display of such applications is not mandatory. Everything in the section is optional. The announcement of where or when the display would be made is optional as well as whether the agency would convene a public hearing on the matter.
"In fact, the bill does not even say if comments made by members of the public that may get to see the application would be considered. Seeing an application by chance and commenting on it cannot be construed as public participation."
Dr Ugwu alleges that the bill has left wide gaps that would ensure that those who wish to pollute the environment get away with slaps on the wrist sort of chastisement.
"The provision of fines of up to N2.5 million for individuals and N5 million for corporate bodies may appear huge, but they are actually not significant when we consider, as stated in the bill, the 'potential risks that modern biotechnology may pose to the environment and human health'."
He added: "The downside of these penalties is that there is no redress for individuals or communities who may be impacted individually or collectively. There is no clear provisions for polluters to be liable and compelled to remediate impacts. Without clear liability and redress provisions, securing our biodiversity will remain unchanged. What happens, for example, when damage is irreversible?
"The bill has provisions for confined field trials and commercial release but is silent on the possibility of large-scale field trials conducted with low or no contaminant measures. Researches have shown that there is a huge potential of GMOs to contaminate nearby farms and, by our farming practices, farmers may simply take the seeds home and mix them with natural varieties.
"Experts fear that from an ecological perspective, GM crops would lead to uncontrolled large-scale spread and persistence of transgenes within the smallholder agricultural systems in Africa. The result would be disastrous and unpredictable recombination and that would be negatively impact on our crop variety."
Declaring open the forum, Senate President, David Mark, stated that the need to adopt modern and acceptable means of boosting food production to meet up with the growing population as conventional means were proving to be insufficient.
Represented by Senate Committee Chairman on Interior, Senator Bagudu Atiku, the Senate President urged the stakeholders to take cognisance of the economic, environmental and other benefits of biotechnology in their submissions.
"The issue of biotechnology is an international one and Nigeria is signatory to the Cartagena protocol on biosafety. But, we must domesticate the issues involved so as to benefit from the technology," Mark added.
Senate Committee Chairman on Agriculture, Senator Emmanuel Bwacha, said the National Assembly was committed to ensuring that the law which was passed but did not get presidential assent in the life of the Sixth Assembly is passed before the end of the Seventh Assembly.
He explained that the law was necessary to put a framework to regulate biotechnology application in Nigeria, adding, "The bill provides derived benefits from modern biotechnology for economic growth, improved agriculture, jobs and wealth creation, industry growth and sustainable environment."
Various farmers associations were at the Senate chamber displaying placards calling for the quick passage of the bill.