Some stakeholders have called for the establishment of the Ministry of Blue Economy to properly harness full potentials and benefits of marine life.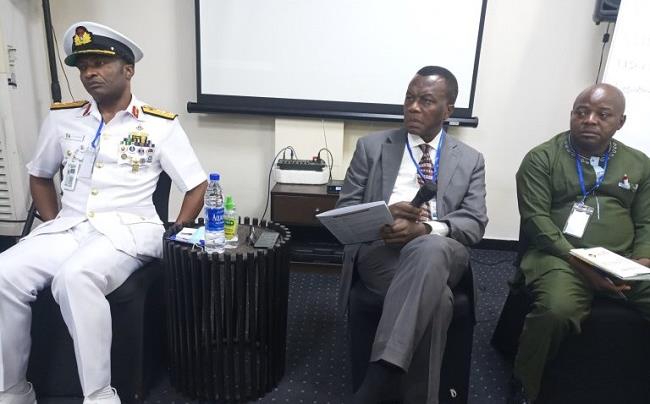 The stakeholders said this on Thursday, February 17, 2022, during the three-day Nigeria Blue Economy Stakeholders Conference held in Lagos with the theme: "Creating the Pathway for Sustainable Nigerian Economy".
Commodore Sunday Atakfa, Commandant, Nigerian Navy Hydrographic School, Port Harcourt, said that establishment of the Ministry of Blue Economy would help Nigeria to utilise and streamline the potential of the Blue Economy.
He said that no ministry would like to be subservient to the other ministries, adding that there was Department of Fisheries and Aqua culture which was under the Ministry of Agriculture and Rural Development.
Atakfa said that the ministry was more agrarian than aquaria, which is a segment in the blue economy, adding that another segment is shipping which comes under the Ministry of Transportation.
He said that, under the Ministry of Transportation, there are National Inland Waterways Authority, Nigerian Railway Corporation, Nigerian Shippers Council, Nigerian Ports Authority, Nigerian Maritime Administration Safety Agency, and Transport Road Union, among others.
Atakfa said that Nigerian Navy, which provides maritime security, is also involved in oceans activities which is under the Ministry of Defence, saying that Blue Economy was advocating for synergy and sustainability among all stakeholders.
"Once the blue economy is operationalised, there would be a lot of activities in the maritime space with each sector competing for relevance in that space.
"Why we are advocating for a dedicated ministry is to enable all these sectors come together to harness potentials in the Blue Economy.
"Once we bring all the ministries together there would be one central accounting unit that would go straight to the coffer of the government,'' Atakfa said.
Mr Saliu Ahmed, who represented the Ministry of Water Resources, said that some Nigerians see water body as conceived refuse dumped.
Also Mr Sunday Bisong, Director in the Ministry of Information and Culture, said that there was need for inter agencies collaboration and law enforcement to ensure that all rivers were safe from piracy and illegal fishing on the Nigerian rivers.
Bisong said that if all the laws were available, it would protect our rivers and reduce criminal activities.
Also speaking, Mr Soji Adeleye, Chief Executive Officer, Alfe City Institution, commended the Federal Government for establishing national committee to coordinate the activities of the Blue Economy which had enhanced the inter agency collaboration.
He said that the media ought to enlighten Nigerians to be aware of the potential and sustainability of Blue Economy.
Adeleye called for more awareness of the dangers of dumping wastes around, adding that many of the drainages were filled with non-degradable items which was not compatible with sustainability.
Mr Eric Giercksky, Head of United Nations Global Compact Sustainable Ocean Business Action Platform, in a zoom presentation, underlined the need to improve traceability on the seafood standard.
Giercksky said that the standard of the seafood should be traceable back to the origins of the produce to see if it is correctly sourced for according to the rules and regulations, for the industry and stakeholders and the consumers.
He urged Nigerians to collaborate with the industry, finance sector and associations as well as establishing practical and systemic approach to accelerate investments and bond issuances.
Giercksky said that bridging existing reference mechanisms and reporting systems was also necessary to achieve potentials of Blue Economy.
He advised Nigerians to consider emerging market for green and sustainable solution while private and government should blend finance for sustainable ocean business which, he said, was a trillion dollar opportunity.
He said that with solid frameworks and science based targets, the nation would accelerate inclusive and resilient solutions.
A senior lecturer, Maritime Academy of Nigeria, Oron, Mr Hilary Efanga, said that the oceans hold a fabulous potential to meet the worlds demand in all sectors.
Efanga said that human survival was much more inescapably attached to the oceans, which had supported human activities and benefits from both marine living and non-living resources.
"Marine Tourism is providing employment opportunities and improving local community capacity as well as developing local supply chains and promoting local cultural heritage.
"It also supports the conservation of coastal biodiversity, reduces negative impact of climate change and improves marine tourism value chain in Nigeria.
"The contribution of the ocean economy to global value added has formerly been estimated, conservatively suggesting its contribution is in the order of US$1.5 trillion annually (OECD, 2016).
"Currently, advancing technologies are opening new frontiers of marine resource development from bio-prospecting to the mining of seabed mineral resources.
"The sea also offers vast potential for renewable 'blue energy' production from wind, wave, tidal, thermal and biomass sources.
"The potential of the oceans to meet sustainable global development needs is massive; but only if they can be maintained in and/or restored to a healthy, and productive start,'' Efanga said.
By Aisha Cole