Sri Lanka's Department of Meteorology on Tuesday, May 9, 2023, issued a red warning for fishing boats over strong winds and rough seas in the southeast Bay of Bengal and South Andaman Sea.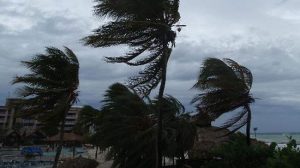 The rough seas were caused by the depression in the southeast Bay of Bengal and would gradually develop into a cyclonic storm on Wednesday, the Department of Meteorology said.
Due to this, the wind speed in the above-mentioned sea areas would be between 50 and 60 kmph, the department said.
At times, winds can increase up to 70 kmph in sea areas, it said, adding that heavy showers or thundershowers can be expected in above-sea areas.
The department urged all naval and fishing communities not to venture into the above-sea areas until further notice.
The department also urged those who were out on the aforementioned seas to return to the coasts or move to safer areas immediately.