As a follow-up to the launch of the Policy Paper on Africa's Post Covid-19 Green Recovery – Towards a Green and Resilient Recovery in West Africa, the Society for Planet and Prosperity (SPP), an environment focused not-for-profit, on Thursday, May 27, 2021 convened a group of civil society organisations (CSOs) to dialogue on "Promoting a green and resilient recovery in Nigeria and the rest of West Africa".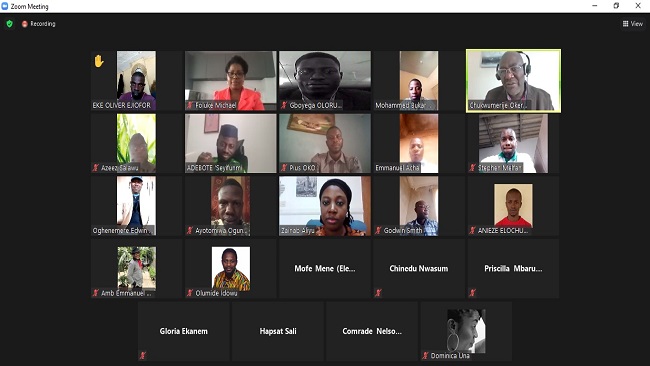 The event explored NGOs effectiveness, priorities, funding sources and campaign strategies to promote, expand and mainstream green recovery in Nigeria and the rest of West Africa.
Addressing the CSOs Dialogue, Professor Chukwumerije Okereke, President of the SPP, reiterated: "Covid-19 is an unprecedented event with socioeconomic consequences of immense proportion for Nigeria as well as other West African countries. While the number of cases and deaths linked to Covid-19 in the sub region remains below projected figures in March 2020, the pandemic has and continues to stretch regional and global health, financial and socio-economic resilience to their very limits".
He said further that "the pandemic has also triggered multiple impacts on the environment, exacerbated inequalities and food security, and upended Africa's economic growth projections with the sub region now being faced with plummeted GDP and a sudden spike in inflation with a projected fall in international remittances and FDI".
Professor Okereke emphasised that the "civil society organisations have a key role to play in helping to advance the agenda, discourse, and pathways to green recovery in Africa." He underlined the need to enhance the capacity of the Nigerian's CSOs, many of whom, according to him, have already put out statements and have carried out initiatives of different kinds to promote green recovery in the country.
Professor Okereke emphasised that Nigeria and other African countries would benefit from more intense, strategic and coordinated campaign from like-minded CSOs to help promote and chat the path to green and resilient recovery on the continent "because there remains plenty of opportunity to do more in this regard".
Ms. Zainab Aliyu, a Doctoral Researcher in Climate Justice, University of Reading, UK in her presentation titled "Effectiveness of NGOs in promoting climate justice within the context of Green Economic Recovery in Nigeria and the rest of Africa", provided information on why many NGOs are not effective and how this challenge can be tackled.
She highlighted lack of capacity and limited resources as major constraints and advised NGOs to work harder to develop their technical capacity, diversify their sources of funding and build alliances as ways to enhance their effectiveness.
In her presentation, Ms. Gloria Bulus, who doubles as the Founder of Bridge that Gap and the Coordinator, Climate Reality Project, West Africa, took the participants through the priorities in promoting green recovery in Nigeria, highlighting renewable energy, green transportation, nature conservation and climate smart agriculture as areas where there are opportunities for Nigerian CSOs to push for green recovery policies.
She emphasised the need for CSOs to link their advocacy campaigns for better climate governance to the Open Governance Practices and other global initiatives and treaties to which Nigeria has already signed up.
Mrs. Foluke Michael, CEO and Founder of Creative Youth Community Development Initiative (CYCDI), spoke on how to run "an effective green recovery campaign and emphasised the need for good problem statement, strategic planning, clear milestones, and a robust monitoring and evaluation framework.
She described green recovery plan as an opportunity to create green jobs and promote green entrepreneurs to close the current unemployment gaps in Nigeria.
Pius Oko, the Project Manager, Climate and Sustainable Development Network (CSDevNet), laid emphasis on the role of finance in green recovery. He said the impacts of Covid-19 on CSOs are being felt most acutely through changes in funding, operations and programme activities. He lamented the exclusion of CSOs from the national responses to Covid-19 and the failure of the government to utilise the skills, experiences and networks of local CSOs in its Post Covid-19 Special Economic Recovery Plan.
He, however, proposed numerous ways forward for CSOs to help to achieve green recovery which include building sector solidarity/partnership, leveraging domestic funding sources, private sector funding support, digital literacy and seeking innovative partnership with international CSOs.
Mofe Mene of Eleven Eleven Twelve Foundation in her remarks applauded the active CSOs and acknowledged their respective activities while encouraging participants to remain focused and not be in a hurry to achieve success.
All the participants were given an opportunity to make contributions and to suggest training and capacity building gaps that the Society for Planet and Prosperity can begin to work on.
In his concluding remarks, Mr Edwin Oghenemere, the Executive Director, Society for Planet and Prosperity, thanked all the participants for their active engagement and contributions, the resource persons for brilliant presentations and European Climate Foundation for providing the funding for the project.
In closing, Professor Okereke applauded the participants and all team members that have contributed immensely to the success of the dialogue and wished everyone a successful day. The CSOs Dialogue brought together representatives of CSOs with local and international presence with demonstrable evidence of working to advance climate action, sustainable development and green recovery in Nigeria and the rest of Africa.
By Gboyega Olorunfemi (Project Officer, SPP)