Africa's transformation lies in the continent's rich soil. If we protect the ecosystems that sustain us we can lift Africans out of poverty, achieve food security, build climate resilience, create wealth and end hunger, says Amina J. Mohammed, Minister of Environment for Nigeria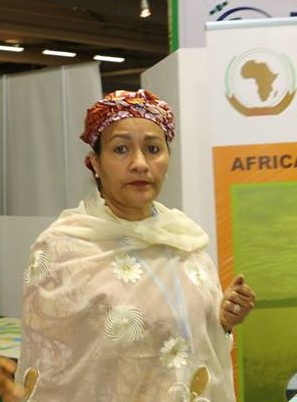 There is an old Nigerian proverb that says "Fine words do not produce food". So I will keep my words as simple and clear as possible.
Africa is facing a harsh reality. One in every two people on the continent lives in extreme poverty. In 15 years, most of the world's poor will reside here in Africa. Sadly, as I write, about 240 million people go to bed hungry every night while malnutrition kills more than 50% of the African children who die before they reach the age of five.
These stark statistics are hard to grapple with. But imagine for a moment the pain of a mother who cannot feed her new-born daughter with the proper food she needs to live beyond the age of five. Imagine the mother who toils all day in the field but still goes to bed with a stomach aching from hunger because she cannot afford enough food to feed her family.
And now picture this: millions of perfectly good, nutritious tomatoes rotting in the hot Nigerian sun. For this is the reality: that, while 13 million Nigerians suffer from hunger and more than one million children suffer from malnutrition, the country wastes 75% of the 1.5 million tonnes of tomatoes it grows every year.
And yet, despite the waste of this nutritious fruit, Nigeria spends $1 billion every year on importing tomato paste.
There is another West African proverb: "It is a fool whose tomatoes are sold to him". But I believe I can improve upon this proverb: for the true fool is the man who grows enough tomatoes to feed himself only to throw them away and buy someone else's tomatoes. Yet this is exactly what happens here in Nigeria.
This is not just a Nigerian problem. It is an African problem. Sub-Saharan Africa spends $35 billion on importing food every year and the region loses a further $48 billion from food that is wasted post-harvest because of poor roads, inadequate storage and poor access to markets.
These are enormous sums of money that, when added to the $68 billion the continent loses every year because of depleted soils and degraded land, could be ploughed back into African economies to drive the transformation that the continent so badly needs.
The money saved could be used to empower more women, end hunger, achieve food security, improve nutrition, combat climate change, create jobs and promote sustainable agriculture -all of which are key goals set out in the 2030 Agenda for Sustainable Development.
What makes the situation even more frustrating is that 65 per cent of the world's arable land and 10 per cent of its inland water resources are found right here in Africa.
But if these numbers are alarming then they should also give us cause for hope for they tell us that the roots of Africa's transformation lie in the continent's rich soil. These are not just fine words: simply raising crop yields by 10 per cent reduces poverty by about seven per cent. Neither the manufacturing nor service sectors can boast to have such a profound impact on poverty.
The challenge will be in harnessing the fertile soil of Africa at a time when climate change will make it increasingly difficult to grow enough food to feed the continent's booming population, which is expected to double in sub-Saharan Africa by 2050.
Today, we already have the knowledge to do this. Simply raising agricultural productivity is not enough. If we want to achieve food security, we must ensure that we look after the vital ecosystems that allow us to produce our food.
This means looking after the bees and insect pollinators that are necessary for the growth of 75 per cent of all our crops. It means looking after our soils and our water sources. It means protecting the rich biodiversity in our forests. It means building climate resilience. And it means sharing the knowledge and the technology that allows us to do all of these things.
If we can do this – if we can optimise food production by embracing an ecosystem-based adaptation approach to agriculture – we can boost yields by up to 128 per cent.
What is even better about this approach is that it does not have to require enormous resources. There is an ancient farming technique in West Africa called zai. This simple technology – a demi-circle dug into dry soil and used to grow seedlings – can turn crusted land into nurseries by improving water retention, protecting seeds from being washed away, concentrating nutrients and improving soil structure.
If properly executed, zai can increase yields by up to 500 per cent in some of the trickiest terrains on earth. It is already having a major impact on the dry Sahel region where it has reclaimed severely degraded farmlands and raised farm yields from virtually nothing to 300 to 400kg of crops per hectare in a year of low rainfall. Simple technology like must be shared across the continent.
We must also focus our efforts on improving every part of the food chain. We will have to improve our transport links and storage facilities so that we don't waste so much food after it is harvested. We need to link farmers to markets and we need to build local, regional and national partnerships to deliver these improvements.
The benefits of an ecosystem-based adaptation approach to agriculture are clear. Not only will this approach help the continent achieve food security – one of the key sustainable development goals – but, in doing so, the continent can begin to hit a series of other targets set by the 2030 Agenda.
Investing in ecosystem-based adaptation-driven-agriculture and its linkages to sustainable commercial value chains could boost farmers' incomes and create up to 17 million jobs while catalysing an agricultural sector that is expected to be worth $1 trillion by 2030.
By prioritising healthy ecosystems with this type of agriculture, we can also help to combat climate change, reverse environmental degradation, which is costing the continent up to $68 billion annually, fight desertification and stop biodiversity loss.
And, on top of all this, we can also produce more nutritious food that has greater immune boosting compounds than conventionally produced food, boosting human health and well-being.
This is why the creation of the Africa Ecosystems Based Adaptation for Food Security Assembly (EBAFOSA), which serves as the continental policy platform to foster and nurture partnerships through branch formation in each African country, is necessary.
The forum targets policy, demonstrates how EBA-driven agriculture works, enhances access to renewable energy that can power agro-processing and boosts access to markets. The launch of EBOFOSA branches across the continent, including one in Nigeria last month, is a step in the right direction.
Next month, 193 countries will meet at the UNEP Headquarters in Nairobi for the United Nations Environment Assembly – the world's Parliament on the Environment. It is vital that the international community uses this opportunity to recognise that healthy ecosystems underpin human health, wellbeing, livelihoods, jobs and sustainable growth.
Ultimately, an ecosystems-based adaptation approach to agriculture means working with nature so that we can grow the food we need without damaging the vital ecosystems that sustain all of us.
As the continent continues to battle with climate change, we can no longer afford to play the proverbial fool for we already know that the continent's transformation lies in the richness of the African soil. And we already know how to harness this vast potential. So the time has come for us to put aside our fine words, pick up our tools and start to sow the seeds of the future we so desperately want.