On Thursday, September 21, 2023, approximately 250 people from Uitenhage, Jeffreys Bay, Humansdorp, Oyster Bay and beyond – a collaboration between Earthlife Africa Johannesburg and the Eastern Cape Combined Environmental Forum – marched to Gqeberha City Hall to bring attention to their deteriorating quality of life because of severe water-access issues, in addition to persistent load shedding.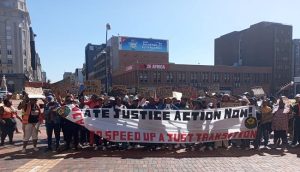 Affected communities are also calling out government's poor energy decisions – such as the proposals for offshore oil and gas, Karpowerships and the possible resurgence of plans for new nuclear in the province – which, they believe, are not in the public's interest and will worsen climate change.
There are likewise concerns over water quality and water drainage problems and other infrastructure issues. Some areas are built on old wetlands, so many houses have structural issues.
Earthlife Africa's Ulrich Steenkamp says: "We are here to support communities in the Eastern Cape because the people are suffering. Not only must they deal with load shedding, but they are also dealing with serious issues affecting their access to clean, potable water. Because of the deterioration of their natural environment, coupled with the visible impacts of climate change – such as the storm surges and the freak waves that have been hitting the South African coastline – it is critical that the people's voices are heard.
"We need decision-makers to use their powers to improve the lives of communities, especially those who are the most heavily impacted, like our country's fishermen and women. These are people who cannot afford to have industries that could harm the ocean and coastline, disrupting their way of life and posing a threat to their means of making a living."
Small-scale fisher communities such as those found in Oyster Bay and Jeffrey's Bay are particularly concerned about extractive projects proposed along the coast of the Eastern Cape. As fishing is the primary economic driver in these small coastal towns, offshore oil and gas exploration may have a negative impact on aquatic life and on the overall health of the ocean, which would affect local livelihoods.
The fishers and coastal communities in the region are also opposing Karpowerships, as there are several concerns regarding the potential negative impact on the sea life and coastal environment. Fishers are worried about the impact these floating power stations will have on their livelihoods. Furthermore, communities are also concerned about the impact to the environment and the local economy now that there seems to be renewed interest in bringing new nuclear energy to the Eastern Cape.
"The situation in Nelson Mandela Bay Metro is bad. Water scarcity, water shedding and load shedding – these are major stumbling blocks for our people, negatively affecting our livelihoods and our businesses and affects our hopes for the future. The residents of Gqeberha feel like we are being neglected by those who occupy positions of authority because they don't even take time to engage the community regarding their so-called developments.
"Now, they want to make things worse with more offshore oil and gas exploitation, which will affect the livelihoods of our small-scale fishers. And they want to bring Karpowerships here, which will also affect local fishers. Then there's also the talk of building a new nuclear plant in our province, which the country cannot afford, and which will have negative impacts for our unique environment," says Thandokazi Hewu from Lean On Me, a community-based organisation in Zwide Gqeberha.
Phenius Nkatshuka, a fisherman from Jeffery's Bay, says: "As fishermen, we are not happy about the government's plans for a nuclear power plant near our ocean. We depend on it for our livelihoods. And how will we support our families if they drill our sea for gas and oil? It is not that we are against change, but the change that comes must not take food from our tables. The change that comes, must make our lives better, not worse."