The gale of flooding ravaging several communities across the country has left many people in a harrowing and agonizing state. It was tale of sorrowing and gnashing of teeth as lives, hectares of farmland, livestock and properties worth billions of Naira were lost to the devastating flood.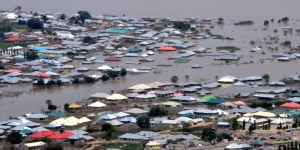 The 2012 rainy season in Nigeria has become a curse instead of the blessing usually associated with the season for agrarian Nigeria. The heavy August ending rains coupled with water released from Lagdo, Kainji and Jebba dams is being fingered for the disaster.
This flood destroyed river banks and infrastructure and, by end of September, over 134,371 people were displaced, 64,473 injured and 202 killed. The Internally Displaced Persons (IDPs), are either living with families or in makeshift camps.
All the six geo-political zones in the country are affected, which include states like Adamawa, Katsina, Bauchi, Plateau, Benue, Kogi, Bayelsa, Edo, Port Harcourt and Delta.
In Bayelsa State for example, the people woke up to see the flood water level rising, initially thinking that it would soon go away. But as the seconds, minutes and hours went by and the level of the water kept rising. It then became obvious that this one was not going away, and it was time to move out of their residences.
It was a pathetic sight and the first thing I noticed in the first camp we went to on Friday at Igbogene was hunger, anger, frustration and hopelessness on the faces of the flood victims. The affected communities were Ihuke, Ahoda, Okogbe, Ula-Okodo, Emezi I, Akala-Olu, Enito, Dhirio, Mbiama and Ishai.
Initially, I was scared of talking to them because I thought they might take the frustration out on anybody that comes by without bringing them a sort of relief material.
Though the state government cook and serve food, IDPs complained of the food not being enough.
Imagine leaving your comfort zone with hardly anything in your pocket, sleeping on the floor in a tent with people you barely know. It is the height of frustration.
South-South Zonal Coordinator of National Emergency Management Agency (NEMA), Mr. Emenike Umasi, said the agency was the first group to start a relief effort in the area.
While talking to journalists in Bayelsa he said, "Actually the South-South started the relief effort. We are the first to mobilise relief to this place. We are still proving more relief items. It is an ongoing thing; we are still bringing more relief items as the need arises.
"As of this morning a truck arrived and we are taking it to the warehouse. So far, we have been able to bring in close to 1,500 mattresses, and we are still going to bring in 600 bags of rice, 400 bags of beans and 600 bags of garri. We have other items like blanket, bucket etc."
On Port Harcourt-Yenagoa Road, we met quite a number of trucks and jeeps conveying people with few of their belongings, obviously fleeing to a higher ground.
I almost had my first experience with entering a tipper from Yenagoa to Port Harcourt, because that was one of the only means of transport because of the level of water on the road.
Immediately they saw us coming towards the vehicle, they brought a ladder for us to enter, and they were at the same time asking for N2,000 to take us from Yenagoa to Port Harcourt. You have to sit, if you are lucky to get a space or stand for two hours; a journey that lasted an hour prior to the flood.
Eventually, we got a Toyota Sienna multi-purpose vehicle, which the NEMA official that led the team, my colleague and I felt it was more comfortable than the tipper.
We entered the Sienna and paid N3,000 each for the transport fare. The driver later told us how he spent over N20,000 to effect repairs for daring to enter the water the previous day. A journey of one hour took us over two hours to get to Port Harcourt and the car engine went off thrice because water entered the exhaust. We had to come down and waded inside water to push the car to restart.
After passing over the flood communities everybody in the car give a sigh of relief, though we eventually missed our flight, and had to take a late night flight.
Apart from the over-loaded tipper, keke napep (commercial tricycle) was a welcome means of transportation. To add insult to the injury, the stench was so unbearable as you see lots of youths from the communities rendering assistance to motorists.
Mrs. Grace John, who gave bath to a baby boy in Samson Siasia Stadium in one of the IDPs camp on Saturday, appealed to the Federal and State governments to assist them because her family of three moved from Delta State to Yenegoa (Bayelsa State) not up to one month before the flood "and everything we have is spoilt by the flood. Due to the movements, I feel pain in my body."
She added: "The flooding started gradually, then the water level was gradually rising, before I knew it, the water had filled my home. Then I saw many fish inside the house, and water washing off our rugs and before I knew it, I went into labour."
President Goodluck Jonathan who conducted a tour of affected states, tried to encourage the people at a church service. He said, "The flood is all over the world, Asia, Europe, I know that Nigeria's flooding is bad. And when we have such disaster, food is not the problem. Do not make food your priority. If you eat once, thank God, I know that none of you would die of hunger here. Before the middle of November, the water would have receded.
"The biggest flood I experienced was in 1969. When the water recedes, the most important thing is rehabilitation, because farms, boats and all of your properties have been carried away by the flood.
"As the President, I have never eaten three square meals, each day. Sometimes it's only once I eat.  The Federal Government is more concerned about the prevention of an outbreak of epidemic in the camps. The FG is more concerned about rehabilitation of people affected by water.
"In Kogi State, four farmers committed suicide because they borrowed money from the bank to buy seeds and flood came and destroyed the farms. So because they were scared they committed suicide.
"I am here to encourage you that, international organisation and other nations all over the world have promised to help us. I was in a place in Kogi, a storey building was under water."
The South-South Zonal Coordinator said: "On a good day, it takes 10 to 15 minutes to travel from Ahonda to Mbiama community. But now, it would take at least 1:30 minutes to travel that same distance. The new East-West Road that is under construction in that axis has been submerged and the sand washed off. The massive flooding in the Ahonda-East  and Ahonda axis of the East-West Road started as a result of the overflow of the  Orashi and Sombreiro rivers as well as the adjourning minor rivers and creeks that culminated from the two lga (Ahonda East and Ahonda West) and Ogba Egbema Ndoni gas of Rivers State.
"Communities that are mostly affected are in Rivers and Bayelsa include those communities whose water channels are by the way  side or low areas linked to River Niger. Those whose water channels are linked to the ocean especially, the salt water areas were not affected. The Igbogene Camp is mainly for children. It was made for them because of the coolness of the place. We have 12 camps in Delta State, eight camps in Edo State and 12 in Rivers State.
NEMA said that, as at Sunday, 14th October, it had registered close to 40,000 IDPs in Yenagoa, which has close to six camps. "While in Rivers State we have about 12 camps and in Delta as of yesterday we planned to open new camps to make it 13 camps.
"In the Zone we have up to 60 camps. Those are established FG camps and there are smaller camps established by government and some NGOs. Some camps have as low as 250 IDPs and some as high as 5000, like the one Ole where we have three camps running concurrently. We have close to 10,000 IDPs in those camps. There is no report of any epidemic so far. We are trying to guard against that by providing water and sanitary infrastructure in most of the camps.
"We have had one here and four in Kaiama and there was an instance of an illness, where one person was moved to the hospital, but all others are at the capacity of the camp clinic. We have two clinics running in Samson SiaSia Stadium, NAVY, and the other one by State Ministry of Health. They are all sick bays; they have beds and doctors are also on ground. The Armed Forces have actually come into the operations; it's just the effort of the state and NEMA," said Emenike.
Evangelist Vincent who was encountered with at Igbogene, said, "I have been in this camp since on Tuesday and the situation is not as we want it. The means of feeding is the help of government and well meaning Nigerians.
"It's only NEMA that brought food and things as you can see it is now that NGOs brought about 10 bags of small rice, the state should also bring us something. If you see my house it's just like a lagoon. I stay in Igbogene, Three of my family and church members are here. The camp condition is poor. In the morning we ate late; we have the volunteer service, camp supervisor and more than 100 people staying here from different places."
NEMA officials complained about lack of coordination, because "there is no effective SEMA in place, we are running the camps with commissioners, local government chairmen and all that ordinarily if we have effective an SEMA in place, we would have hooked on and flow normally. But in this case, we are now running in the structure."
Goodluck Baperewei a plumber whose house was submerged by flood in Swali, said, "I am here with 15 of my family members. The flooded destroyed all my property and I don't have another place to go. The FG should please assist us. There are no mattresses and I am experiencing pains in one of my arms."
On Sunday some of the victims threatened to burn down a NEMA truck, saying only Sagama Local Government gave them N300,000 and other relief materials, while the rest turned their backs on them. They accused their representatives – commissioners, LGA chairman and lawmakers – of not visiting the camps. They added that those who managed to come stopped at the gate and turn back.
They turned violent and eventually broke the glass doors of the venue of the church service and chased away the church ministers. They said: "How can we listen to the word of God in an empty stomach? What we need is food and relief materials."
They accused the accused the ministers of only being interested in the offering they will get from them.
The flood water came from Lagdo Dam in Cameroun as well as Kaniji and Jebba Dams in Nigeria, which were at their respective highest water levels and had to release water so as to avoid the collapse of the dams. Before water was released from Lagdo Dam in Cameroon, the authorities there warned Nigeria. But because of the lack of a dam to absorb the shock from Lagdo, which Nigeria was supposed to have built several decades ago, the effect on settlements in Nigeria was unprecedented.
By Laide Akinboade