At the closing of the international conference on charcoal in Mogadishu on Tuesday, May 8, 2018, the Government of Somalia and the United Nations (UN) have jointly called for stronger national and regional policies, and further investment in developing alternative sources of energy and alternative livelihoods in Somalia, to stop the illegal export of charcoal from the country.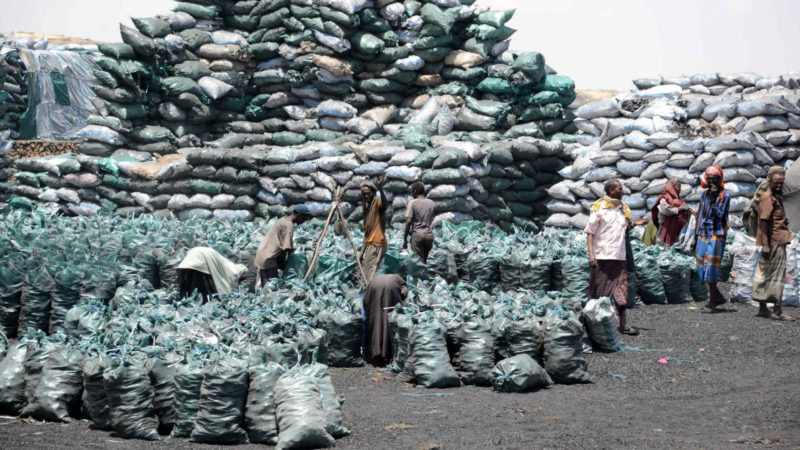 The two-day conference was led by the Somali Government with the support of the United Nations Development Programme (UNDP), UN Environment and Food and Agriculture Organisation of the UN (FAO), with funding from Sweden, the European Union and Italy.
Charcoal export from Somalia has been banned both by a 2012 United Nations Security Council resolution and by the Somali Government for its destructive effect on the environment, its exacerbation of conflict and its contribution to humanitarian crisis, with one tree cut down every thirty seconds to produce charcoal in the country.
UN and Somali delegates called for enforceable policies and legal frameworks at national and regional level, reducing demand for charcoal in importing countries, and provision of livelihood and energy alternatives, as key recommendations to halt the charcoal trade.
Energy alternatives to charcoal include Liquid Petroleum Gas, biomass briquettes, and more fuel-efficient stoves. Presenters at the event highlighted that work in this area is already being carried out under a Joint Somali Government and UN Programme for Sustainable Charcoal Reduction and Alternative Livelihoods (PROSCAL) that is currently underfunded by $30 million and called for further investment in the area.
At the closing ceremony, the Minister of Labour and Social Affairs, Salah Ahmed Jama, highlighted the benefits of creating alternative livelihoods in stopping exports of charcoal. "Developing and investing in other options for energy would provide green jobs for the young people and women who currently depend on charcoal for a living. It is also important to have policies on charcoal that are in line with those on economic development and employment, to create a greener economy for Somalia," he said.
Peter de Clercq, Deputy Special Representative of the UN Secretary-General for Somalia, said raising awareness to stop charcoal production within Somalia, and policy and legislation at regional, international and national levels, is needed to ensure the ban on charcoal is upheld. "It is encouraging that the Federal Government of Somalia is taking the lead to address this issue. We must not lose the momentum of this conference and ensure that these ideas and measures result in policies that are enforceable," he said.