The Economic Community of West African States (ECOWAS) is set to enhance sustainable electricity access through solar in 19 West African countries and the Sahel region to promote development in the region.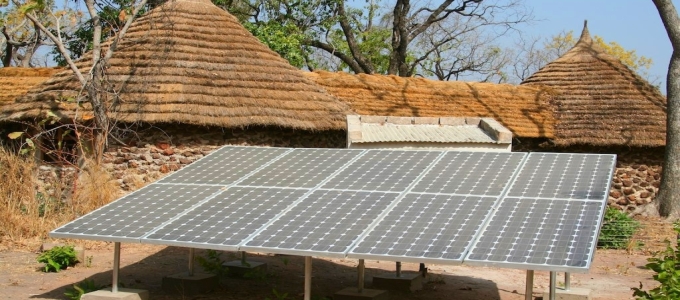 Stakeholders from the energy sector in the region, therefore, gathered in Accra, Ghana on Tuesday, June 26, 2018 at a regional workshop to develop modalities to implement the Regional Off-Grid Electrification Project (ROGEP).
ROGEP aims to enhance electricity access in West Africa and the Sahel region through standalone solar systems, including solar lanterns, solar home systems, solar water pumps and solar mills.
The ECOWAS Commissioner for Energy and Mines, Mr Sédiko Douka, said only 40 per cent of the population within the region had access to electricity supply.
He added that the objective of the meeting was to work out modalities for the implementation of the project because close to 200 million people had no access to electricity in the region.
He said "our team at the ECOWAS Commission resumed in March and within our four-year mandate, our objective is to increase electricity access to at least 60 per cent of the population in the region.
"We have been having several energy meetings within the energy sector and on Thursday, we will have the meeting of all ECOWAS ministers of energy."
Douka added that the project, sponsored by the World Bank, would kick-off in 2019.
He noted that the project, with an estimated overall budget of $200 million, would cover
19 countries.
He listed the countries as Nigeria, Benin, Burkina Faso, Cabo Verde, Cote d'Ivoire, Gambia, Ghana, Guinea, Guinea Bissau, Liberia, Mali and Niger.
Others are Sierra Leone, Senegal, Togo, Cameroon, Central African Republic, Chad and Mauritania.
Wendy Hughes, the Practice Manager, Energy and Extractive Global Practice of the World Bank Group, said that the off-grid technology would provide "real and sustainable alternative to grid electricity."
Hughes added that the cooperation of member countries in building "a large, unified off-grid solar market will increase access to these modern energy devices.
"Adopting common quality standards for solar off-grid products that are uniform across the entire region will in effect create a single large market that will be far more attractive to private solar companies."
She advised member states to work together to develop a comprehensive regional standard that would identify individual country's priorities.
The project, developed in December 2015, would be implemented by the ECOWAS Centre for Renewable Energy and Energy Efficiency (ECREEE) in January 2019.
Mr Mahama Kappiah, the Executive Director of ECREEE, said modalities had been worked out to train local entrepreneurs in the energy sector to ensure ownership of the project and affordable energy for member states.
He said: "One way we are trying to make energy affordable through this project is using our local entrepreneurs, not foreign entrepreneurs or those who call themselves expatriates and pay themselves very high salaries we have to pay for.
"We are also providing finance to these entrepreneurs and for the first phase, we have $140 million as credit line that will go to these local entrepreneurs which they can contract through the commercial banks at very low interest rate."
Kappiah said that training had begun with 48 entrepreneurs from the 19 countries on adopting effective models to ensure the viability of the project.
He noted that the World Bank was supporting the first phase of the project with $200 million, saying that member states would not financially support the project "for now".
"Financial support is only from a credit line scheme that we have negotiated with the World Bank that we put at the disposal of our private enterprises solely for this job.
"From January 2019, the $140 million will kick in from monies available by the World Bank," Kappiah added.
By Temitope Ponle