As she rowed her boat across the slums of Makoko, I saw what she saw. I have seen it; you must have too – if you are privileged to. The issues of "zero hunger, no poverty, and decent work and economic growth" have been taken lightly by many governments. What we see is less than what it really is – a pathetic situation that has led to the development of slums.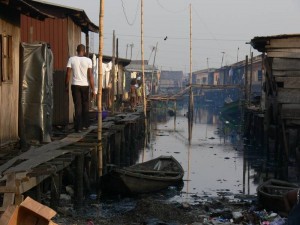 A slum has many challenges, many of which will break you if you have not experienced living in such areas. I believe many may consider suicide if sentenced to a jail term in such a community. It is that bad.
The United Nations' Expert Group defined slum "as an area that combines various features such as inadequate access to safe water, poor sanitation, insecure residential status, poor structural quality of housing, and exhibit overcrowding". This definition can arouse in an individual, unimaginable thoughts.
A typical slum will make sustainable development goals look difficult or seemly unachievable. You will stare at such a community, and the only thought that comes to mind is: This is beyond normal. I have heard individuals say, "the only thing worse than a desert is a slum". However, both share the same connection – climate change.
A desert influences climate change, a slum influences climate change. However, that is not my focus in this writing – I want to discuss Wastes in Slums.
Something is easily distinguished when you move through a slum – wastes. You feel nauseated and become uncomfortable as you move into a slum. And as you move further, the feeling of unhappiness descends. It seems everything you see looks like a waste.
The significance of wastes is underestimated by many. The word "waste" is used to describe something unimportant; and, the wastes itself is looked upon as insignificant. This has led many cities and nations, especially underdeveloped countries, to handle wastes as an unimportant issue. Wastes are very important. It is more important than valued possessions, products, or prizes.
There are more wastes than assets in a typical slum. Wastes are everywhere: the belongings look like wastes; houses are viewed as wastes; water is filled with wastes, and the air smells of wastes.  It could be suggested that a slum could be termed as a "wasted version of a city".
It is important to note that there were no slums before the 18th century – the rich lived in the same districts as the poor. There are many reasons for the existence of slums. Some of them include urbanisation, poverty, and disasters. Political factors made it flourish, and then wastes became one of its major features. This has become an emergency that needs to be addressed in this 21st century.
The emergency cannot be overstated. Sub-Saharan Africa has the highest number of slums compared to other regions in the world: About 61.7% of its population lives in slums. Nigeria also has 53.9% of its urban populace living in slums (UN-Habitat, 2018).
I postulated that many slums might not exist if there are no wastes. Many people who live in slums are poor and cannot access good infrastructure; hence, this has led to improper disposal of wastes. This has proven to be a challenge to the mission of sustainable goal number 11 (SDG 11): "to make cities inclusive, safe, resilient and sustainable".
Meanwhile, the urban population is increasing; the slum population is increasing, and its wastes are also increasing. The impact of increased wastes means: more disease/health issues e.g.  typhoid, dysentery and diarrhoea; and more environmental challenges.
Many slums that have been upgraded look neat, fascinating, and with signs of a conducive atmospheric condition. The major difference has been the eradication of waste. When wastes are eliminated in an environment, it wears a new look. A new look attracts development and modernisation. When development takes place, employment issues become lower, and poverty reduces drastically.
There are many challenges that affect effective waste management. Some of them include: improper treatment, inappropriate collection of waste, and ethical issues. In slum areas, waste management strategies could be shared responsibilities between local communities, industries and government. This will ensure proper accountability in the management of wastes.
Sometimes, to also ensure wastes in slums are proper managed, innovation might be required. For instance, to ensure proper sanitation in a slum, an automatic flushing system might be more suitable than a water closet system. Some wastes could also be turned into power.
Waste strategies and management should become a necessity for every government. They must ensure every slum has a proper waste management system. Let's eliminate wastes and watch how slums become transformed. It is the first step in slum upgrading; but, it should be made compulsory for all slums.
Let's start with our urban slums – even if we can't upgrade the slums, we can make them more liveable. And perhaps, as she rows her boat next time, she will grin cheerfully.
By Oluwatosin Komolafe, PhD