On August 28, 2020, the Hydrocarbon Pollution Remediation Project (HYPREP) tweeted that water supply to Ogoniland would begin before the end of the year. Abiose Adelaja Adams, Bertha Fellow, drew crude oil out of water wells in some Ogoni villages, and finds that nine years after the UNEP report, the people are still drinking toxins, while the government continues to drag its feet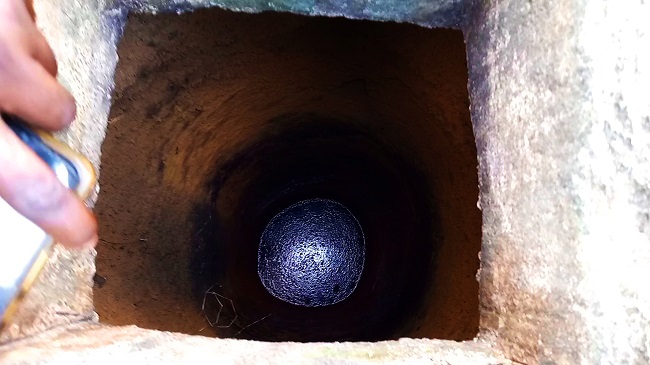 A Twist of Fate
In his red polo shirt carrying the clear message, "No Cleanup, No Justice", Emmah Pii, the village head of Deebon in Bodo city, looked more like an activist than a titled chief; it was a sleepy afternoon in his Bodo hometown, Gokana local government area of Rivers State, southern Nigeria.
For him, being alive is a rare smile of fortune on him, as he had almost passed out the night before.
"You are lucky to see me alive, but as you are seeing me, I'm just a moving corpse. I was passing watery stool throughout the night because of the bad water I drank," he said, suddenly coming alive to the conversation.
"Two of my classmates are being buried today," Pii said as he paused and took a deep breath. "If not for the way I'm feeling, I am supposed to be there. In this village, we bury 10 people every week. You cannot live in this place, breathe this air and drink this water and live well as a person. As you are seeing the people here, they are not well at all."
Bodo is famous for two major oil spills that occurred along its Bodo west flow station in 2008. The 24 and 28 inch Trans Niger Pipeline of the Shell Petroleum Development Company (SPDC) had ruptured, spilling about 560,000 barrels of oil in the creeks over a period of at least 141 days.
This resulted in the destruction of around 4,864 mangrove population and became the defining incident for a community which was once green and pristine, making it a cemetery of both aquatic and human lives.
Though it took SPDC years to finally pay a paltry sum of N600,000 per claimant to the community, the impact of the spill continues to take its toll on the lives of villagers, as Pii describes.
Sitting on huge deposits of crude, Ogoniland is a minority ethnic group of about one million people in four local government areas (as the map depicts) in Rivers, south of Nigeria.
'We Don't Know What Is Killing Us'
Inside the sitting room of Grace Namon, the leader of the movement called Ogoni Women of Peace (Gbobiafeefeelo), there is no sofa and the floor is made of bare cement. But hanging low on the unpainted wall is the photograph of the late Ken Saro Wiwa, bearing the message, 'You can kill the messenger, but not the message.' This summarises the struggles of this 60-year-old. Her message to the government is to provide alternative water supply as a compensation for the pollution of their surface and ground water.
"The least they can do for poor people like us is to provide common water," she said. "Nine years after the United Nations told them to provide water for us, we are still drinking poison. The kind of typhoid fever you find here is not common. You will need a very strong antibiotic, but we don't even have money to go to hospital. Our women are having miscarriages, early menopause, no health registry and our people are dying of strange diseases. We don't even know what is killing us," she lamented.
Namon lives just beside Nigeria's foremost Bomu manifold, one of the largest in Africa — an oilfield which has an estimated 54 oil wells operated by SPDC. Oil production began there in 1959. Though the protest led by late Saro Wiwa in 1993 forced SPDC out of that land, government and private-owned (SPDC) pipelines, carrying oil to the country's export terminal — where Nigeria earns up to $230.65 million monthly from crude oil sales — still intermingles with the communities, coursing like a snake through their creeks, balconies and farmlands. But there are no pipelines carrying water into their homes.
Environmental Refugee
Having been chased out of his hometown in Goi — one of the most contaminated spots in Gokana — Eric Bariza Dooh, a high chief in Goi, is bereft of everything else except a little money which he has reserved to fight legal battles with SPDC for the spill that destroyed his entire family fortune.
"HYPREP came here and chased us out of our land because they said it is heavily contaminated. They didn't give us any compensation or relief materials. They (government) have failed. My father died of frustration after spending 15 years in court with Shell. I have spent seven years to secure the jurisdiction in The Hague, and it took me another four years to get the first precedence against Shell," he narrated. Now an environmental refugee in another community, Dooh said he will continue to fight.
"I will not allow them to de-inherit me, when I know my rights. Even things as basic as water, we don't have. The people are still drinking the contaminated water that UNEP said they shouldn't drink. I have a borehole in my compound; it is polluted. No borehole in Ogoni has a treatment plant. We are still drinking polluted water. The best the government has done for us is to supply water in rusty pipes and tankers."
Black Wells
This reporter visited Nisisioken Ogale, another part of Ogoniland spewing with affluence, where community members were so eager to show the kind of water in their wells. Several black wells were found in houses on number 10 and 13, school road, Ogale, while others were found on Alueken Farm road and in Oloma compound.
Noble Nwolu, a youth leader in the community, said: "There is no place in Ogale where you can find good drinking water. No borehole is useful here. Some people, ignorantly, are still drinking this water, use it to cook, wash their vegetables, cups and spoons, so they still come in contact with it."
Ogale is situated in Eleme local government area — the home of Nigeria's first refinery and largest export seaport. It is a land flowing with milk and honey and it is also a land whose wells are flowing with poisonous oil that is slowly killing the people. The affluence flowing out of this land does not flow into the homes of the host community. Rather, what flows into their home is crude oil-laden water wells.
"We experience a lot of strange diseases as a result," Nwolu said. "There is one very peculiar one; it is not found anywhere apart from here. It happens amongst women above 60 years. They call it 'pepper body'. They will constantly feel heat all over their bodies. It is just as if someone rubbed pepper on your body and when the weather is hot, they can't wear clothes."
UNEP Recommendation
In 2011, a report by the United Nations Environment Programme (UNEP) red-flagged one of the Ogoni communities as needing emergency action. The report reads: "Of most immediate concern, community members at Nisisioken Ogale are drinking water from wells that are contaminated with benzene, a known carcinogen, at levels over 900 times above the World Health Organization (WHO) guideline. This contamination warrants emergency action ahead of all other remediation efforts."
The report further stated that hydrocarbon contamination was found in water taken from 28 wells at 10 communities adjacent to contaminated sites. At seven wells, the samples are at least 1,000 times higher than the Nigerian drinking water standard.
After Nine Years
When the reporter visited, it was crystal clear that nine years after, contrary to UNEP's recommendation to provide eight emergency measures amongst which are provision of alternative water supply, a health registry and others, the people are still drinking cancerous water and dying of diseases they sometimes explain as the result of a spiritual or diabolic attack.
Obituary Posters
During a tour of the communities, obituary posters, especially that of young people, were seen in almost every home. Also observed in the villages are nicely built houses, many of which were not completed. Monday Gbiga Mene, who just lost his brother to an unexplained sickness, told this reporter that the reason for uncompleted buildings is because those who start building the houses, somehow fall sick along the line, and never live to complete it.
"My brother was a former contractor for Shell. He used to do pipeline maintenance. So, he is the breadwinner. He built this house, but since he got sick since 2019, he had been bedridden. He died this morning. He was 47-years-old."
Benzene and Death
These deaths are not unconnected to benzene, a slightly yellow, sometimes colourless hydrocarbon which has been proven to be found in the air and in crude oil-laden water. It is a known carcinogen, which works by causing cells to malfunction. According to the Centre for Disease and Control, it can cause bone marrow not to produce enough red blood cells, which can lead to anaemia. Also, it can damage the immune system by changing blood levels of antibodies and causing the loss of white blood cells.
Short-Lived Water Projects Dot Communities
Walking through the streets of Ogale, one could see several failed attempts at providing sustainable drinking water for the people. Residents said that most of the borehole water pumps run dry shortly after being commissioned. A cynical Monday Bari, who had assumed that the reporter had come to offer them empty promises of providing water, said some grandiloquent politicians come and sink some boreholes just to get voted into office. And then the lifespan of the borehole is as short as the number of hours they spend taking their oath of office.
A set of dry, rusty taps were seen at the site of one NNPC water project on Alueken Farm road, in Ogale. Moving a few metres away from there is a big black fallen tank which the villagers said was vandalised by restive community youth.
At Bodo city, Pii pointed to a non-functional, senescent water sunk by OMPADEC (Oil Minerals Producing Areas Development Commission) since 1993 and renovated in 2012. "Six months after renovation, it stopped working," said Pii. "We drink water from the rivers and streams. Many times, we don't even have light to pump from the borehole. And even when we bring it out from the borehole, the smell of petrol is what you perceive," he added.
Nwolu told this newspaper that several organisations have come to sink boreholes. While makinf reference to some random efforts by the government to supply water, he said: "Three years ago, Rivers state and NDDC renovated the state water board in Alesa but didn't get to us here. I learnt the pressure in the pipe was not strong enough to carry it to our community. The water very good, but it wasn't evenly distributed."
"Last year, they (Niger Delta River Basin Development Authority) came, but nothing. And just this year one NGO planted water at the depth of 250 metres, but the water is still smelling. In 2019, NDDC dug a borehole powered by solar, but the wind damaged it. So, we try to convert it to electricity. The problem is not the borehole, but no water in Ogale is fit for drinking because of the surface and groundwater contamination."
Clean-Up or Clean Water?
Following the recommendations UNEP released in 2011, Nigerian government set up the first Hydrocarbon Pollution Remediation Project (HYPREP) to implement the recommendations, one of which is to provide alternative water supply, in 2012. But HYPREP was non-functional until in June 2016, when a new government flagged off the clean-up programme and restructured HYPREP, after which it began the remediation exercise in 2019.
"The first thing they would have done is to provide alternative means of water," Dooh, said. "I raised this when I was a member of the emergency measures committee during the preparation for the implementation of UNEP report, but they are not doing it because they want to make gains for themselves."
Agreeing with the community complaints is Nnimmo Bassey, a renowned environmentalist and member of the board of trustees of HYPREP. He said in a phone interview that it was regrettable that the people still don't have water till date.
"It's rather regrettable that there is no drinking water in the land, because provision of water is one of the first things that should have been done. Water is a priority," he said.
HYPREP: Provision of Water Is Not Our Responsibility
When contacted, Marvin Dekil, the project coordinator of HYPREP, said via phone that the responsibility of providing water supply for the people of Ogoni lies with the Rivers state government and not that of a time-bound, intervention project like HYPREP.
"When you are asking your questions, you seem to believe that it is HYPREP's duty to provide water for the entire Ogoniland. You have not called the Rivers state ministry of water resources which has been there over these decades to ask them why there is no water even now. They are the people with the responsibility to provide water. And then you leave such people and ask an agency whose mandate is to remediate land to be talking about water.
"You should know where to focus your attention. The need to provide water is for very small communities. In that report (UNEP), only a few communities are identified that their ground water is impacted. So, if you follow that report, you will see it is less than five percent of Ogoni people," Dekil explained.
According to him, the project is even doing more than was recommended.
"But because we wanted more of the people to get water, we went into consultation and collaboration with the Rivers state ministry of water resources. I want you to note that the responsibility to provide water rests with the government, not with a project like us. What we are doing is only intervening, so whatever facility we provide, we will still hand it over to the Rivers state ministry of water resources for sustainability reasons."
Water Messiahs
On the August 28, Dekil made this tweet on his handle, "Yesterday at the PCO, we carried out financial bid opening ceremony for the provision of potable water supply in Ogoni. The evaluation of these bids and award of contracts will follow shortly. Potable water supply to the Ogoni people is expected before the end of the year."
But in the phone conversation with him, he gave a different explanation. "We are not supplying water," he said. "We are installing the facilities. Because when you say you are supplying water now, people might think something else. Once we award the contracts, the companies will move to the communities. The companies will rehabilitate the facilities that will provide water infrastructure, water treatment facilities. Once the facilities are there, the water will start. The contractors will be on site this year."
Draggy Procurement
In July 2020, a press release on HYPREP's website read that six contractors were shortlisted out of 40 who participated in the bid. Digging further, it was found that the process actually started in 2018 with the welcoming of bids from 285 companies to rehabilitate existing potable water schemes in Ogoniland (Eleme, Gokana, Khana and Tai) local government areas.
Out of the 285 companies, the number prequalified was 145, and their mandate is to rehabilitate ten moribund water scheme that will supply about 10,950,000 litres of water per day to the communities.
Unregistered Companies
It was, however, found that some of the 145 companies were not available on the public search page of both the CAC and the Bureau of Public Procurement's federal contractors' database.
Based on the public procurement act of 2007, which clearly states that evidence of certificate of incorporation by the Corporate Affairs Commission (CAC) and evidence of registration on the national database of federal contractors, consultants and service providers, are some of the key eligibility requirements to get government contract, these companies are not even supposed to make the prequalification lists in the first place. The danger of prequalified companies not found on CAC website is that some of the companies may make it to the final list and awarded a contract, and this may cast some doubt on the integrity of the process. But Bassey stated with optimism that the contractors will perform because this is a high-stake job that has taken so long and the world is watching.
"I have seen many abandoned water works. Sometimes you go to a community, you see one done by NDDC, etc., and yet none works. But in this case, I would like to think that with close scrutiny and attention placed by the Ogonis and people of the entire world, whatever contract that is awarded, and whoever the companies handling it will be; they should know that this is a high stake area and I don't think that it will be the kind of wishy-washy project that will fail after a few months."
Some of these companies are Fyne Chima Ogolo and Company Ltd, Bookhall and library equipment, Alim and Associates, Ama Yaro and Associates, Avondale services and suppliers, Multi-net group, ECMC Global services, Biometric GeoConsult, ADG International Resources ltd, Inter Environments, Surds International services Ltd, El-Buns Engineering Ltd, Tectonics International Consult, Avondale services and suppliers, Integrated Advanced Quest Engineering Limited, Paul-B Nigeria Limited, LDE, SURZ Global services, Hebron Kapital, Ohenmerge company Ltd, SKOBBS Nigeria Ltd, Asonic and Associates, PW Nigeria Limited, Brentford Engineering and Construction Ltd.
For Profit or For the People?
Nigeria is the 8th oil producing country i the world, with average production of 2.1 million barrels per day. Because of the profit from oil, the government is dedicated to oil pipelines, but not to water pipelines. Even when water is momentarily supplied, the pipes are often rusty, ruptured and soon out-of-use.
First appeared in TheCable
This special investigative report on environmental and climate justice is supported by Bertha Foundation