Africa has always been known as a continent with abundant resources but lacks management and utilisation skills as many resources go to waste or there is mismanagement of funds generated from the wealth acquired from the resources.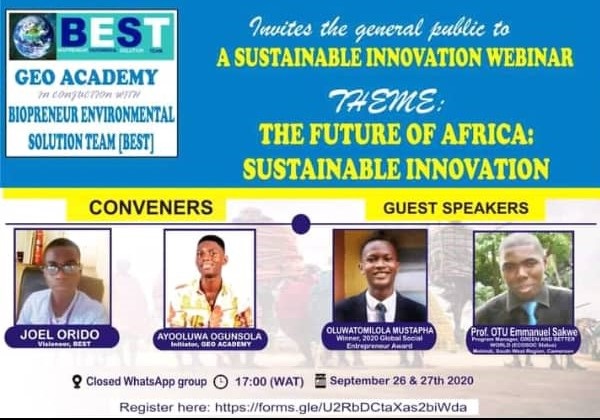 Africa's greatest form of resource is not just the gold, diamond, or crude oil but its human resources. The human mind is said to be the beginning of all forms of innovation which leads to improved technological and economic development across nations.
However, development is spreading across Africa, but it seems the resources for development are being depleted and becoming unsustainable and unsafe for the next generation. This has led to creation of sustainable innovative programmes across Africa and brought into reality numerous innovations.
Ogunsola Ayooluwa Folakunmi, a 300 Level student of Geography and Environmental Management of the Tai Solarin University of Education has created a project to increase sustainability across African countries. Themed: "The future of Africa: Sustainable innovation", it provides a platform where African countries like Tanzania, Cameroon, Somalia, Zimbabwe, Kenya, Ghana, Rwanda, Burkina Faso, Zimbabwe, Nigeria, Congo and others represented by over 90 active participants learn new skills on creating innovations across Africa.
The first session held virtually from September 26 to 27, 2020.
Resource persons were Oluwatomilola Mustapha who spoke on a project P'pal which was focused on creating sanitary pads from banana fiber; Joel Orido, the co-host of the event who shed some light on biogas production in Africa and how to go about its creation; Otu Emmanuel Sakwe, who spoke on youth participation in sustainable growth in Africa; and Ogunsola Ayooluwa Folakunmi, host of the programme, who discussed recycling and his plan to give out recycled pencil cases to students in his local environment.
Questions were entertained and participants learnt from the programme.
A second part of the programme, which will display an array of minds speaking on the same topics and display of innovations across Africa, holds from November 20 and 21, 2020.
These programmes can indeed lead to a rise in consciousness across African countries and to development of the continent at large.
By Ogunsola Ayooluwa Folakunmi