The good times are coming to Ado-Ekiti, the Ekiti State capital city, where a heptarchy of initiatives is set to change the face of the emerging urban centre.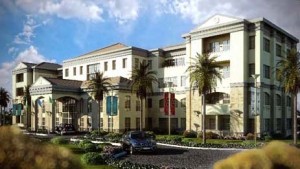 Christened "Legacy Projects," the schemes are designed to advance development and leave a lasting legacy in the state.
The projects are: Government House (to be completed in 18 months), Governor's Office (to be completed in 18 months), Civic Centre (incorporating a library, museum and art gallery and a cinema; to be completed in 12 months), State Pavillion ( something like the Eagle's Square in Abuja, where parade and other activities will take place; to be completed in six months), Samsung Engineering Academy (to be completed within a year), Grand Tower Shopping Mall (incorporating Shoprite and related brands; to be completed within one year) and Life Academy at  Iluomoba (a modern technical school where graduates can go for further technical training in different fields).
Apart from aesthetics, the Grand Tower Shopping Mall, for instance, is expected to shore up the state's economic base, provide employment opportunities, and improve Ekiti's internally generated revenue (IGR).
In fact, the mall is projected to employ over 600 Ekiti indigenes during construction and create at least 300 permanent jobs for indigenes after completion. Grand Towers, state officials disclosed, would bring "multitude of international line shops such as KFC, Mr. Price, Woolworths, Stanbic, Steers, Shoprite and MTN to Ekiti."
Governor Kayode Fayemi said recently while signing the memorandum of understanding (MOU) with the developers that the land for the project was given to Grand Tower Limited at concessionary rate, even as he had already signed the Certificate of Occupancy to allow the company to immediately taken possession of the land and start construction works.
"We have also issued a distinct mandate to Grand Towers to enable their partners deplore a full developmental team to the project. All these steps taken by the government and others are part of the incentives being provided by government to prospective investors who are ready to partner with us to develop our state," he added.
In a related development, the governor has resuscitated and opened for operations the Ire Burnt Brick Industry in Ire-Ekiti, after 21 years of being dormant.
Fayemi, who performed the official commissioning of the industry, described the revival as "a promise kept".
The commissioning, it was gathered, is the climax of several months of strategic planning, re-development and re-equipping of the moribund industry.
Fayemi stated that the resuscitation of Ire Bricks Factory and Odua Enterprise Centre (formerly Odu'a Textiles which was comatose for 23 years) was to expand the state's resources, provide numerous job opportunities, encourage new skills acquisition by workers and ultimately enlarge the middle class in the state.
He assured that the state would henceforth patronise the factory and use a certain percentage of the red burnt bricks in all its projects across the state. The factory is expected to begin full operation before the year's end.