The Ministry of Environment and the Coalition for Socio-Economic Transformation (COSET) have said that a shift from fossil industry will benefit Nigeria more economically and help to solve climate change challenges.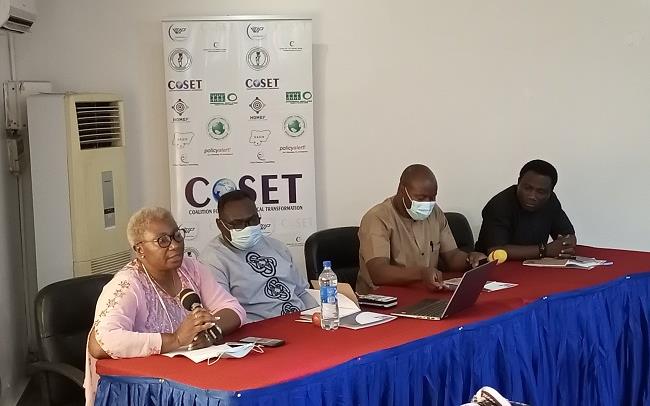 They made the assertion on Thursday, January 20, 2022 in Abuja at the Friedrich-Ebert-Stiftung Nigeria post 26th UN Climate Change Conference of the Parties (COP26) held in Glasgow in 2021.
The post COP26 meeting was to steer the Friedrich-Ebert-Stiftung Nigeria and COSET group on climate change engagement for the year.
Environment Minister of State, Sharon Ikeazor, said that climate change remained the greatest threat to human health in recorded history as it affected lives and livelihood.
Ikeazor, represented by Mrs Iniobong Abiola-Awe, Director, Department of Climate Change on the Federal Ministry of Environment, said that there was therefore the need to seek ways to address it.
According to her, the nation is living under the unceasing threat of intensifying maximum and minimum temperatures, rising sea levels, droughts, storms, heat waves, wildfires, hurricanes and warming oceans.
The minister said that these effects could directly harm life, destroy habitats and create challenges to livelihoods and communities.
She said that it was within this context that the COP26 in Glasgow Climate Pact of 2021 had four overarching goals that guided the course of negotiations and key outcomes.
She said that these are to secure global net-zero by mid-century and keep warming to 1.5 degrees Celsius within reach; adapt to protect communities and natural habitats; mobilise finance and work together to deliver.
"The major commitments at COP26 are to curb methane emissions and reverse forest loss; align the finance sector with net-zero by 2050; accelerate the phase-down of coal and phase-out of fossil fuels.
"There is no doubt that with the right investments, it aims at making production processes more environmentally friendly with less use of natural resources, there would be millions of jobs for the youths in the green economy more than there have ever been in the fossil fuel industry.
"Regardless of our heavy reliance on oil, the 'fossil' jobs that may be lost under the energy transition plan will be compensated by even more jobs as renewable create crucial benefits to the environment, society and economy,'' she said.
Ikeazor further said that the ministry would partner youths since it recognized the central roles they play in effecting climate actions in Nigeria.
She said that the ministry was certifying youth's involvement and the integration of their innovative green strategies into the just transition implementation procedure.
Rev. Fr. Edward Obi, one of the founding members of COSET, said that the global community knew climate change was a reality crippling up on nations faster than they were setting up structures to counter.
According to Obi, climate change is real and the effects are visible.
"Countering climate change must be a regional based effort because the impact is not the same universally and each region must be empowered to take steps to counter it.
"This is what we are doing at the various regions and Nigeria in particular has to walk the talk.
"Our fossil fuel industry is counterproductive if we take the global scheme of things into consideration, yes, we are a mono economy and we are depending only on oil and gas.
"However, in the long term, oil and gas is being faced out and we must diversify now not tomorrow,'' he said.
Obi said that Nigeria needed to diversify her economy to have the capacity and resilience to be able to withstand what would come in the future.
He said that unless the nation diversifies its economy, it would find itself digging further into crude oil whereas its environment was being polluted beyond redemption.
He advised the nation to create a system that would gradually change from the oil and gas industry and invest in cleaner energy sources.
Also, Mr Ken Henshaw, a member of COSET, urged Nigeria to show expertise and find solutions to curb climate change.
Henshaw said that Nigeria was facing climate change crisis in almost every region, including increased flood patterns along the coastal plates of the Niger Delta and other parts of southern Nigeria.
He said that people were losing livelihood and witnessing increased salinisation.
"We are seeing water sipping into farmlands and destroying livelihood, we are seeing changing patterns of rainfall, it rained in Port Harcourt in January 2020 and it rained on Dec. 25, 2021 in Calabar.
"These are all changing patterns and with the patterns of rainfall changing, with the seasons effectively changing and getting altered, our farming system will also be destroyed.
"Several researches have stated clearly that the foods we consume in Africa, most regularly like maize, sorghum and cereals generally will be terribly impacted on account of climate change,'' he said.
Henshaw further said that apart from flooding in the coastal south and central Nigeria, there was also effect like the Boko Haram insurgency in the North East.
"Why did Boko Haram start in Borno? It is attributed to climate change because of the Lake Chad drying up since it is a fishing, farming and irrigation hub.
"So, as the lake shrunk, cattle rearers could no longer herd their cattle and farmers could no longer farm so are fishermen.
"So, destitution sets in and whenever destitution sets in, it is easier to radicalise people and make them take extreme ideologies,'' he said
The COSET member advised Nigeria to see climate change as a threat and take serious action to find ways to curb its challenges, especially through tackling oil extraction.
He said that this was not the time to invest more into extraction because it was detrimental to the people and environment.
"That is what we are doing. What is our blueprint to stop gas flaring, what is our blueprint to stop fossil burning no way and how are we thinking of winning ourselves out of oil dependence,'' he asked.
Henshaw also advised Nigeria to start thinking of creating an economy that was beyond oil and draft blueprints on how to curb climate change and shrift the economy.
Cadmus Atake-Enade, Project Lead (Fossil Politics), Health of Mother Earth Foundation (HOMEF), suggested the total phasing out of all forms of fossil fuel across Africa and globally, adding that the Intergovernmental Panel on Climate Change (IPCC) solutions of emission reducing to 1.5 degrees Celsius is faulty because, according to him, 1.5 degrees in the Global North means 2.5 or 3 degrees Celsius in Africa.
Atake-Enade, who represented Nnimmo Bassey, Director of HOMEF at the meeting, further suggested that all forms of investment in fossil fuel industries and subsides should be channeled to promoting a people centered just transition and subsidising of renewable energy across the African continent.
Besides stopping gas flaring in Nigeria and elsewhere, he called on the United Nations to replace the COP with a Climate Change Conference of Peoples.
"When Copenhagen flopped, Bolivia convened the Peoples Summit on Climate Change and the Rights of Mother Earth in Cochabamba in April 2010. With more than 30,000 delegates from over 100 countries, the peoples of the world came out with a clear roadmap for climate action as well as the Declaration of the Rights of Mother Earth," he said.