Shell Companies in Nigeria (SCiN) continued to earn more recognition for their sustainable development efforts as they took home two trophies at the 10th edition of The Sustainability, Enterprise and Responsibility Awards (SERAs)-Corporate Social Responsibility Awards in Lagos on Friday.  Shell Nigeria's kinetic pitch won in the SERAs 2016 Innovation Award category, beating seven other nominees, while the Afam VI Power Plant won Shell Nigeria the Best Company in Climate Action Award against five other competitors. The awards follow similar recognitions under on the SERAs platforms since they were instituted in 2006.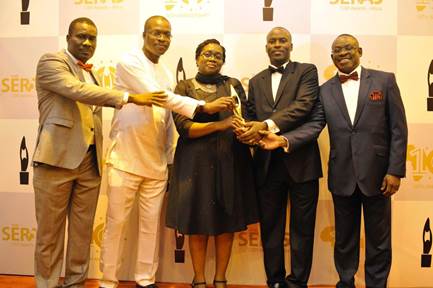 Shell Nigeria Exploration and Production Company's (SNEPCo) General Manager, Deepwater Production, Effy Okon, led Shell Nigeria's team of General Manager, External Relations, Igo Weli; External Relations Communications Manager, Sola Abulu; Head, Business Relations, Alan Udi; and Social Performance Discipline Adviser, Hope Nuka, to receive the awards.
A total of 26 awards were won by corporate organisations and individuals in recognition of their sustainable development and social investment efforts in Africa, including the President of Botswana, Ian Khama.
Country Chair, Shell Companies in Nigeria and Managing Director of The Shell Petroleum Development Company of Nigeria Ltd (SPDC), Osagie Okunbor, commented: "We are pleased at the recognition of our modest contributions towards a better life for our people. CSR is part of the DNA of the Shell business and we are striving to improve our partnership with NGOs, government and communities to ensure our people participate more in the execution of programmes and own them for greater sustainability. We see the latest SERAs laurels as a call to continue on this path."
The SERA–CSR Awards is an annual event to celebrate organisations investing resources in the improvement of lives of stakeholders and through their social performance and investment programmes contributing to the development of Africa. This is the first edition to recognise individuals and organisations outside Nigeria.
Shell companies in Nigeria pursue a variety of social investment projects, with particular focus on community and enterprise development, education and health. In 2015 alone, Shell-operated ventures contributed $145.1 million to the Niger Delta Development Commission (NDDC) as required by law while $50.4 million was directly invested by the SPDC JV and SNEPCo in social investment projects. Collectively, this makes Nigeria the largest concentration of social investment spending in the Shell Group.