Beneficiaries of The Shell Petroleum Development Company (SPDC) Joint Venture undergraduate scholarship who have consistently earned excellent grades have been inducted into a new mentorship programme aimed at grooming them for entry into the oil and gas industry and motivating them to maintain their top academic performance.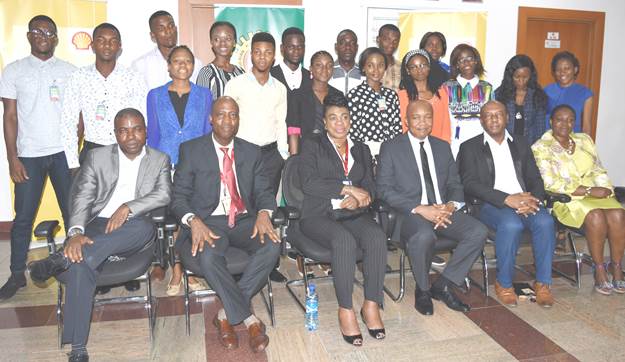 "Our 'Shell Meet Scholars' programme is an extension of our joint venture's education initiative for undergraduates in our areas of operation. It is our way of giving recognition to beneficiaries of our university scholarship scheme who have consistently maintained a CGPA of 4.5 and above in their courses of study," said SPDC's Social Investment and Social Performance Manager, Gloria Udoh when 18 out of the 22 students visited the corporate headquarters of the company in Port Harcourt on Wednesday, May 24, 2017.
She said that with the programme, the scholarship scheme has taken a more sustainable character as SPDC will encourage the 22 students to maintain their current academic grades by having SPDC mentors assigned to them.
"They also qualify for automatic internship placement in the company and free enrolment to the Shell-built Port Harcourt Literary Society Library," Udoh added.
SPDC's Campus Ambassadors Programme (CAP) will groom the 22 students to become role models in their various universities, while being prepared for possible employment in the oil and gas industry after graduation. The initiative will cover coaching in career management, self-evaluation and feedback, communications skills, technical knowledge improvement, change management, leadership skills and understanding of SPDC's business culture.
The elated students thanked SPDC for the transparency of the scholarship award process and pledged to work hard to be worthy ambassadors of the company.
A total of 8,145 students from SPDC operational areas have benefited from the joint venture's regular secondary school scholarship scheme in the past six years. The university scholarship scheme is a natural progression of the scholarship scheme for students at the secondary school level.