The Costa Rican municipalities of Siquirres, Tilarán, Buenos Aires, Turrialba, Curridabat, Santa Ana and Montes de Oca have declared their support for a fossil fuel non-proliferation treaty. The decision was made within a context of intense debate about the future of fossil fuels in the country.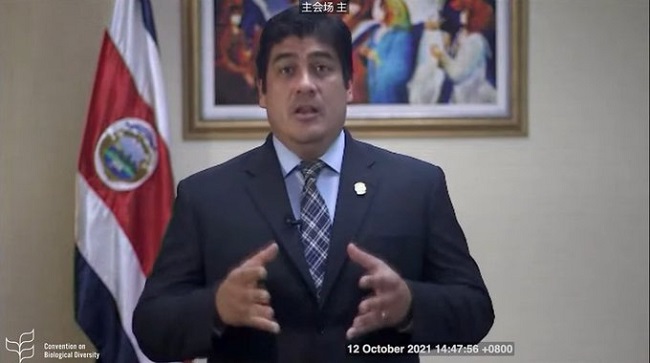 For months, different civil society actors have been working tirelessly for the Legislative Assembly to approve Bill 20.641 which aims to "eliminate the use of fossil fuels in Costa Rica and declare the national territory free of exploration and exploitation of oil and natural gas."
Less than two weeks after the historic but underwhelming Glasgow Climate Pact was adopted, these seven Latin American municipalities demonstrate that tackling the direct cause of the climate crisis – fossil fuel production – is possible. It follows on from leadership at the national level with Costa Rica being one of the founding members of the Beyond Oil and Gas Alliance, which formally launched in Glasgow.
Álvaro Cedeño Molinari, spokesperson for the movement Costa Rica Libre de Perforación (CRLP), said: "This positions the country as a benchmark internationally, and aligns us with global political advocacy processes that promote more robust measures to comply with the Paris Climate Agreement; one of these is the international initiative for a Fossil Fuel Non-Proliferation Treaty, on this topic Costa Rican local governments have positioned themselves as pioneers in Latin America by publicly expressing their refusal to explore and exploit oil in their territories."
Momentum around the Fossil Fuel Non-Proliferation Treaty surged during COP26. It proposes a complementary international mechanism to the Paris Agreement to phase out the production of fossil fuels and accelerate the global energy transition. The Treaty initiative also applies equity and justice principles, promoting a just energy transition in which all countries, communities and workers are included, especially those who depend on fossil fuel production.
The pillars of the Fossil Fuel Treaty have been endorsed by Fridays for Future at COP26, and are supported by 101 Nobel Laureates, 2,600 academics, nearly 20 cities, more than 1,000 civil society organisations, and 155 parliamentarians from 31 countries, including  Costa Rica, who demand a future free of fossil fuels.
Alex Rafalowicz, Director of the Fossil Fuel Non-Proliferation Treaty Initiative, highlights that this feat sets a historical precedent both regionally and internationally. He said: "Costa Rica can be recognised as a historical leader within the transition away from fossil fuels. This leadership is obvious at all levels of society and is also evident by these declarations.
"Now, we hope that Congress will follow in the footsteps of these municipalities in their vision of a world free from the contamination of oil, gas and coal, and that the law is passed which ensures that the country is free from drilling. Costa Rica, along with other countries in the region, can contribute to an international agreement for a just transition."
Like the parliamentarians demanding a future free of fossil fuels, the seven signatory local governments call on their peers in the country, as well as the Costa Rican Legislative Assembly, to assume their legislative powers.
"It is a fact, as local governments we are the closest scenario that communities have to politically influence issues that are relevant to them. Therefore, from here, we can play a key role in persuading Congress to adopt necessary measures to protect the safety and health of the population," explained Jimmy Cruz, Mayor of Curridabat.
These seven municipalities join the cities of Vancouver, Barcelona, Sydney, Los Angeles, Dhulikhel (Nepal), and many others, that already support the Treaty initiative and that demonstrate how local governments can contribute to driving concrete climate actions, including the adoption of an international mechanism to put an end to the production of oil, gas and coal.