"As President of the COP, I need your support to help me succeed this new mission, especially the great project that African Presidents decided during the COP 21, that of Africa to renewable energy."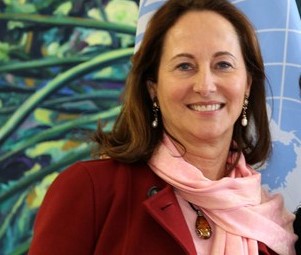 Those were the words of Ségolène Royal, President of COP21, at a gathering on Friday (February 26, 2016) in Abidjan, Côte d'Ivoire.
Royale, who recently replaced Laurent Fabius, the French Minister of Environment, Energy and Marine, was in the Ivorian capital apparently to gather the support of President Ouattara Alasane towards the realisation of Africa's transition to renewable energy, two months ahead of the planned formal signing of the Paris Agreement in New York. She was hosted at the Presidential Palace.
In the company of the Ivorian Environment Minister, Rémi Allah-Kouadio, Ms. Royal on Friday also visited Abidjan Banco National Park, saying: "I came here to learn, to listen, how to be most useful to relay projects, hopes, expectations of all that was agreed at COP 21."
The duo was accompanied by the Ambassador of France in Côte d'Ivoire, Georges Serre, and the Ivorian Minister for Urban Safety and Sanitation, Anne Desiree Oulotto.
Allah-Kouadio said he was pleased with the visit of the French Minister, as well as the Banco National Park, the green lung and ecological sanctuary that extends over 3,474 hectares in the heart of Abidjan.
Earlier on Thursday in Abidjan, at the Residence of the Ambassador of France in Cocody, a high-level panel gathered to discuss "The issue of climate change in a post prospects COP 21 in Paris and report to Africa."
Co-hosted by Royal and Allah-Kouadio, the panel helped to take stock of COP21 and explored prospects for the implementation of the Paris Agreement. The panel comprised officials of French and other embassies, representatives of international and public institutions, corporate organisations and the civil society.
Royal said: "My mission as President of COP21 is to effectively implement the Paris Agreement through its ratification. This ratification will enable all the signatory countries to integrate this Agreement to all national laws, thus enabling these countries to implement operational action by 2020 to maintain global temperature, below 1.5 degrees Celsius."
David Wohary of AFHON Côte d'Ivoire, an NGO, remarked: "We are pleased that civil society was involved in this visit. Our biggest regret remains that the position of the State of Côte d'Ivoire has not changed regarding the law on renewable energies and above all the willingness to invest in the coal industry."