While the war in Ukraine is deepening food insecurity and the climate emergency is reaching cataclysmic proportions, millions more people globally are expected to be trapped by extreme poverty in 2030.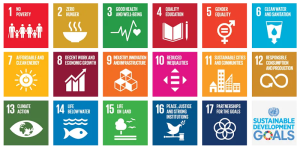 Under the auspices of the UN General Assembly, the SDG Summit, holding from September 18 to 19, 2023, is expected to mark the beginning of a renewed push to accelerate progress towards the Sustainable Development Goals (SDGs), a roadmap out of such crises.
Recognising that urgent and ambitious action is needed to achieve the SDGs, Heads of State and Governments will convene at the UN Headquarters in New York together with political and thought leaders from governments, international organisations, the private sector, civil society, women and youth and other actors to supercharge the breakthroughs needed to achieve the SDGs.
Adopted by world leaders in 2015, the SDGs – a global promise to secure the rights and well-being of everyone on a healthy, thriving planet – are in jeopardy. Halfway to the deadline, progress has stalled or even reversed amidst the climate crisis, the economic downturn, conflicts, and the lingering impacts of COVID-19. The number of people living in extreme poverty is higher than it was four years ago, and hunger is now back at 2005 levels.
In response to UN Secretary-General Guterres's call for transformative action, including through an SDG Stimulus, world leaders are expected to make bold global commitments as well as national commitments to SDG transformation.
Ahead of the Summit, the UN is convening an SDG Action Weekend from September 16 to 17. The SDG Mobilisation Day will take place on September 16, to spark deeper engagement on the SDGs across all sectors, while the SDG Acceleration Day on the 17th will centre around UN High-Impact Initiatives.
An agreed political declaration will be adopted during the opening of the Summit that will provide high-level political guidance on the transformative, accelerated actions needed to reach the Goals by their 2030 endpoint.
The opening of the Summit will also feature statements by the President of the General Assembly, the UN Secretary-General and the President of the Economic and Social Council.
A short plenary segment will follow to hear the actions and commitments delivered on behalf of groups of States. Six Leaders' Dialogues will be held to allow Heads of State and Government to set out concrete national commitments to SDG transformation.