A joint agreement committing the Scottish Government and the Government of California to work together to tackle climate change has been signed.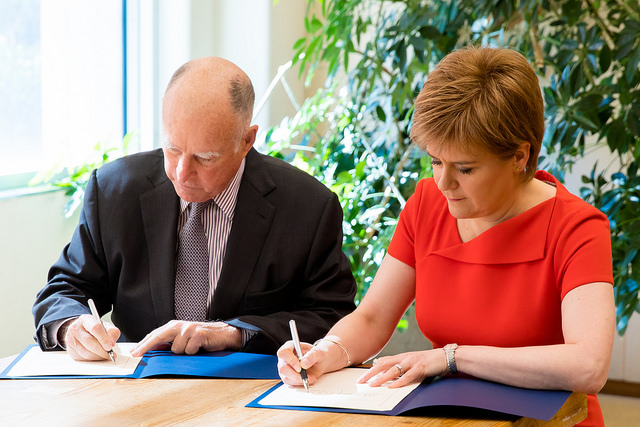 First Minister, Nicola Sturgeon, met with the Governor of California, Edmund G. Brown, in Sacramento (in California State) on Monday, April 3, 2017 to discuss how the two administrations can work together to achieve the ambitions set out in the Under2 MoU, and provide a model for other governments to follow.
They also discussed the importance of offshore wind in tackling climate change and considered how the two governments could share knowledge and best practice in developing this technology.
The Scottish Government signaled its continued commitment to the Under2 MoU, which makes a number of key commitments towards reducing emissions. It committed to pressing ahead with plans to both set and deliver ambitious domestic measures to reduce carbon emissions and provide leadership and example in the spirit of the MoU and the historic Paris Agreement.
Following the meeting, the First Minister said: "Scotland is making huge progress in delivering our climate change ambitions, but we are not complacent and there is still much to achieve.
"Today's meeting strengthened our relationship with the Government of California and I'm confident we can work together to achieve the targets set out by the Under2 MoU.
"We have also offered to help the Under2 Coalition, representing over 1 billion people, to prepare for a major summit in 2018 which will bring together the public and private sectors, alongside NGOs, to build support and action aimed at persuading national governments to increase their efforts to tackle climate change, in what will be an important year for taking stock against progress of the Paris Agreement."
In 2018, Parties to the United Nations Framework Convention on Climate Change (UNFCCC) will take stock of the collective efforts in relation to progress towards the goal set in the Paris Agreement and to inform the preparation of Nationally Determined Contributions.