Some waste pickers popularly known as scavengers on Thursday, July 19, 2018 said they needed an environment conducive and open spaces to do their businesses.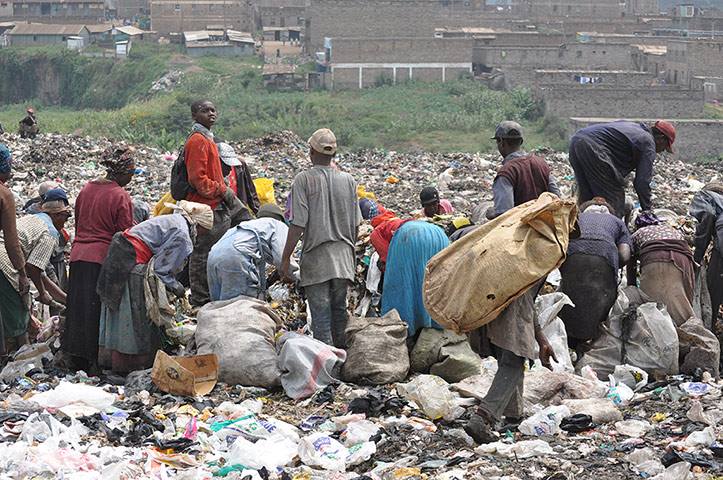 They said this in separate interviews with the News Agency of Nigeria (NAN) in Lagos.
According to them, an environment conducive is necessary as they provide essential services to keep the environment clean by picking useful waste materials for recycling.
NAN reports that the waste pickers call their business "Bola Business".
One of them, Alhaji Ibrahim, said that the business had helped to provide sources of livelihoods for some youths and children that have no one to cater for their needs.
''I deal on iron scraps and l have about 20 workers who l give between N10,000 and N20,000 daily to go round Lagos, buying iron scraps from residential areas, business areas and offices.
''They also pick useful iron scraps from the dustbins and off the roads.
''When they stumble on big irons that cost more than the money on them they call my attention to it,'' he said.
Ibrahim said that when the heap of iron scraps was enough to fill a trailer he had 10 workers on ground, sorting out the iron and loading them into the trailer.
He said the sorting out normally takes between a week and 10 days to accomplish.
Ibrahim, who said each trailer could carry between 20 tonnes and 30 tonnes, stated that the vehicles would then take the material to a melting company where the scraps were weighed and paid for.
Ibrahim said that each trailer load cost between N2 million to N2.5 million and that the payments were made a day after delivery to the company.
Mr Ibrahim Iberi, a waste plastic collector and dealer, said that they needed open spaces to store the plastic waste collected before it could fill a lorry.
''This business is called Bola business.
''I buy all kinds of plastic waste either from individuals or waste pickers, who picked materials and come here to sell them to us.
''We buy plastic waste from waste pickers at N60 per kilo and sell to our customers at N70 per kilo.
''Those who buy from us are the people that supply waste to companies that melt and recycle them,'' he said.
Iberi said that the waste would weigh up to one tonnes before they sold them to those who supply them to companies.
Ibrahim Tukur-Karabomsou, a scrap dealer on household used items, said they sell the items as they bought them.
''For instance, some antiquity bed we bought for N2,000 can be sold for between N5,000 and N6,000.
''We call it here blind market because the buyers pick things and pay for them without testing them.
''We sell as we buy, we do not repair or refurbish them.
''Those who buy takes the responsibility of putting in order what they bought,'' he said.
Tukur-karabomsou said that most of what they have were bought by PSP Operators after they had sorted the waste collected from residential areas.
Mr Lawal Nurudeen, the Vice-Chairman, maize section, Jakande Fruit Market Ketu/Ikosi, said that the disposal of the maize husks had been properly organised by maize sellers.
''Farmers load and bring maize from their farms to the market for sell.
''We collect ground rents and coordinate the activities of the maize dealers so that there are no problems.
''To dispose the maize husks, the dealers pay some wheel barrow boys who take them to the Earth Care waste collection van at the road side.
''The boys are contracted by the maize dealers and they in turn pay a token for the trucks to carry them," he said.
Nurudeen said that the trucks did not accept any other waste except maize husks, plantain sticks, rotten oranges, water melon and cucumber among other fruits.
He said the other non-degradable market waste were handled and paid for by the market association, adding that the association has its own trucks that carry waste.
The driver of the Earth Care truck, who spoke on condition of anonymity, said that the maize dealers gave him N15, 000 as fuel cost to evacuate the maize and other fruit husks.
''Before, we carry the husks for free but because of the way things are now, they give me just money to fuel the truck.
''The refuse is taken to a company that turns it into fertiliser used by farmers,'' he said.
Mr Henshaw George-Agbugba, said was trading in electronics and house hold items.
''If l go to the scrap dealers and see useful item in good condition l buy, refurbish and sell.
''The good thing is that you buy the products cheap and depending on how lucky you are, you can sell at five times higher than the price you bought them,'' he said.
George-Agbugba said that because electronic products normally take time to be sold, he buys household moving items to sell as a survival strategy.
By Chidinma Agu