Extremely high level of air pollution in the Chilean capital of Santiago has forced authorities to declare a state of environmental emergency in the Santiago metropolitan area for Monday, June 22 2015, the country's environment ministry said in a statement. The emergency measures, which will force more than 900 industries to temporarily shut down and about 40 percent of the capital's 1.7 million cars off the roads, are the first since 1999, according to media reports.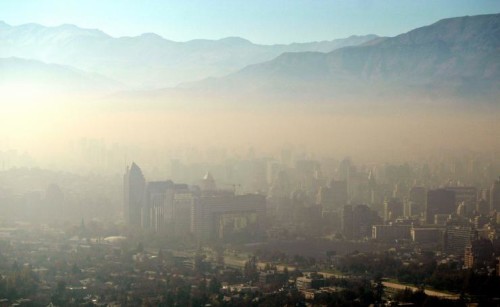 "We're currently facing unusual conditions, with one of the driest Junes in over 40 years and really bad air circulation conditions in the Santiago valley in recent days, which has boosted the concentration of pollutants," the ministry said in the statement.
While the current restrictions are expected to be in place for 24 hours, they can be extended if there is no improvement in conditions. Moreover, it is not yet clear which industries would be forced to suspend operations on Monday.
According to the ministry's statement, the declaration was necessitated by the levels of small breathable particulate matter known as PM2.5 shrouding the city. These fine particles can travel through the respiratory tract into the lungs causing short-term health effects such as lung irritation, coughing, sneezing, runny nose and shortness of breath. Long-term exposure to such fine particulate matter is linked to increased rates of chronic bronchitis and reduced lung function in addition to an increased risk of heart disease.
Santiago — a city of 6.7 million people — has been shrouded in smog in the past, especially in the winter months when an increased use of wood-burning heaters significantly deteriorates air quality. However, lack of rain and winds this year has worsened the situation. Santiago, in particular, has consistently ranked high among cities with the worst air quality.
"We call for people to respect the measures in order to help reduce the pollution of Santiago," the country's environment ministry said.
By Avaneesh Pandey