The City of San Francisco in California, USA, has joined several other cities in the country to proclaim October 8th as Indigenous Peoples Day.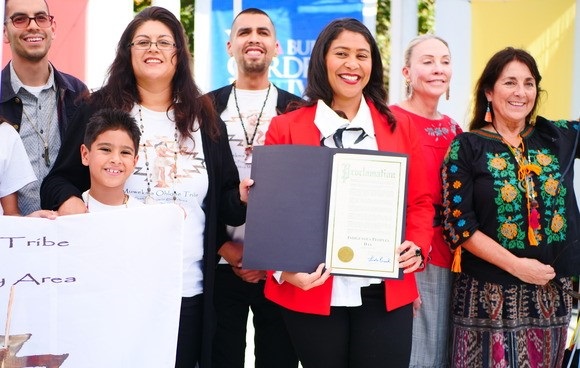 On Monday, October 8, 2018, during a celebration coordinated by the International Indian Treaty Council (IITC) in Yerba Buena Gardens, Mayor London Breed accompanied by Board of Supervisors Vallie Brown and Malia Cohen delivered a Proclamation stating that the City and County of San Francisco would no longer recognise "Columbus Day" and would instead celebrate Indigenous Peoples Day.
San Francisco joins 93 other US cities, as well as South Dakota, Alaska, Minnesota and Vermont in making this change as called for by Indigenous Peoples to uphold truth in history and recognise the atrocities they have survived because of colonisation.
The Proclamation affirms that "San Francisco is committed to being a city for all people and to standing against discrimination of all kinds. Celebrating Indigenous Peoples Day ensures we acknowledge and honor the original inhabitants of our country who are still here and working to support their communities."
"As a major International city, the place where the United Nations was founded in 1945 and which also served as the staging ground for the California Gold Rush that decimated the Indigenous Peoples of Northern California, San Francisco's Proclamation has special importance," stated Andrea Carmen, IITC Executive Director, who introduced Mayor Breed at the event.
"Together with the removal of the 'Early Days' Statue located near San Francisco's City Hall last month, this is a significant step in recognising the atrocities carried out against California's First Peoples and moving forward on the basis of respectful relations," stated Morning Star Gali, member of the Pit River Nation and Community Liaison for the IITC who MC'd the Yerba Buena Gardens event. Staff of the event's cosponsor Yerba Buena Gardens Festival estimated attendance at more than 3000 participants.
In addition to the presentation of the Proclamation, the event featured statements by Indigenous leaders and San Francisco officials, Indigenous dancing, drumming and special recognitions. Representatives of the Muwekma Ohlone Tribe, one of several Ohlone Tribes that continue to inhabit the San Francisco Bay Area, also spoke on the significance of the Proclamation at the event.
The IITC also sponsored two other San Francisco events to commemorate Indigenous Peoples Day: the annual Sunrise Gathering on Alcatraz, with 1378 participants, and a California Indian Forum, "Taking Action to Heal our Communities" cosponsored by the Friendship House Assn. of American Indians.