Nigeria marks progress, having gone six months without a case of polio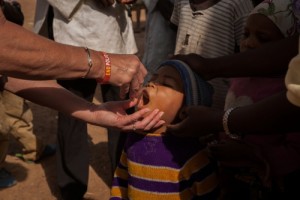 As Nigeria marks six months without a new case of polio, Rotary has announced $8.1 in grants to help the country in its final push to eradicate the disease within its borders. The funds will be used by the World Health Organisation (WHO) and UNICEF to support polio immunisation campaigns, research and surveillance in the country.
Nigeria, the last polio-endemic country in Africa, reported the highest number of polio cases in the world as recently as 2012. However, the country showed remarkable progress in 2014, when it reduced its polio case count by nearly 90% over the previous year. The funding commitment from Rotary comes at a critical time, as the country has a prime opportunity to take advantage of these gains and end the disease for good.
"Nigeria has made incredible progress against polio this past year and I'm proud to see our country reduced cases by nearly 90% in 2014," said Funke Akindele, Nollywood actress and Rotary polio ambassador. "With funds from Rotary, the continued support of Rotarians in Nigeria and around the world, I believe there will be a day when no child in Nigeria will be at risk of this disease."
"Nigeria has managed an incredible feat," said Dr. Tunji Funsho, Rotary's National PolioPlus Chair for Nigeria. "Our country has gone six months without a new case of the disease. However, now we must be more vigilant than ever, as our progress is fragile."
Commitment from all levels of the Nigerian government to ending the paralysing disease has proved crucial to the country's recent progress. Experts urge political leaders to maintain this focus, even amidst Nigeria's upcoming national elections next month.
Recent polio outbreaks the Horn of Africa and Central Africa stemmed from poliovirus that originated in Nigeria. These outbreaks appear to have been effectively stopped in 2014; however, the continued presence of the virus in Nigeria puts countries in Africa at-risk for renewed outbreaks. In addition to the $8.1 million in funds for Nigeria, Rotary has committed $18.5 million to be divided amongst an additional seven countries in Africa. The grants include $1.6 million, Cameroon: $2.5 million, Chad; $3.3 million, Democratic Republic of Congo; $1.1 million, Ethiopia; $250,000, Kenya; $2.8 million, Niger; and $7 million, Somalia.
Outside of Africa, Rotary also announced grants of $1.1 million for Pakistan and $6.7 million for Afghanistan. Together with Nigeria, Pakistan and Afghanistan are the two other countries in the world where polio has never been stopped.
Rotary provides grant funding to polio eradication initiative partners UNICEF and the World Health Organisation, which work with governments and others in polio-affected countries to plan and carry out immunization activities. Mass polio immunizations must continue until global eradication is achieved.
To date, Rotary has contributed more than $1.3 billion to fight polio. Through 2018, the Bill & Melinda Gates Foundation will match two-to-one every dollar Rotary commits to polio eradication (up to $35 million a year). In 2014, there were only 350 confirmed polio cases in the world, down from about 350,000 a year when the initiative launched in 1988.
Rotary brings together a global network of volunteer leaders dedicated to tackling the world's most pressing humanitarian challenges. Rotary connects 1.2 million members of more than 34,000 Rotary clubs in over 200 countries and geographical areas. Their work improves lives at both the local and international levels, from helping families in need in their own communities to working toward a polio-free world. In 1988, Rotary was joined by the WHO, UNICEF and the CDC to launch the Global Polio Eradication Initiative.