With just weeks to go before COP26, it is clear rich countries and major emitters still need to ramp up efforts to bridge the gap in climate finance, submit new and enhanced nationally determined contributions and address the needs of vulnerable communities experiencing loss and damage.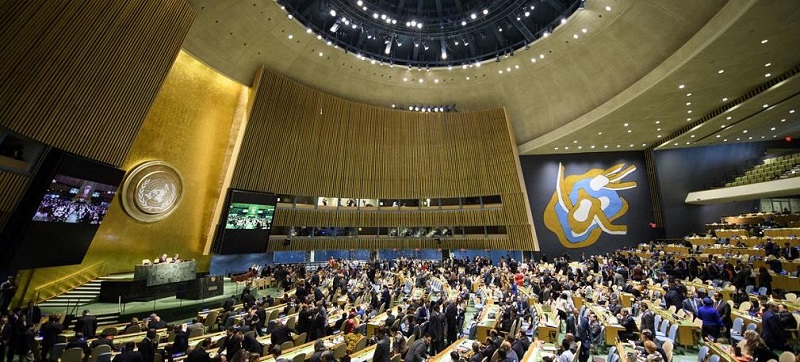 Members of Climate Action Network (CAN) made the submission on Friday, September 24, 2021, as they reacted to the main outcomes from the 76th Session of the UN General Assembly (UNGA 76) which took place in New York over the past week.
The multilateral process, according to CAN, is facing a huge test of trust and not enough global solidarity on issues such as vaccine inequity. The UK COP26 Presidency, said the group, must strive to build a strong political consensus to ensure the COP at Glasgow delivers on a global response to tackle the climate crisis to keep the goal of 1.5°C alive.
Eddy Pérez, International Climate Diplomacy Manager, Climate Action Network Canada, said: "Today, millions go to the streets to reclaim climate and social justice and to tell leaders they cannot fake climate action with just empty rhetoric. The US' announcement on climate finance and China's announcement on coal are essential. Still, the reality is that they are not enough. Protecting us from the worst impacts of the climate crisis requires honesty about the need to immediately end the expansion of global fossil fuel production and phase it out rapidly.
"It requires a clear commitment from countries like Canada to stop subsidising what's causing the problem. Canadians made it clear during the last elections. The Liberal government can't claim leadership on climate finance if it doesn't stop subsidising the expansion of oil and gas. Prime Minister Trudeau must come prepared to the G20 with a clear plan to end fossil fuel subsidies as he committed to in the last election."
Cansin Leylim, Associate Director of Global Campaigns at 350.org: "The USA is responsible for the largest amount of historical emissions, driving climate change and is the world's largest economy. Biden's pledge puts $100 billion climate funding within reach before COP26, which is a helpful step. However, a steadfast, just transition to ensure that the global temperature stays below 1.5°C degrees require trillions of dollars.
"The USA should pay its fair share and all wealthy countries should follow with commensurate action, and a delivery plan. For COP26 to deliver, multilateralism is more important than ever. Leaders should work together to overcome the challenge of access to climate finance once and for all."
Chuck Baclagon, 350.org's Asia Finance Campaigner: "China's announcement resonates and is consistent with what scientists and global climate activists have been saying all along: the time to act is now and it starts with ending the flow of money to fossil fuel projects. At the very least, this pledge should translate into policies restricting and preventing finance for new and pipeline coal projects (i.e., direct finance), as well as ending other forms of engagement with such projects, such as underwriting, insurance, and construction.
"We know that Chinese institutions have a track record of overachieving once there is high level commitment to a target. We hope this pledge serves as a challenge for a repetition of such efforts."
Manuel Pulgar-Vidal, WWF Global Lead Climate & Energy: "Leaders are failing dismally to address the climate crisis. Their words do not match their actions. There were some notable announcements during the UN General Assembly by leaders, like the commitment by the US to double its climate finance contribution, and China's commitment to stop funding coal-power plants abroad. But they are sorely lacking in detail, and do not address domestic climate action.
"We should also mention those countries who are taking action on fossil fuels through the newly announced Global Methane Pledge, the Beyond Oil & Gas Alliance, and the No New Coal agreement. These are commendable, but again we need to see the number of participants in these alliances ramped up, and the words to be matched by decisive national action.
"Leaders must be very clear about the gaps that remain on actions urgently needed on mitigation efforts, climate finance, adaptation, and loss and damage. Specific focus must be on cutting emissions, particularly phasing out coal, and revitalizing and protecting nature.
"A strong outcome at COP26 on these issues is essential, as they will chart the pathway to our future for nature and people. We need commitments to be made that will ensure we realize the goals of the Paris climate accord."
Özlem Katısöz, Policy Coordinator for Turkey at Climate Action Network (CAN) Europe: "Now that Turkey will be part of the Paris Agreement it will be expected, latest by COP26, to revise and increase the pledge it made in 2015 to limit its increase of greenhouse gas emissions. To be in line with the 1.5°C objective of the Paris Agreement, Turkey will need to take more substantial action between now and 2030. Turkey is one of the countries in the Mediterranean basin that feels the effects of climate change the most.
"People on the ground saw how forest fires devastated the land on one side of the country, while floods were experienced on the other side during summer. Now it is time for the Turkish Government to take concrete action and put forward a strong pledge to limit temperature rise to 1.5°C, as requested by the Paris Agreement."
Sven Harmeling, Global Policy Lead Climate Change and Resilience, CARE International: "In a week from now, at the Pre-Cop, ministers need to make concrete progress on the issues on the COP26 agenda yet unresolved, like the delivery of the $100 billion of climate finance and how to address the growing loss and damage.
"Building on Biden's announcement, additional financial commitments are needed from developed countries to build trust and ensure that adaptation action and protection from climate loss and damage can be scaled up by vulnerable population segments, in particular women and youth. Big emitting countries from the G20 with outstanding new climate action plans should also deliver new measures consistent with their fair share for keeping the world within the 1.5°C limit."
Catherine Abreu, Founder & Executive Director at Destination Zero: "For decades governments have been able to claim climate leadership on the global stage while continuing to pump-out planet- and people-killing oil, gas and coal. It's time to face fossil fuel dependence head-on, because winning the fight for a liveable planet requires us to tell the truth about the root cause of the crisis.
"Kudos to Denmark and Costa Rica, and those that will join them in the Beyond Oil and Gas Alliance in the lead-up to COP26, for having the courage to own up to reality: all fossil fuels that are extracted and burned contribute to climate change; there is no such thing as a net-zero world with expanding oil and gas production. Done right, BOGA can play an important part in the just and equitable transition we need to a fossil free future."
Teresa Anderson, Climate Policy Coordinator, ActionAid International: "The US pledge to increase climate finance and China's commitment to stop financing coal abroad gave us a hint of what's possible, but much more is needed. In the big picture it's still small potatoes, and for people on the front lines of the crisis, movement on climate is still agonisingly slow.
"To build trust so that COP26 can be the turning point needed, the world's richest countries need to undertake real transformation to cut emissions, while paying their fair share of climate finance in grants, not loans."
Mitzi Jonelle Tan, Fridays for Future activist from the Philippines: "We have seen how big polluters, like the US and China, have promised and pledged less than what is needed from them in the past, yet have fallen short on those every time. Unlike the so-called leaders who like to cheer themselves on for subpar speeches, the youth aren't impressed and so we climate strike today across the globe in over 1000 cities to fight climate injustice, because we refuse to compromise on our lives.
"The rich countries have a climate debt to humanity, so they need to drastically reduce emissions with short-term targets and concrete timelines and pay reparations to overexploited countries like ours in order to address loss and damages, adapt to impacts, and develop greener energy systems."