Midway through 2021, civil society organisations from Climate Action Network (CAN) are deeply concerned about the lack of substantial progress from developed countries on meeting their climate finance obligations under the Paris Agreement.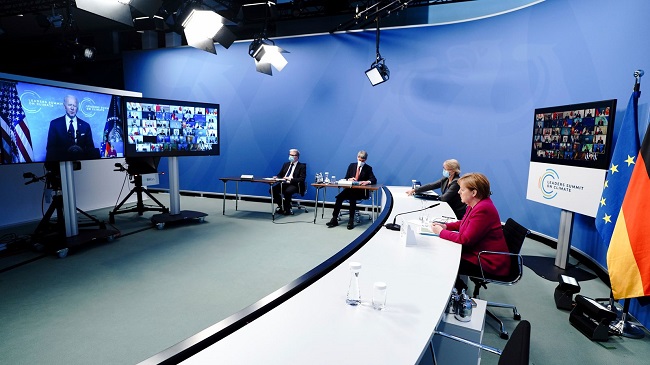 The Leaders' Climate Summit hosted by President Joe Biden, the Petersberg Climate Dialogue hosted by Chancellor Angela Merkel, and the Africa Summit hosted by Emmanuel Macron are said to have unjustifiably ignored climate finance as a priority. The activists describe these high-level moments as missed opportunities for rich countries to show they are serious about providing urgently needed support to tackle the climate crisis in these next crucial years.
In addition to drastically cutting their own emissions, providing finance is a key part of their responsibility under the Paris Agreement, CAN stated, adding that they must deliver the $100 billion annually promised by 2020, clearly outline a plan to scale up finance in the next five years and begin discussions for finance to developing countries in the post-2025 period.
Progress on finance cannot be left for the COP in Glasgow, the group insists.
"As we approach the G7 summit in Cornwall next week and with COP26 just five months away, frustration is mounting among developing countries on the lack of support as was evident from their statements at the opening plenary in the ongoing UN climate intersessionals," CAN stated, adding:
"The G7 Summit must result in individual finance pledges and a collective commitment from rich countries to ramp up finance before November. Otherwise, COP26 is at serious risk of becoming an empty talk shop without clear outcomes to keep the world on the 1.5C pathway in this decade."
Tasneem Essop, Executive Director, Climate Action Network, said: "If each of the G7 members at their Cornwall summit on June 11 do not announce a significant increase in climate finance to meet and exceed their decade-old promise to provide $100 billion by 2020 and to scale up trillions of dollars for a global green recovery, it can only be interpreted as a massive breach of trust and responsibility.
"To avoid failure at COP26 and miss out on a historic opportunity to align all countries to keep the world on a 1.5C pathway, Boris Johnson. Prime Minister of the UK, and host of the G7 Summit and COP26 must step up and provide leadership now."
Brandon Wu, Director of Policy and Campaigns for ActionAid USA: "The Biden administration has signaled that it wants the USA to be a climate leader – part of being a leader means we must commit to massively scaled-up international finance for climate action in developing countries. The climate finance plans and budget requests that we have seen from the administration, to date, fall far short of what is needed.
"The United States is the world's biggest historical emitter of greenhouse gases, and is also one of the world's wealthiest countries, and climate finance is a crucial part of doing our fair share of global climate action. Many U.S. groups and members of Congress are calling for an $800 billion commitment through 2030 as a down payment on the U.S. fair share of climate finance. This is the scale we need to be talking about to have any chance of avoiding the worst impacts of the climate crisis."
Jan Kowalzig, Senior Policy Adviser Climate Change, Oxfam Germany: "As the co-host of the Petersberg Climate Dialogue last month, Chancellor Angela Merkel was hugely criticized for failing to increase climate finance from Germany. Merkel's excuse that Germany already delivers its fair share is not tenable. Providing urgently needed assistance to poor countries facing the worsening climate crisis must be based on their needs and not be guided by comparison to other rich countries.
"The G7 Summit next week is Merkel's last chance to double German annual climate finance between now and 2025, allocating 50 percent to adaptation. Otherwise, Germany must shoulder the collective failure of developed countries to deliver on the $100 billion."
Aurore Mathieu, International Policy Officer, Réseau Action Climat France: "As President Macron and the French government are trying to position themselves as brokers of a new international consensus, including with the Summit on Financing African economies and the organization of the first Finance in Common summit last year, their aspirations for leadership will appear entirely empty if they fail to improve their climate finance to reach 8 billion euros a year, of which 50% should be allocated to adaptation.
"France also urgently needs to improve its share of grants in its climate finance to 35%, in order not to worsen the debt crisis many developing countries are currently facing. The French government should lead by example if President Macron wants to get fellow donor countries to deliver the 100bn which they promised developing countries in Paris in 2015."
Mauro Albrizio, European Affairs Director, Legambiente: "If Italy wishes to show leadership as host of the G20, the premier forum for international economic cooperation, and the co-host of COP26, the Italian government must immediately step up its climate finance and commit 50 percent of its total finance to adaptation efforts. Italy must mobilise other developed countries to do the same."
Eddy Perez, International Climate Diplomacy Manager, Climate Action Network Canada: "Overall, Canada remains one of the least ambitious and least fair contributors both in terms of quantity and quality. Canada cannot be seen as a global partner if it does not begin by revising its climate finance contribution as soon as possible.
"Prime Minister Trudeau must announce at the G7 Summit a new pledge of CAD 1.8 billion annually up until 2025 with 50% of these funds going to adaptation and a commitment to increase grant support. Canada must contribute to a successful outcome at COP26 and that begins by fulfilling its financial obligations at this G7 Summit."
Kimio Hirata, International Director, Kiko Network, Representative, Climate Action Network Japan: "It is a crucial time that the world has to accelerate decarbonisation jointry and collaboratively, while ensuring no one is left behind.
Japan, the third largest economy in the world, has a significant responsibility to transform the global economy toward decarbonisation.
"At a G7 summit, Japan, together with other G7 members, should commit to increase its support to developing countries, and to double its scale of climate finance at a minimum."
Catherine Pettengell, Climate Action Network UK (CAN-UK) Interim Director: "As host of G7 and COP26, the UK has the responsibility to ensure the G7 delivers urgent, fair, and just action on climate finance for countries least responsible for causing the climate emergency. This must mean a collective agreement by G7 countries to increase climate finance, especially grant-based finance for adaptation, living up to the long-standing 0.7% GNI commitment for aid, and providing new and additional sources of finance for loss and damage from climate impacts.
"To have credibility in calling on others to increase climate finance, the UK must urgently reverse its devastating aid budget cuts and instead champion a scale up of support for those who need it most."