TRAFFIC, the Wildlife Trade Monitoring Network, has described as "tiny" the rate of decrease of rhino poaching in South Africa in 2017 compared to 2016.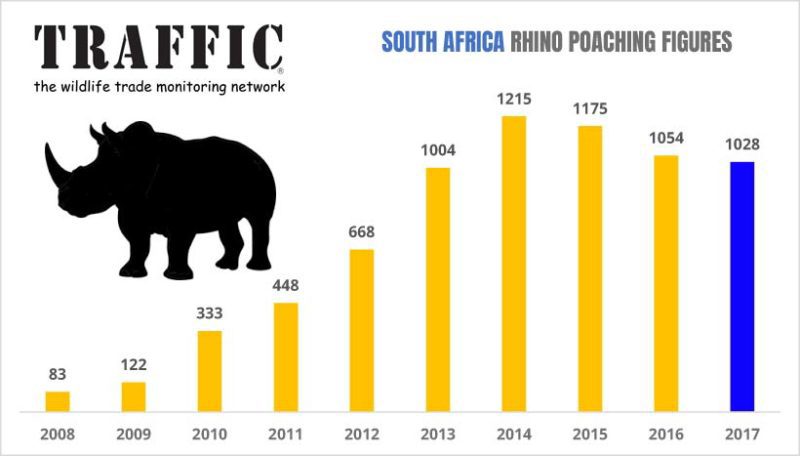 South Africa on Thursday, January 25, 2018 announced the official number of rhinos illegally killed in the country during 2017 as 1,028 animals. But the a non-governmental organisation working globally on the trade of wild animals and plants in the context of both biodiversity and sustainable development describes the development as a tiny decrease on 1,054 in 2016.
"The marginally lower total in 2017 still remains unacceptably high and with close to three rhinos illegally killed daily in South Africa every single day, the bottom line is the crisis continues unabated," said Tom Milliken, TRAFFIC's Rhino Programme Leader.
The group disclosed in a statement made available to EnviroNews on Thursday that although the figure marks the third year in a row where the rhino poaching total has dropped since the record high of 1,215 losses reported in 2014, undetected carcasses in vast places like Kruger National Park could easily account for the reported decline.
Kruger National Park, where the heaviest poaching losses have occurred previously, reported 504 animals poached in 2017, a further significant drop from the 662 rhinos illegally killed in 2016 and 826 in 2015. However, the Minister of Environmental Affairs, Dr Edna Molewa, also noted a rise in the number of elephants poached in the park – some 67 in 2017, a worrying development and further evidence of organised criminal activity taking place there.
Furthermore, the rhino decrease in Kruger has been offset by increases in reported poaching in KwaZulu Natal (KZN), amid allegations of corruption in dealing with rhino-related crime in the province and the dismissal of "One of South Africa's top anti-rhino poaching cops".
But this is not only a provincial KZN problem, as at a national level, efforts to address rhino poaching appear to be hampered by the dysfunctional National Prosecuting Authority and Crime Intelligence division of the South African Police Service (SAPS), two of the country's main crime fighting institutions.
In February 2016, David Mabunda, Chief Executive of Ezemvelo KZN Wildlife, highlighted the "…increasing levels of corruption among our ranks, the police, immigration officials and other law­ enforcement and professional services such as veterinarians. The number of corruption cases in wildlife management is making our efforts to achieve success more difficult."
Although official poaching figures are still awaited from other rhino range States, unofficial figures suggest there has been an overall drop in rhino poaching across Africa in 2017.
However, combatting rhino poaching effectively will require a concerted global effort, greater information sharing between law enforcement agencies in source and consumer countries and targeted investigations aimed at dismantling criminal networks with tentacles that span the globe.
In September 2017, TRAFFIC revealed disturbing new evidence of criminal networks of Chinese origin operating in South Africa processing rhino horn locally into beads, bracelets, bangles and powder to evade detection and provide ready-made products to consumers in Asia, mainly in Viet Nam and China, and called for increased resources to be made available to already over-stretched law enforcement efforts.
In the meantime, despite various amendments, South Africa has still to adopt and implement its National Integrated Strategy to Combat Wildlife Trafficking.
"TRAFFIC calls on South Africa urgently to adopt and implement its national strategy to combat wildlife trafficking: the potential growth of new markets for rhino products is a deeply worrying development that needs to be nipped in the bud – we're far from seeing the light at the end of this very long, dark tunnel," said Milliken.