Following a five-month progress report, the African Cassava Agronomy Initiative (ACAI) Project has established 137 limiting nutrient and 70 intercrop trials in a bid to crack the agronomy of cassava.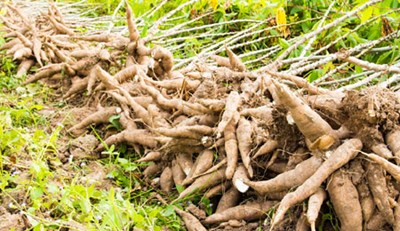 Agronomy implies the science of soil management and crop production. Centered on improving cassava production, the project aims to improve the livelihoods and incomes of cassava farmers in Nigeria, Ghana, Tanzania, Uganda.
A statement released by Godwin Atser, Communication and Knowledge Exchange Expert at the International Institute of Tropical Agriculture (IITA) in Ibadan, disclosed that, so far, "20 limiting nutrient trials have been established in Nigeria and 117 in Tanzania," while for "the intercrop trials, 29 cassava/maize trials have been established in Nigeria, and 41 cassava/sweet potato trials in Tanzania."
ACAI's Project Leader, Dr. Abdulai Jalloh, said that the trials would help researchers to answer key questions that relate to cassava agronomy. "Understanding the agronomy of cassava is a crucial step towards maximising the genetic gain of the root crop."
The statement further disclosed that the project has plans for 667 trials in both Nigeria and Tanzania across the four use cases directly associated with field experimentation. "These are as follows: fertilizer recommendation (295); best planting practices (150); intercropping (202), and staggered planting (20)," it disclosed.
While the trials so far established represent about 44% of the targeted total number of trials, the progress report shows that, across countries, establishment of trials has been higher in Tanzania with 82%, compared to Nigeria, which has 26%.
"This is mainly due to the varying rainy season and farming systems in the two countries. The rains for the first planting during which most of the planting has been done in Tanzania are relatively earlier (March/April), while the main planting season for cassava in Nigeria is April/May. The remaining trials will be planted by the end of May/June in Nigeria while the rest of the planting in Tanzania has been shifted to the second planting in October/November. In general, the trials will be established within the window of planting by the farmers in both countries," the statement explained.
The Central Africa Director of the IITA, Dr. Bernard Vanlauwe, said, "We hope that more trials will be set up as we enter June when rains would have steadied in Nigeria."
By Abdallah el-Kurebe