A researcher, Mr Gbenga Aina, has appealed to the Federal Government and Lagos State Government to support researches and inventions in waste conversion processes.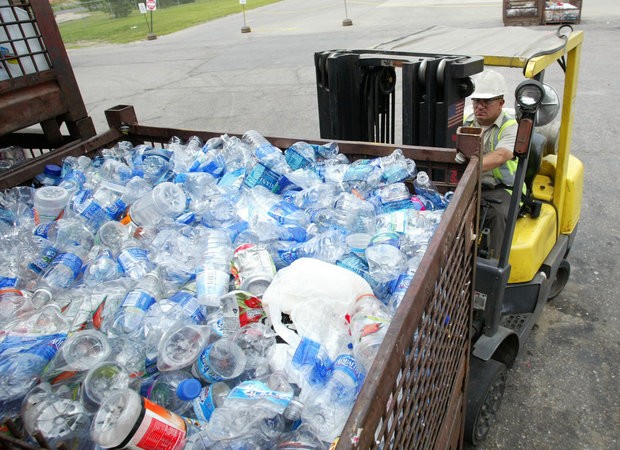 Aina, who is also a geologist, made the call in an interview with News Agency of Nigeria (NAN) in Lagos on Monday, March 26, 2018.
He said that he had developed a process and machine which converted plastic bottles and water sachets into polycrete asphalt that could be used for road construction and rehabilitation.
Aina said: "I have come up with a process which led to the invention of a machine.
"The process and machine turn waste plastic bottles and sachets into polycrete asphalt, which can be used as interlocks for roads or in form of asphalt for constructions and buildings.
"The idea is aimed at saving the environment from the huge waste generated from plastic bottles and bags, which pollute and degrade the environment as well as the entire ecosystem,'' he said.
Aina said that work on the invention began in 2010 after a programme which he attended in India.
"I was sent to the programme as a representative from the Lagos State University (LASU); I got into this research because of the passion which I have for solving problems.
"My Indian friends and colleagues wanted to carry out a demonstration on the use of processed waste for road constructions; I picked up interest in it and I followed through with them.
"When I came back to Nigeria in 2010, I started working on how to replicate the invention; that was what gave birth to the production of polycrete asphalt.
"Polycrete asphalt is created from plastic waste, PET bottles, sachet nylon, polythene bags and silt packed from blocked drainage channels.
"This invention led me to building a locally made waste treatment plant and asphalt marine that converts all the waste into finished products, either as interlock or polycrete asphalt,'' he said.
Aina said that he had carried out pilot studies with the finished products to repair some roads in Lagos State.
He, however, lamented that efforts to get the support of federal and state ministries, departments and agencies (MDAs) to support the invention had yet to yield any meaningful outcome.
"For instance, Lagos generates 35,000 metric tons of waste daily; we can convert this waste to repair about 22 kilometres of roads every day.
"The uniqueness of this invention is that it is 20 per cent cheaper, when compared to the conventional road surfacing technique, and it can last up to 35 years on the road.
"We have done test runs in Lagos and Ogun states as well as in some private jobs.
"If the government truly desires to have cleaner environment and durable road surfaces, the use of polycrete asphalt is the best and cheapest alternative.
"I appeal to the governments of Lagos and Ogun as well as the Federal Ministry of Power, Works and Housing to promote this invention which can save our environment and roads from degradation,'' he added.
By Okuanwan Offiong