Poor access to Reproductive Health has emerged as a major reason youths in Nigeria are unable to develop intellectually.
The issue, which was highlighted in the pilot of the Nigerian Academy of Science (NAS) Youth Development Project on Social/Youth Development, and Reproductive Health, topped a myriad of others ranging from lack of access to good education to disconnection from main stream development agenda.
Coordinator of the NAS programme, Prof. Akinyinka Omigbodun, who spoke on some of these limitations faced by the youths in Nigeria said, despite making up 70 per cent of Nigeria's population, they are faced with "poor or non-existent access to functional education, high unemployment rates, exposure to conflicts, vulnerability to adverse sexual and reproductive health outcomes, including gender-based sexual violence," stating also that 60 per cent of them live below the poverty line.
Presenting further outcomes of the pilots held in Ekiti and Nasarawa states of Nigeria, Omigbodun said an unimaginably high number of Nigerian youths are faced with the worst consequences of early sexual exposure, poor teaching and learning environments among others.
This, he said, is further exacerbated by poor information flow, adding that "The main sources of information for youths on both puberty (53 per cent) and reproductive health (56 per cent) were school teachers," despite that they preferred such were from family members, health workers and the media in that order of preference.
The situation, according to the NAS finding, is made dire by poor science teacher to science student ratio, which currently stands at 1:8 in Nigeria.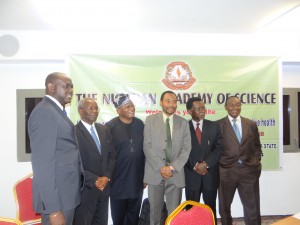 Professor Alfred Adegoke of the Faculty of Education, University of Ilorin, Ilorin,  who stressed the link between the poor youths development in Nigeria and Reproductive Health, said the events in Nigeria is not isolated, as premarital sex is globally, becoming more widespread.
He said many who become sexually active at an early age do not know how to protect themselves during sexual activity, adding, "One third of the sexually transmitted infections (STIs) contracted each year globally are among women and men younger than 25 years of age."
Highlighting the critical indicators of the Reproductive and Sexual Health of young people as presented in National Demographic and Health Survey (NDHS, 2008), he said, "The median age at first intercourse was 17.7 for women and 20.6 for men."
According to Adegoke, this also increases the risk of new HIV infections, as it has also been found that only seven per cent of young men and women in Nigeria had been tested for HIV and received their results within the 12 months before the survey.
On how to get the country back on track, the programme stated the need for increased awareness and enlightenment on risky sexual behaviour and its effects through school health programmes. It also urged increased awareness on effects of substance abuse, use of peer educators in schools, as well as creation of opportunities to encourage parental and religious involvement in addressing and educating youths on reproductive health matters.