Power for All, a global campaign to radically accelerate the adoption of renewable, decentralised energy solutions and eradicate energy poverty, announced on Friday that it surpassed its pledge to recruit 100 civil society and private sector partners. The achievement, it added, signifies the increasingly important role that rooftop solar and renewable energy micro-grids will have in achieving universal energy access before 2030.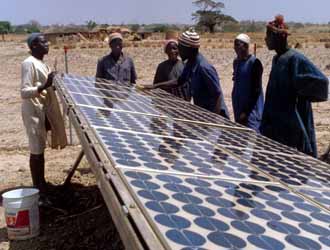 Power for All now has 125 partners, including global leaders and local innovators from around the world, deploying a wide range of technologies, business models and market development initiatives. The Global Off-Grid Lighting Association (GOGLA), one of six Power for All founding partners, was also part of the recruitment pledge made a year ago at the Clinton Global Initiative.
Partners come from 22 countries and work in many more. Together, their geographic footprint covers 62 percent of the 1.1 billion people worldwide currently lacking access to electricity. In aggregate, the partners are responsible for providing improved sources of electricity to tens of millions of households, with collectively more customers than many of the world's largest power utilities. Coalition partners also employ thousands of people. Solutions represented by the coalition include solar, hydro, biomass, wind and power storage.
Power for All has three areas of focus: changing behavior by creating a more positive perception and raising awareness of the impact and potential of distributed renewable energy; advocating globally for better policies, assistance and access to capital in support of these solutions; and activating national markets by catalysing an environment for market-building and rapid deployment to accelerate clean energy access.
Successes to date include playing a major role in the country-wide implementation of Sierra Leone's Energy Revolution, a trailblasing initiative to encourage the sale of 250,000 solar lights by the end of 2017 and to achieve universal energy access – Power for Al – by 2025.
In Nigeria, the campaign has been instrumental in creating a renewable energy association – a new, unified voice for the sector which is opening the door to a raft of possibilities for engagement with government through its strengthened policy influence.
Power for All has also worked to influence multilateral development banks, with a research paper and public campaign to promote the "energy access opportunity cost" – a new framework of accounting for the social and economic dividends lost to energy poverty due to business-as-usual approaches – leading to a new working group on the issue.
Ify Malo, Power for All Campaign Manager in Nigeria, said: "A campaign only works when those participating are engaged. The passion and growing influence of our partners, whether from civil society or the private sector, are the reasons for our success so far. Many barriers remain, but the momentum is building toward delivering on the promise of clean, affordable universal energy access."
Esther Paidamoyo Mhiribidi, ZIMREC, Zimbabwe: "The Power for All Campaign has been a timely intervention for Zimbabwe; by helping us as a nation to refocus our strategies from large-scale nationalised energy systems that are not only highly expensive to construct but also take years to complete. Through Power for All, decision makers have now seen the vast potential of DRE in rapidly increasing energy access which ultimately helps lift people out of poverty."
Ifeanyi B. Orajaka, GVE, Nigeria: "We can't express our gratitude enough to you and the entire Power for All team for the catalytic role you are playing in the renewable energy, energy efficiency and energy access space."
Mariama, Smiling Through Light, Sierra Leone: "The research, materials, and communications support from Power for All has helped my business reach a larger audience. I am particularly impressed by how highly regarded and internationally recognised the work that Power for All is doing has become within a short period of time."