On Thursday, May 25, 2023, about 80 believers from different traditions blocked the Léopold-Sédar-Senghor footbridge in Paris, France, to demand the immediate abandonment of TotalEnergies' oil projects in Uganda and Tanzania.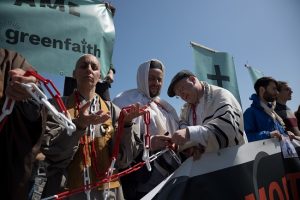 In the name of their beliefs and faith, two rabbis, two pastors, a Buddhist master and nun, a Jesuit priest, a bishop emeritus, and a Muslim thinker chained themselves together from one guardrail of the Parisian walkway to the other.
With this blockage, these nine leading religious figures sought to denounce the East African Crude Oil Pipeline (EACOP) project and the new Tilenga oil field – both of which are mainly owned by the French multinational, TotalEnergies.
This action took place on the eve of the TotalEnergies Annual General Meeting, which holds on Friday, May 26, in Paris.
Arriving at about 11:30am on the bridge, the believers blocked pedestrian and bicycle traffic for 1,443 seconds (24 minutes), to symbolise the 1,443 kilometres of the future pipeline.
Nearly 70 believers were also present at the side of the nine religious figures.
Some carried a banner depicting a black pipeline. It reads in large white letters: "Dans les tuyaux de Total, coule la mort" ("In Total's pipes, death flows"), in reference to French poet Guillaume Apollinaire's famous line, "Sous le pont Mirabeau coule la Seine ("Under the Mirabeau Bridge flows the Seine").
Another banner stated, "Croyant·es, corps et âme contre EACOP" ("Believers, body and soul against EACOP"), to emphasise their physical and spiritual commitment against the TotalEnergies project.
Sitting on the ground, other believers held signs stating that "1 x EACOP = 2 x THE SEINE". Indeed, if built, the EACOP pipeline (1443 km) will be almost twice as long as the Seine river (777 km).
This is the first time in France that religious figures have blocked a public space to denounce the EACOP and Tilenga oil projects.
The nine religious personalities belong to the Buddhist, Christian, Jewish and Muslim traditions were: Yeshaya Dalsace, rabbi of the Massorti Dor Vador community (Paris); Gabriel Hagai, Orthodox rabbi; Caroline Ingrand-Hoffet, pastor of the Protestant parish of Kolbsheim (Alsace); Olivier Reigen Wang-Genh, Zen Buddhist master, former president and co-president of the Buddhist Union of France (2007-12, 2015-18, 2019-21); Father Marcel Rémon, sj, director of the Centre for Social Research and Action (CERAS) and of the Revue Projet; Bishop Marc Stenger, Bishop Emeritus, former Bishop of Troyes (1999-2020); Otto Schaefer, retired pastor of the United Protestant Church of France (EPUdF – 1987-2018); Kankyo Tannier, Zen Buddhist nun, international speaker and author; and, Ousmane Timera, Muslim thinker.
For five of them, this is the second nonviolent illegal action against EACOP. On November 20, Yeshaya Dalsace, Caroline Ingrand-Hoffet, Olivier Reigen Wang-Genh, Marc Stenger and Kankyo Tannier participated in an undeclared demonstration in front of a TotalEnergies station in Paris.
Pastor Caroline Ingrand-Hoffet, Protestant pastor, said: "Darkness is not darkness before you, night as day is light." Darkness, when shareholders support the project of a multinational company that is destructive of nature, the human environment, biodiversity, working conditions and the lives of populations. Light, when it is given to us to resist together. Our chain becomes freedom, commitment in an alliance with this planet to be respected, protected and loved. Song and silence. Through song we commune with each other and with what carries us. Silence refocuses us. It is a force in the face of the lies and greenwashing of multinationals and politicians."
Master Olivier Reigen Wang-Genh, Buddhist monk, said: "I invite you now to collect yourselves in silence and to connect internally with this who inspires you in your faith and practice. Our inspiration and our exhalation are a reality that we all share. This present moment is a reality that we all share. This land that carries us is a reality that we all share. This universal consciousness that is ours is the reality that we all share all."
Kankyo Tannier, a Buddhist nun, author and lecturer aged 48, said in 2019, she founded the Kibo farm, a spiritual eco-place near Strasbourg, where the emphasis is on meditation, permaculture and animal care. Through books, blog and the Kibo project, Kankyo proposes concrete actions to jointly invent the tomorrow's world, made of low tech and respect for life.
Rabbi Yeshaya Dalsace said: "All men are born free, but life sometimes creates chains for them which little by little imprison and often, these chains, the human beings manufacture them themselves. We have all our own channels, and we all have a duty to regain our freedom. The biblical story breaking the chains of slavery in Egypt is founding.
"Today, as men and women of faith from diverse backgrounds and traditions, we come to express our desire to see certain chains broken: the chains of our need for profit at all costs, the chains of the unbridled consumption of natural resources, the chains of our inability to reduce our need for oil, chains our indifference to irreversible damage to the nature and men, the chains that our mode of operation imposes on populations who have no real means of defending themselves."
Testimonies from some of the affected people were read and their images projected during the demonstration.
Agnes Mwenda, a resident of Dodoma in Tanzania, said she just learnt from a friend that her land was to be affected by the EACOP project. "A friend told me that she had seen people evaluating my land and that without me being consulted obviously. To me, it's like thieves coming to take this on which I depend to live," she stated.
Baraka Machumu, a climate justice activist in Tanzania said: "I was working with a journalist to assess the extent of human rights violations caused by EACOP, by interviewing the people affected by the project. We then went to the EACOP office in Dar Es Salaam to get their perspective on the information and testimonies that we had collected from the people affected by the project. After that, the TotalEnergies team and the police started tracking me, using police. I decided to leave my house for two weeks because they were planning to arrest me."