Some 10% of Nigeria's emissions cuts are expected to come from the reduction of methane in the waste sector.
According to its first Nationally Determined Contributions (NDCs) that was submitted in July 2021, the reduction is projected to be achieved from the diversion and composting of organic solid wastes.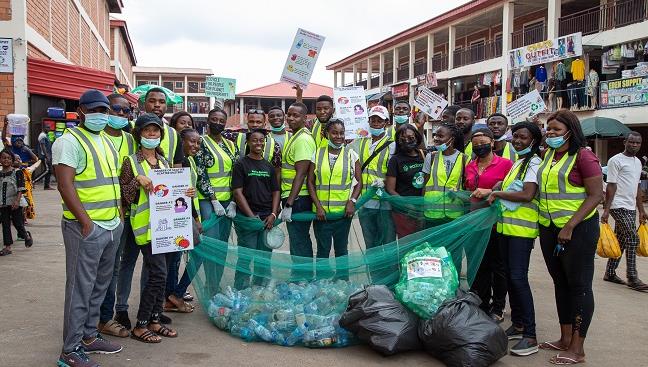 In 2018, the sector accounted for 9% of the country's total Green House Gas (GHG) emissions, with the figure anticipated to rise by 2030 under the business-as-usual scenario, in response to increasing population and economic growth.
Waste sector overlooked
The waste industry has been overlooked and left with little attention in the climate change conversation despite it being an integral component in meeting global targets.  
Nigeria has few public recycling plants, others are principally owned by private individuals who are forced to fold up their businesses because of high taxation and scalability cost, poor energy supply, and other uncontrollable economic factors.
People arbitrarily dispose of their wastes with no sense of civic concern; household junks contain non-biodegradable materials, while human excreta are mixed-up with solid waste in public places like markets, schools, and churches because of this problem.
Now, this is the big question – how is the government going to translate this proposed figure into reality in the face of this huge infrastructural deficit to avert the doomsday prediction?
Expert views on how to tackle this crisis
"Sensitisation, infrastructural development, and policy implementation are key ways the country can address her climate-related ambition," says Rita Idehai, the founder of Ecobarter.
People need to be aware of how their activities are negatively causing the planet to warm and climate to change. This knowledge needs to be complemented with the provision of reliable amenities such as a well-engineered landfill that allows methane gases to be collected and effectively deployed for energy generation to enhance environmental safeguard.
"We also need policies that mandate sustainable waste management practices in public areas," Idehai added, asserting that, "This way, we can reduce our greenhouse gas emissions and open up new economic sectors."
Similarly, Aliyu Sadiq, the founder of Ecocykle, believes that the government has to fulfill its promise in the NDCs to properly curb these setbacks and realise the nation's climate ambition.
"This problem can be solved through strategic planning, adequate financing, partnership, and an all-inclusive approach," he said.
Therefore, the government must first provide an enabling environment for this partnership to attract the required capital to provide these missing infrastructures, particularly in vulnerable communities to avert the random disposal of waste and reduce the release of methane into the environment. And some of the funds should be channeled into research and innovation to help the country transit into a more eco-friendly economy.
The collaboration must prioritise waste management as an integral part of national development and increase funding allocation to authorities saddled with the responsibility of regulating the waste management sector to ignite the needed behavioral change and grassroots education on environmental best practices.
Informal waste collectors are also integral to responding to this crisis, thus, it is pivotal to integrate, train and empower them with adequate tools to carry out their works seamlessly.
"This will bring about an all-inclusive approach in addressing the problem of waste and reduce the over 9% GHG emissions," according to Sadiq, and "create huge socio-economic benefits for individuals."
Waste-to-wealth: Two people with the same perspective
Despite all these existing gaps that have been mentioned as the dilemma that is bedeviling the waste sector, there are still many eco-defenders who are fighting to ensure that this predicament is perpetually combated to help Nigeria achieve the ambition of its net-zero emissions by 2060.
Rita Idehai and Aliyu Sadiq are two unique people whose voices may not be too loud when compared with many other eco-campaigners who use social media as their tools, but their works are beyond doubt impacting on people and society, in plain language – they represent a perfect manifestation of the word "climate action."
Sadiq for instance has been involved in a project that focuses on the mobilisation and empowerment of young school children with the relevant knowledge they need to accelerate climate action.
Since embarking on the exercise, he has trained over 100 students in Nasarawa State, in the north-central region, on how to recycle plastic waste into paving bricks. His vision is to replicate this initiative across the six geo-political zones across the nation to help young children in schools build the expected behavioral change to curb indiscriminate waste discarding.   
This, in his view, "will build a generation of competent solution providers and contribute towards achieving the net-zero emissions target."
His organisation, Ecocykle, a youth-led social enterprise, has since its establishment been working with young people on how to convert waste-to-wealth, providing collection services to communities that lack facilities to prevent indiscriminate dumping.
In the same vein, Idehai, another enthusiastic eco-lieutenant, has practically demonstrated capacity through her waste-to-resource empowerment programme.
Through the project, she has trained 20 women who are currently seeking refuge in one of the Internally Displaced Person camps in the federal capital territory, Abuja, on how to turn plastic waste into valuable household products like bags, mats, shoes, earrings, and necklaces.
"This particular programme shows the value of wastes and the fact that they are resources waiting to be used," she said.  
She plans to increase the number of these beneficiaries and serve as a bridge to help them showcase their products to the public for consumption.
If this can be mainstreamed across the country, Idehai assured, alongside the provision of composting and biogas stations, "then net-zero can be attainable."
Like her colleague, her social venture, Ecobarter, has been engaging Nigerians directly on how to eradicate open dumps through sensitisation campaigns, providing people with alternatives on a more sustainable consumption lifestyle, and most importantly teaching them how to manage and turn waste into income.  
In 2021, Ecobarter visited six communities, reached out to over 1,500 people in Abuja, and launched a digital campaign that got to over 10,000 homes across the country on effective wastes management.
It has five community recycling collection centres where people bring their recyclable wastes made up 40% of the total trash across the capital city in exchange for cash and other forms of incentives.  
"Over 5,000 households have been able to cut their wastes generation from two trash bags weekly to less than one", according to the Ecobarter boss, "which is about 50% wastes reduction by recycling."
Assessing the benefits of these two initiatives and how their initiators are using them to champion change in the waste sector, no doubt, more jobs can be created and citizens empowered to deliver the just transition economy if adopted and supported by the government and private investors.
Truthfully, with all the challenges that have been highlighted, it is clear that the sector needs a better reputation by promoting the necessity of adequate management for everyone since people seem to take waste for granted.
It is also essential to note that the lack of access to collection service is largely responsible for the open burning of wastes, wild dumping, or communal dumpsites which don't only affect global warming but also public health.
A sound waste management system must be seen as a human right issue that should be addressed by extending waste collection and controlled recovery and disposal to all would effectively eliminate open burning, and provide substantial "victory" in the area of climate mitigation.  
The government needs to find ways to convey the bigger picture to the citizens – that the emissions from the waste sector itself are far outweighed by its potential for enabling much larger savings across several other sectors of the economy, both from recycling, recovery, and prevention of wastes to forestall sanity in the sector.
By Etta Michael Bisong