In line with the two-track approach in executing its REDD+ (Reducing Emissions from Deforestation and Forest Degradation) Programme, state and national Framework Strategies for REDD+ in Nigeria were last week endorsed, even as the nation rounded up the Readiness Phase of the climate change mitigation initiative.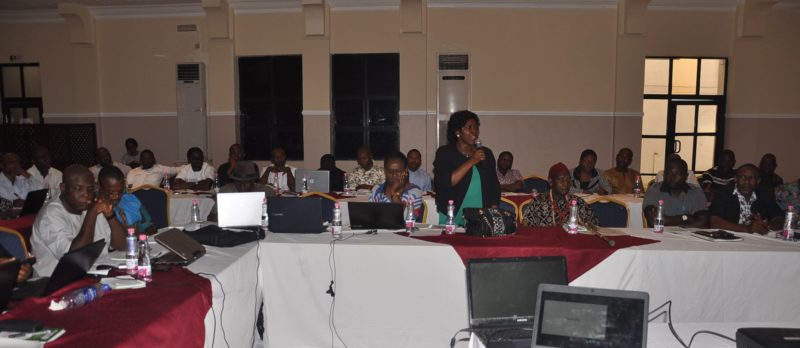 At a three-day meeting in Calabar (Cross River State) and Abuja (Federal Capital Territory), participants took stock of years of operation of the REDD+ programme in the country, while exploring potential next-steps.
While the two-day Calabar event (that held from Tuesday, 29 November to Wednesday, 30 November, 2016) entailed a Cross River State Stakeholder Forum that addressed progress made in areas such as MRV (Measurement, Reporting and Verification), Safeguards (actions that prevent the destruction or degradation of REDD+-protected forests), Multiple Benefits and CBR+ (community-based REDD+ programme), as well as the Cross Rivers State (CRS) REDD+ Strategy, the Abuja gathering (on Friday, 2 December, 2016) was a National Technical Committee meeting that set out to validate the National Framework Strategy for REDD+. The Readiness Phase is being sponsored by the UN-REDD Programme (United Nations Programme on Reducing Emissions from Deforestation and Forest Degradation), a collaboration involving the Food and Agriculture Organisation of the United Nations (FAO), the United Nations Development Programme (UNDP) and the United Nations Environment Programme (UNEP).
National Coordinator, Nigeria REDD+ Programme, Dr Moses Ama, said: "The REDD+ Will be finalised next week based on input from this meeting. Also, we are set to conclude the Readiness Phase, which was sponsored by the UN-REDD Programme. Afterwards, we will commence the Implementation Phase. The objective is to build a REDD+ mechanism for Nigeria, using CRS as a demonstration model."
Lead Consultant and Team Leader, Prof. Patrick Matakala, disclosed that the Vision is to ensure sustainable management of forests and ecosystems of CRS as natural resource assets towards a green economy, while maximising the prosperity of the people of the state through reduced emissions from deforestation and forest degradation by at least 20% by year 2030. He poited out that, besides enhancing the functioning of forest management institutions, this will be achieved by improving laws and regulations and strengthening law enforcement, and improving the capacity of relevant Ministries, Departments and Agencies (MDAs) to manage forest and ecosystem resources.
He listed the project goals to include:
Short-term Goal (2017-2019): The strategic improvement of institutions and governance systems, as well as of spatial plans and the investment environment, in order to fulfill Cross River State's commitment to reduce greenhouse gas emissions while maintaining economic growth.
Medium-term Goal (2017-2025): The implementation of governance systems in line with policies, measures and procedures developed by forest and environment management institutions of CRS, and their application to the spatial and financial mechanisms developed and established in the previous phase, to achieve the targeted 20 percent reduction in emissions by 2025.
Long-term Goal (2017-2030): CRS's forests and land areas become a net carbon sink by 2030 as a result of the implementation of appropriate policies and measures for sustaining economic and ecosystem service functions of forests and contribution to Nigeria's Nationally Determined Contribution (NDC) to climate change mitigation and adaptation.
Apart from presentations of progress made so far by the MRV, Safeguards and Multiple Benefits sub-committes, non-governmental organisations and community-based organisations (CBOs) involved in CBR+ implementation also shared their experiences in Calabar.
For instance, the Research Association Managing Development in Nigeria (ARADIN) is implementing a project titled "Enhancing Biodiversity Conservation and Sustainable Livelihoods In REDD+ Pilot Communities" in Bokalum & Bamba in Boki Local Government Area. The goal of the scheme, it was gathered, is to enhance the community's capacity to support the REDD+ initiative through the provision of sustainable alternative livelihoods and adoption of sustainable agricultural practices.