A leading Vietnamese climate activist has been jailed for tax evasion, the latest environmentalist put behind bars by the country's communist government.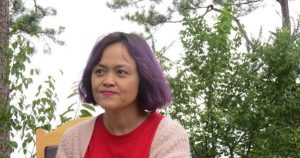 A court in Ho Chi Minh City on Thursday, September 28, 2023, sentenced Hoang Thi Minh Hong to three years in prison for dodging $275,000 in taxes related to her environmental campaign group CHANGE, her lawyer, Nguyen Van Tu, said.
The 50-year-old is said to be the fifth environmental campaigner to be jailed on tax evasion charges in the last two years as Vietnam's authoritarian government steps up a crackdown on activists.
Her husband, Hoang Vinh Nam, said he was "disappointed" at the verdict.
"The sentence given to Hong today was too heavy," he said. "I think it was unfair to Hong. The defence lawyer did his best but his arguments were not considered properly."
State media said the charges related to revenue generated by CHANGE from 2012 to 2022. Hong admitted the charges and along with her family paid the state 3.5 billion dong ($145,000) in return for leniency, state media said.
Hong founded CHANGE to mobilise Vietnamese, particularly young people, to take action on environmental issues including climate change, the illegal wildlife trade and pollution. But she abruptly shut down the group last year after four environmental and human rights activists were jailed for tax evasion.
"This conviction is a total fraud, nobody should be fooled by it," said Ben Swanton, the co-director of The 88 Project, which advocates for human rights in Vietnam. "This is yet another example of the law being weaponised to persecute climate activists who are fighting to save the planet."
Hong's colleagues and friends at environmental watchdog 350.org expressed their "deep sadness and continued, unwavering support".
350.org Executive Director, May Boeve, said: "We are deeply dismayed by Hong's wrongful imprisonment, and in light of her formal sentencing today we reiterate our call for her prompt release and that of fellow climate advocates throughout Vietnam.
"Hong is a valued colleague whose lifelong commitment to justice and relentless efforts to improve our world are deeply recognised, and we will continue to support her throughout this difficult time. Despite this outcome, Hong's unwavering dedication remains invaluable to the climate justice movement within Vietnam and beyond."
Liangyi Chang, 350.org Asia Managing Director, said: "Today, Hong along with her family and friends are standing together in strength at this difficult time. Today, the Vietnamese government sentenced Hong for her brave leadership. We will not slow our pace in pushing the government to provide just and inclusive processes for energy transitions everywhere, and we will continue to demand the release of Hong and many other Vietnamese climate leaders."
Norly Mercado, 350.org Asia Regional Director, said: "Hong is a dedicated and fearless climate defender, and as a treasured colleague we will continue to offer her our utmost support. Her contributions to climate justice globally, and in her home country of Vietnam, are vital.
"Vietnam's ambitious climate goals –  made more potent by the country's position on the frontlines of climate impacts – have been achieved in no small part through the dedicated efforts of climate champions like Hong. The unjust imprisonment of fearless changemakers like Hong not only imperils initiatives within Vietnam such as its JETP deal, but also undermines the country's vital role in shaping a fair and equitable response to the urgent climate crisis."
Hong established an affiliate organisation of 350.org known as the Centre of Hands-on Actions and Networking for Growth and Environment (CHANGE), in 2013. CHANGE, with its numerous accomplishments, is said to have played a pivotal role in halting the development and funding of coal-fired power plants in Vietnam.
Hong's sentencing comes at a critical moment in the climate fight. Vietnam, one of five countries most at risk from climate change, has pledged net zero carbon emissions by 2050 despite getting more than 50% of its energy from coal.
In December 2022, Vietnam entered a $15.5 billion Just Energy Transition Partnership (JETP) deal with the G7 countries as well as the EU, Norway and Denmark – a partnership designed to support the country's rapid transition away from coal.
Dang Dinh Bach is another high-profile climate activist currently serving a five-year prison sentence under tax evasion charges in Vietnam.
350 stated: "The pattern of wrongful detention of climate defenders currently sweeping Vietnam, and many other regions, is of utmost concern to all who stand for truth, justice and civil liberties. 350.org stands with all climate defenders who have been impacted by unjust imprisonment in Vietnam."
Earlier this month Hanoi police detained the director of the Vietnam Initiative for Energy Transition, an independent energy policy thinktank.
Ngo Thi To Nhien, who has worked with the EU, World Bank and UN, was reportedly working on the implementation plan for Vietnam's Just Energy Transition Partnership, a $15 billion G7-funded project to help wean Vietnam off fossil fuels.
No official information on Nhien's accusation has been made public.
Hong has been recognised internationally for her work: she joined the Obama Foundation Scholars programme in New York in 2018 and was listed by Forbes among the 50 most influential Vietnamese women in 2019.
When she was detained in May, the UN's human rights body was among many international groups to voice concern, warning of the "chilling effect" of tax cases against civil society groups.
Among the four green activists jailed last year was Nguy Thi Khanh, a globally recognised climate and energy campaigner who won the Goldman Environmental Prize in 2018. She spent nearly a year in jail before she was released last month.